JULY 2021


THINGS YOU NEED TO KNOW THIS JULY
There are lots of exciting things happening this summer and we want you to be part of the excitement! Take a few moments and read the highlights below. If you have questions or other ideas to share, feel free to contact program.helps@salvationarmy.ca. We do caution you to be aware of and follow Covid restrictions.
Summer Activities – Summer is a great time to spend time together trying new things, doing ministry with a different creative twist. It's also a great time to encourage families to spend time together sharing new experiences, digging into God's Word and enjoying a sweet snack along the way. So, we've put together a few ideas that you can try this summer by sharing them with your congregation. The ideas can be downloaded and shared or feel free to share the link.
Summer Prayer Run - Our summer Prayer Run is off to the races! We are thankful for the individuals and groups that have already signed up and are committed to praying for their communities. It's not too late to join this opportunity to pray. Prayer run how-to and promotional resources along with FAQs have been provided to help you prepare and plan your prayer walk or run. Sign up anytime!
Armatus is Changing – Armatus has been our platform for preparing for safe ministry with children and youth for many years. Beginning July 14 – that platform will be changing. In preparation for this change your divisional administrator has been updating accounts by ensuring that your most current email address is being used and that if you moved divisions your account has followed you there. You will now use your email address when you login to your account. After July 14 you will only be able to access your old Armatus account to see which courses you have previously taken.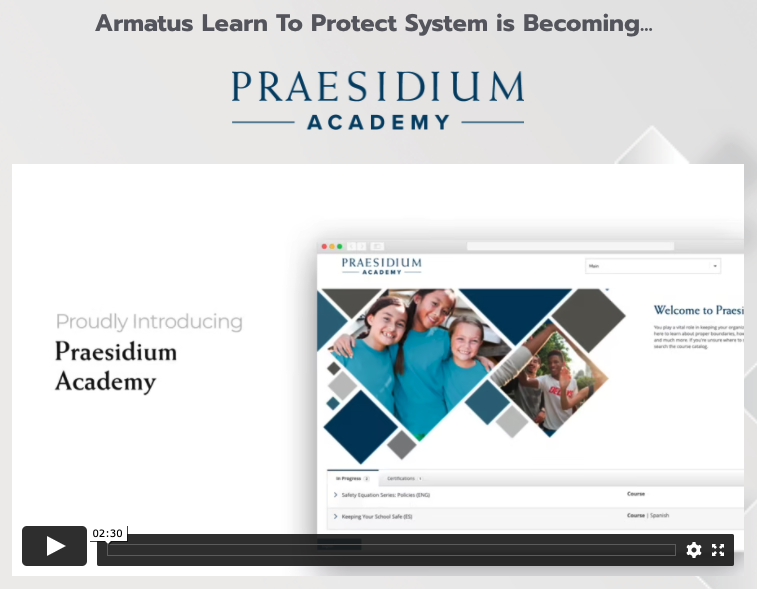 On July 14 you will be receiving an email "invite" from PraesidiumInc.com to access online abuse prevention training in Praesidium Academy. We encourage you to click "accept invite" and follow the steps that appear on your screen. You will be asked to create and confirm a new password, be asked to complete a three-question onboarding survey, and then you will be able to access your learner dashboard. Once you are on your dashboard, you'll have the opportunity to take a guided tour of Praesidium Academy. If you do not see that email in your inbox, be sure to check your "Junk" folder for it. If you can't seem to find an email from Praesidium Inc feel free to contact your divisional administrator, Valerie Pavey or Linda McNutt and we'll double check to see if we have your correct email address. We encourage you to check out this Praesidium Welcome Video, then be sure to scroll down to learn about the Top Three Things to Know.