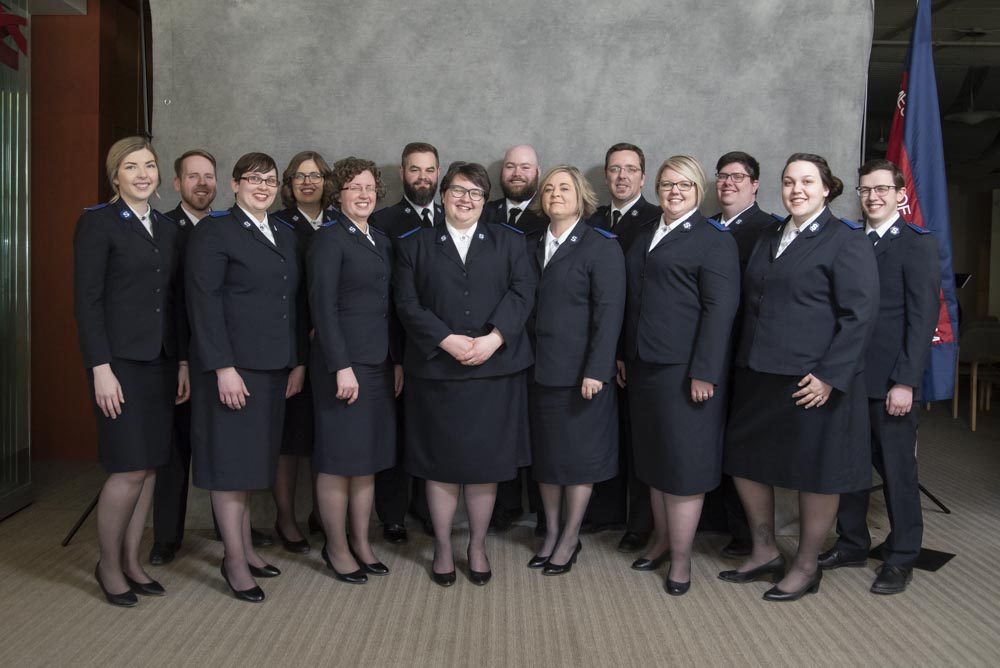 We are happy to announce the Winter Assignments - 2019 - for The Messengers of the Kingdom!
Cadet Alecia Barrow - Dartmouth Community Church - Dartmouth, NS
Cadet Kathryn Dueck - Various Ministry Units - Bermuda
Cadet Danielle Feltham - Truro Corps, Truro, NS
Cadets April and Brandon Keeping - Weston Community Church - Winnipeg, MB
Cadet Bill and Renee Mailman - Brandon Corps - Brandon, MB
Cadets Emily and Kyron Newbury - Gambo Corps - Gambo, NL
Cadets Bob and Susan Roffel - Nanaimo Community Church - Nanaimo, BC
Cadets Andrew Sweet and Olivia Campbell-Sweet - Richmond Hill Community Church - Richmond Hill, ON
And the Winter Assignments - 2019 - for the Messengers of Grace!
Cadets Glenda and Roger Barrow - New Hope Community Church - Orangeville, ON

Cadets April Barthau and Marco Herrera Lopizic - Portage la Prairie Corps - Portage la Prairie, MB

Cadets Kelsie and Mark Burford - Vernon Community Church - Vernon, BC

Cadets Beverly Burton and John Burton - Beverly -Heritage Park Temple - Winnipeg, MB
John - A Place of Christian Worship - Maple Creek, SK

Cadets Anjie and Tony DaSilva - Sherbrooke, QC

Cadets Dion and Jenelle Durdle - Dion - The Salvation Army Church - Picton, ON
Jenelle - Southlands Community Church - Winnipeg, MB

Cadets Jory and Rebecca Hewson - Guelph Citadel - Guelph, ON

Cadet David Hipperson - Hanover Corps - Hanover, ON

Cadet Tina Jatzkowski - Crossroads Church - Edmonton, AB

Cadet Amy Patrick - Haven of Hope - Regina, SK

Cadet Patrick Penton - Stephenville Community Church - Stephenville, NL

Cadets Aimee and John Thomas - Weetamah - Winnipeg, MB

Cadets Amanda and Jeremy Thompson - Peterborough Temple - Peterborough, ON

Cadets Almeta and Lester Ward - Sudbury Community Church - Sudbury, ON

Cadets Amber and Brent Wareham - Woodstock Corps - Woodstock, ON

Please pray for the Cadets as they prepare to travel to their assignments and for assignments that will be filled with wonderful learning and growing opportunities!