Major Andrew Morgan - Training Principal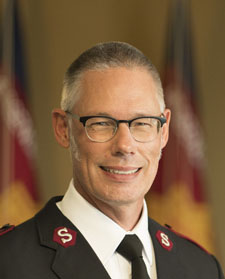 Andrew is a Salvation Army Officer appointed to CFOT as Training Principal in 2018. From 2015-2018 he served as Assistant Training Principal. Prior to this Andrew spent six years as Regional Officer responsible for the work of The Salvation Army in Hungary. He had served in two other appointments in Hungary, and in Canada he spent seven years in leadership at The Salvation Army Toronto Harbour Light.
Before joining The Salvation Army, Andrew worked in the Risk Management field both for the Government of Ontario and the private sector. Andrew holds a Business Diploma in Paralegal Technology from the University College of Cape Breton, a Canadian Risk and Insurance Management designation, a Bachelor of Arts degree in Biblical and Theological Studies from Booth University College, a Master of Business Administration degree from the University of Toronto (Rotman School of Management), and a Ph.D. in Organizational Leadership from Regent University. Andrew and his wife Darlene, who is also a Salvation Army Officer, have two children: Nathan who is married to Robyn, and a younger son Paul. When not engaged in ministry Andrew can be found playing hockey or off riding his motorcycle.