Evangelism
---
The Canada and Bermuda territory has identified 7 Strategic Priorities which should govern our focus and efforts in ministry and mission. Strategic Priority #6 - The Gospel and Transformation has become the responsibility and focus of the Corps Mission Resource department.
The Gospel and Transformation
Goal: To share the gospel, lead people to Christ and nurture them in their faith
Actions:
Provide evangelism training and resources that empower Salvationists and others to share their faith
Adapt outreach methods to best reach people for Christ
Encourage ministry units to work and witness outside of their buildings to bring hope to their communities
Embrace cultural diversity with sensitivity and openness
Care for all creation as an act of worship to God
Create diverse opportunities for worship grounded in Salvation Army doctrine and practice
Celebrate stories of transformation and new life in Christ
Initiatives and resources to encourage, train, and support in the mission of evangelism are constantly changing and evolving. See
What's New in Evangelism
for more details.
---

P.L.A.N. EVANGELISM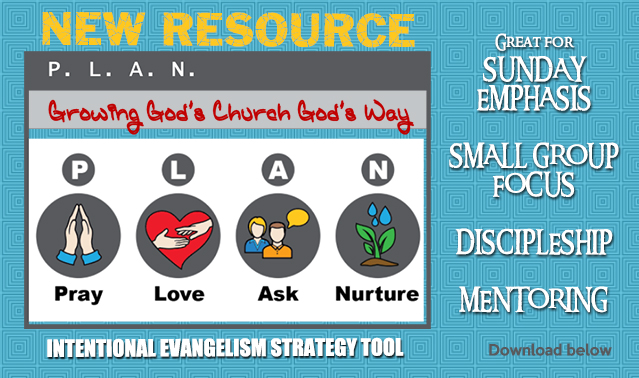 A four part focus
(Pray | Love | Ask | Nurture PLAN)
to increase intentionality and opportunities to share the gospel with family, friends, colleagues and neighbours. Can be used as a four part Sunday or small group engagement tool.
The .zip file contains printable cards for each focus, an explanatory document, a powerpoint set of slides, and images to be used to create other complementary tools.
---
PROGRAMS AND SERIES
World-famous leaders and inspiring stories. 11 weeks. Well known hosts. VIRTUAL FRIENDLY Visit Alpha

Family oriented program to attract new people from the community. Find out More
How do members prepare to share their hope in Christ? VIRTUAL FRIENDLY RightNowMedia


LEADER TRAINING AND MEMBER EQUIPPING

STATISTICS: Upcoming Changes







Small group multi-session learning engagement on evangelism. A great opportunity for officers and leader to expand their thinking. VIRTUAL FRIENDLY Register
2 Sessions for corps leaders, instruction on Mercy Seat Counselling. Can be adapted to be VIRTUAL FRIENDLY. Download

Four week emphasis for encouraging members to engage with their neighbours and friends. Download
3 Week personal devotional follow up for new believers. www.saMinistryHelps.ca

CHILD EVANGELISM




.

READY TO SERVE MODULE: WITNESSING



View this module

if you are an RTS Leader with access. 4 weeks on teaching how to witness
Find out more about Ready To Serve




VBS ORANGE CURRICULUM




View options available on ORANG

E

For Leaders: activities, suggestions and guidance for Leading a Child to Christ
www.saMinistryHelps.ca
Age Appropriate Decision Pamphlets
www.saMinistryHelps.ca
Evangelism News
Corps Mission Resource
View RSS Feed
Archives
Recent Posts
Categories