Intimacy with God
We foster spiritual vitality.
Everything The Salvation Army does is built upon relationships. So it should come as no surprise to you that a relationship with God is an important foundation to spiritual life in The Salvation Army. The public expression of this relationship is found in our worship, which doesn't just happen in our churches. There are worship opportunities in many different types of ministry units, for members, employees, volunteers and clients.
Intimacy With God from Salvation Army Ethics Centre on Vimeo.
In Action – Intimacy with God
It was the Saturday night event of a packed weekend of activities at Youth Together 2014. Our musical guests for the weekend were Grounded – a Christian band who had reunited for this event, celebrating the place it had all began a decade earlier. We wanted Grounded to have the opportunity to rock it out for our teens and young adults. In an attempt to create a true concert atmosphere there were admission tickets, creative lighting, pumped-up sound system, standing room only and an intermission. It had the makings of a great night.

For the evening, Grounded had made one request. They wanted a short devotional time at intermission. Rock concert and devotions seemed like an odd combination, but it was their night to shine so we agreed. There would be two sets, with the first one being mellow and worshipful, a break for devotions, and then the second set would ramp it up.

As the youth lined up outside Chebucto Hall there was a sense of electricity in the air. They were so excited, and with tickets in hand, passed the two "bouncers" on the doors and made their way into the hall. It felt like the real thing.

Grounded opened with Matt Redman's song, "Here with You". The youth were engaged as they worshipped, some with hands raised, others eyes closed. There was a true sense of the Holy Spirit's presence; it was amazing. We all enjoyed this time but we (as leaders) were still thinking, the "concert" is yet to come.

The first set passed quickly. Soon it was time for the devotion. I think the youth were initially a bit taken aback, but they listened and were respectful as our young leaders, Taylor and Frances Burton, continued in the worship atmosphere. Taylor and Fran did the usual – worship music, scripture and prayer. They were given about twenty minutes, just long enough to give the band a break and allow them to prep for the rockin' set. The intermission was almost over when Taylor made a request. "Would two or three people like to share something God is doing in your life? Maybe it happened this weekend, or at home. Just a short testimony." Good idea, we all thought. A nice conclusion to a great worship segment, yet we weren't sure if people would be brave enough to step up to the mike. Would anyone want to share? At that precise moment, it felt like the agenda of the night was pushed aside and the Holy Spirit made a clear statement. "I am taking over." Two or three turned into over twenty-five. Short testimonies turned into stories of transformation, struggle and deliverance. Youth were lined up in the aisles, waiting for their turn. There were stories of struggle; confessions of self-harm, pornography, low self-esteem, broken homes, and abuse. There were stories of prayer, peer support, and the compassion of others – stories telling where they had been and how far God had taken them. And when some asked for prayerful support, their peers literally surrounded them with prayer. Once again the air was electrifying, but it wasn't filled with excitement, it was filled with the overwhelming power and presence of God.

As the sharing continued for over an hour, the leaders wondered how to proceed. Should we end it? How could we dare quench the Spirit in these Holy moments? Needless to say, the rockin' out concert never happened. It became a late-night prayer meeting with small groups huddled together in prayer around the building, and youth kneeling at the altar surrounded by their peers. The presence of the Holy Spirit rained down in such an amazing way. That night everyone in that room bore witness to deep intimacy with God. It is a night that will never be forgotten.





Lisa Hillier has been a Salvation Army officer for 11 years and is also a registered nurse. She is married to Morgan and has three girls that keep them busy – Hayley, Abigayle and Jordan. They are the Divisional Youth Secretaries in the Maritime Division. Lisa likes to run, read and try new recipes.



Click here for a printable copy of In Action-Intimacy with God


A Glimpse from the past – Intimacy with God
"All your anxiety, all your care,

Bring to the mercy seat, leave it there …" *

The mercy seat is one of the defining features of any Salvation Army hall. Typically it is a long wooden bench located at the front of the sanctuary and is central to Salvation Army worship. The mercy seat itself has no inherent power, but its function is sacred and, in fact, sacramental. It is a place for prayer or a public declaration of faith – where one can commune with God, whether for the first or the thousandth time.

The mercy seat has its origins in the North American revival movement of the early 19th century. One of the main features of that movement was the call to "come forward" in response to the word of God. First known as the 'mourners' bench', it referred to benches located in front of the speaker or pulpit, where people seeking salvation were invited to come and kneel. They 'mourned' for their sins until they were 'transformed by the "joy of salvation"'. It also became known as the 'penitent form.'

In his book The Mercy Seat, Nigel Bovey notes,

"Over the years the penitent form has become an integral part of Salvationist identity. Millions of people have found salvation at the mercy seat. Millions more have found divine help and nurture. The mercy seat has appeared in different guises – a bench, a chair, a drum, a mat, a pile of coats, a sand sculpture – but its purpose has remained the same."

And from The Salvation Army Handbook of Doctrine:

"We affirm that the mercy seat in our meetings symbolises God's unremitting call to his people to meet with him. It is not only a place for repentance and forgiveness, but also a place for communion and commitment. Here we may experience a deep awareness of God's abundant grace and claim his boundless salvation. The mercy seat may be used by anyone, at any time, and particularly in Army meetings when, in response to the proclaimed work, all are invited to share loving and humble communion with him."

*Salvation Army Songbook, #246 by Edward Henry Joy (1871-1949)


References

Bovey, Nigel
The Mercy Seat
London, The Salvation Army, 1996

Salvation Army
Handbook of Doctrine
London, Salvationist Books, 2010

Click here for a printable copy of a Glimpse from the Past-Intimacy with God
Faith & life – Intimacy with God
In the secret of thy presence,
Where the pure in heart may dwell,
Are the springs of sacred service
And a power that none can tell.

"Without the inner life, the outer life lacks meaning; without the outer life, the inner life lacks substance."

Booth's social gospel recognized the physical and spiritual needs of people, yet if people were desperately hungry, he would feed them first.

Jesus would rise early in the morning to pray intimately with His heavenly Father, before leaving to minister – that is why he came. (Mk.1:35-39)

I am convinced that nurturing a deeper spirituality leads to inner freedom and loving service.

Our doing flows from our being, which flows from our identity. Our true identity is known through letting God into our vulnerable space. Then we can then freely begin to respond to others in light of this new grace-filled relationship.

Jesus says "Come to me", but perhaps we identify with George Herbert: "Love bade me welcome, yet my soul drew back, Guilty of dust and sin." This soulful Invitation into the interior life, the vulnerable part of each human, can be uncomfortable, embarrassing, or down-right terrifying.

Some have likened intimacy to porcupines on a cold night – craving each other's warmth, but experiencing the hurt of the quills upon contact.

Yet I have been surprised, when sharing devotional messages at seniors' residences or shelters, that people want to hear something of depth for their souls. Their aging or well-worn exteriors do not cover their need for depth, or intimacy.

Paul Tournier, the Swiss psychiatrist shared: "Deep within our humanness is a profound need to be heard, and understood, not in part, but as a whole. Discover how to meet this need in yourself and in others."

For the Christian believer, knowledge that we are loved, known, and at peace with God, makes all the difference. This applies not only to the work of God in us, but also the work of God through us.

Intimacy grows through prayer. Increasingly for me it is not having a "gimme list", (although I have a list), but is a lifestyle, an awareness, not limited to time or space or proper syntax. Brother Lawrence taught us the sacrament of the present moment – he was as close to God washing the pots as he was formally worshiping with his fellow friars.

I continue to let go of pride, and like a child (I think Jesus had something to say about this) share my heart, open up my soul to my Abba Father (Daddy). Simple, heart-felt prayers get to the point. Three of Anne Lamott's favourite prayers are: Help, Thanks, Wow. Intimacy means entering the secret place, the holy place, creating opportunity to hear God's voice in the stillness, an increasing challenge in our world but a necessity. "Solitude provides a shelter from noise and distraction, and that can be scary. We have become almost addicted to both." (Ortberg)

A storyteller I met, upon hearing I was a Salvationist, remarked: "You people are really good at listening to people's stories." Richard Rohr has said God often comes to us disguised as our lives. As children of God, made in his image, each of our stories are unique, genuine, holy.

May we who are part of God's salvation story continue to hold carefully the stories that are shared with us – at coffee-break, in the soup kitchen, the counselling group, at Tim's, the testimony meeting.

Ruth Tracy pens: "Only as we truly know him, can we truly make him known." I would also add, only as we know we are truly known, can we make him known.

"Listen to your life. See it for the fathomless mystery that it is – touch, taste, smell your way to the holy and hidden heart of it because in the last analysis all moments are key moments, and life itself is grace." (Frederick Buechner)

The following intimate prayer is one that I meditate upon often, and share whenever I have occasion:

I am the beloved child of God the Father, I am the beloved friend of Jesus the son,

I am the beloved temple of God the Holy Spirit. I am enfolded in the three in one. "

Above all, always see Jesus in every person, and consequently treat each one not only as an equal and as a brother or sister, but also with great humility, respect and selfless generosity." (Charles de Foucauld)

"Invited into intimate relationship – we are Saved to Serve"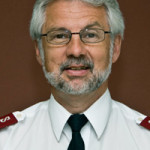 Major David Ivany has been a Salvation Army officer for over thirty years having worked in congregations, administration, teaching, pastoral services. As a certified Spiritual Director, he is part of the Territorial Pastoral Services team. He enjoys jazz, cycling, scrabble, making people smile, hanging out with his wife, Beverly, his four grown kids and their families, including his six grandsons and one grand-daughter, all under the age of six.


Click here for a printable copy of Faith & Life-Intimacy with God