Salvation
We promote the healing of the whole person – body, mind and spirit
It's no surprise that Salvation is a value important to The Salvation Army. Do you know what it actually means? Salvation literally means to be saved, or to be rescued, and in the language of faith, it means to be saved from sin. Salvation is a cornerstone of Christianity; it is for our salvation, so that humanity can be saved from sin, that Jesus Christ died. The Salvation Army is an international church, with thousands of different expressions of ministry – church and worship services, homeless shelters, thrift stores, after-school programs, post-secondary institutions, laundry services, chef training … the list could literally go on for pages. Every expression of The Salvation Army is rooted in the belief that the Christian faith compels us to meet human need and be a transforming influence in the communities in which we live.
In Action – Salvation
In September 2013 our centre – the Barbara Mitchell Family Resource Centre – was able to be the host for the planting of The Salvation Army's Living Hope Community Church. The presence of the church has provided a wonderful 'stepping stone' in ministry for our centre's programming. The majority of our programmes are not funded by The Salvation Army, their funding comes from various government departments and foundations. Consequently, there are restrictions on how much of the gospel, good news, we are able to share. However, as people ask questions, we are able to answer and we are able to refer them to the programs of Living Hope Community Church and the spiritual care of the Corps Officer.

In a joint venture with Living Hope Community Church, we opened our doors on a bitter February night for a Jamaica Family Fun Night. This night was geared around providing the opportunity for newcomer families to come to enjoy time together, to have a break from the cold, and to participate in a community needs assessment.

We had 272 people in attendance at this great event. The menu included jerk chicken and Jamaican beef patties. We had group games such as the Jamaican Bob Sled team, and individual stations that included crafts, a community safety wheel, a drum circle and a photo booth.

While all of the 'fun' events happened, we conducted a community needs assessment. From this we have learned that there is real interest in activities for children, spiritual counselling and healthy living education. This is now providing a foundation for strategic planning for the 2015-2016 season.

The majority of our participants are newcomers to Canada, having lived in Canada less than three years. Our neighbourhood has the second-lowest median income of all of Winnipeg so there are many opportunities for incarnational ministry that meets basic human needs and helps provide hope for the future. Having a church located in a social services centre is helping bring this to life. The church has experienced wonderful growth, with over 50 people attending now who live within walking distance. These families are from Nigeria, India, Sri Lanka, Ukraine and Jamaica (to name a few). They bring with them a wonderful spirituality and are teaching us much about spiritual disciplines and faith.

As we are able to accompany these individuals on their settlement journey in Canada, we hear stories of great resilience and salvation. They have been physically saved from refugee camps, poverty, war and fear. They have also been spiritually and emotionally saved through God`s sustaining grace in bringing them to Canada. As we hear these stories of resilience, of God`s grace and provision, our journeys are impacted and deepened as we live out an Acts 2 faith, church and Christian social services centre.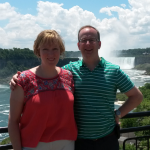 Steven and Corinne Cameron have been engaged in ministry as Salvation Army officers for almost sixteen years. They have had a variety of appointments including corps, area youth secretary, family services and newcomer ministries. They have three children, a cat and they both love to walk and read.




A Glimpse from the Past – Salvation
In 1895, when the Salvation Army started working in Japan, their misguided attempts to fit in with Japanese culture were labelled "religion tainted with lunacy". This along with the fact that all Army publications were written in classical Japanese meant its mission work did not connect with most people. The saving grace for the Army came in the person of Gunpei Yamamuro (1872-1940), the first Japanese Salvation Army officer. Yamamuro's analysis was that his fellow countrymen could not hear the meaning because of the way things were said, not because the messengers were foreign. High-flown language was a barrier to be challenged. Neither Yamamuro nor William Booth could be satisfied with a Gospel only for the elites. Yamamuro was appointed editor of the Japanese War Cry and immediately began publishing in colloquial Japanese, which was understood by all. Circulation soared. Romans 10:34 asks, "How are they to believe in one of whom they have never heard?"

As a sixteen-year-old new to Christianity, Yamamuro had prayed, "O God, … will you use and lead me to work for the salvation of the common people, to be a man who conveys the message of the gospel in a language to be understood by the enlightened?" As a twenty-six-year-old, his prayer was answered when he wrote what was to become a landmark in everyday Japanese literature. Heimin no Fukuin (Common People's Gospel) presented the message of Jesus in the language of the people, weaving the history, cultural values and religious traditions of Japan together with the words of the Bible. Heimin no Fukuin was so popular that it went through over 500 printings and sold more than 3 million copies over the years. It was translated into English in 1988 and continues to inspire people around the world.

Gunpei Yamamuro is known as the 'Salvationist Samurai' having indelibly marked The Salvation Army's presence and work in Japan. He was appointed as territorial commander in Japan in October 1926 – only the second non-western officer to do so, and the first ever to reach the rank of commissioner.

Further reading

Salvationist Samurai: Gunpei Yamamuro and the Rise of the Salvation Army in Japan, R. David Rightmire, Scarecrow Press, London, 1997

The Common People's Gospel, Gunpei Yamamuro, The Salvation Army, 1988

When Justice is the Measure, M. Christine MacMillan, James E. Read & Don Posterski, 2014


Click here for a printable copy of A Glimpse from the Past- Salvation


Faith & Life – Salvation
The late General Albert Orsborn wrote the words of a beloved song,
What a work the Lord has done

By his saving grace;

Let us praise him, every one,

In his holy place.

He has saved us gloriously,

Led us onward faithfully,

Yet he promised we should see

Even greater things.

Greater things!

Greater things!

Give us faith, O Lord, we pray,

Faith for greater things.


Salvation is not just a theological position to discuss in a classroom, it is a gift God offers the whole world; a gift to receive, experience and enjoy. The words of the above song affirm that salvation is God's work. The apostle Paul reminded the church in Ephesus, "It is by God's grace that you have been saved through faith. It is not the result of your own efforts, but God's gift, so that no one can boast about it" (Ephesians 2:8).

I remember the day of my salvation. I had been invited to The Salvation Army by a high school friend. I came first to a youth group, then to Sunday worship services. I remember hearing for the first time the truth of John 3:16, "For God so loved the world that He gave …." I remember feeling a sense of urgency and a deep need to receive what God was offering to give me. I stepped forward in a public worship service and knelt at a wooden bench and asked God for the gift of salvation. I experienced the work of God's saving grace. I felt new, clean, loved and forgiven. I have knelt many times since then. Each time receiving what the song says, "greater things."

I believe God's saving grace is always working to bring about newness of life, fresh hope and fresh starts. "In Christ the old is gone, behold the new has come" (2 Corinthians 5:17). I believe God's saving grace is available to all. Romans 8:18-24 speaks of the groaning of all creation. All of creation groans for the saving work of God. God's Word confirms; "Today is the day of salvation," "All who call on the name of the Lord can know the saving work of God." Every day opens opportunities for greater things.





Ann Braund was part of the Herald's of Hope session, commissioned as a Salvation Army officer in 1983. She married Jamie in 1987. Together they have served as Corps Officers in Canada and Bermuda. In 2011 they became part of the Training College Staff in Winnipeg. Last year they were moved to Toronto where she serves as Territorial Secretary for Spiritual Life Development and Chaplain at The Salvation Army Broadview Village.



Click here for a printable copy of Faith & Life - Salvation