Pastoral Care
Marriage Counseling
New and Revised Couple Care Marriage Preparation Manual. Canadian Best Seller, Couple Care Marriage Preparation Manual, used by over 500 pastors across Canada, USA, Great Britain and Australia as their preferred resource in preparing couples for marriage, is currently being reprinted.
THE NEW, REVISED EDITION INCLUDES: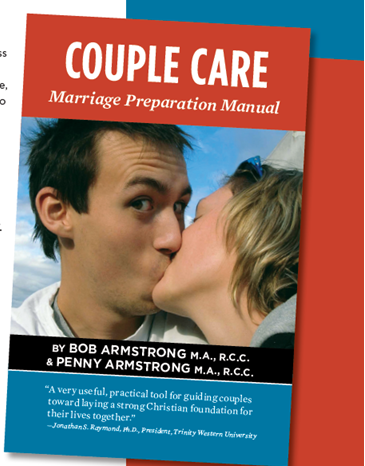 Additional truths from leading marital therapists (i.e. Dr. John Gottman) backed up by Scripture and illustrated through personal examples and humour. (i.e. Building Positivity in to Marriage)
A new section discussing the impact of Pornography on men and women. Today's young adults are the first generation to have grown up with digital technology in their homes from birth. They are the first therefore to have their brains rewired, for better or worse, by 24/7 digital communication.
A return to 6 chapters to coincide with 6 one hour premarital counselling sessions.
A seventh chapter on remarriage remains.
A new cover colour scheme.
Personal pictures and words of encouragement from young married couples.
Testimonials of pastors/leaders from a variety and denominational backgrounds.
Same day service. Book orders will be placed in the mail the same day.
Original Couple Care Marriage Preparation Manual available in Spanish.
COUPLE CARE Marriage Preparation Manual " A very useful, practical tool for guiding couples toward laying a strong Christian foundation for their lives together." —Jonathan S. Raymond, Ph.D., President, Trinity Western University
BY BOB ARMSTRONG M.A., R.C .C. & PENNY ARMSTRONG M.A., R.C.C.
Cost remains $12.00 per copy plus postage.
Order bob@couplecare.ca; office@couplecare.ca
Website: www.couplecare.ca
The timing is perfect for weddings you will be conducting this summer or fall. Order your new, revised CoupleCare Marriage Preparation Manual.
Pastoral Care Councils
Introduction
It is a requirement that all Salvation Army Corps have a Pastoral Care Council(PCC) in place and meet regularly.
Corps may also have a Director of Pastoral Care to oversee all shepherding programming. This might include Mercy Seat Counseling, Soldiership Training, leadership development, CCM groups, visitation, etc. A detailed description of the Director of Pastoral Care role can be found in the Corps Administration Model.
WHAT/WHY
The pastoral care council exists for the highly important purpose of exercising pastoral care towards the whole corps fellowship, such care to include praying for, visiting and training those in that fellowship. The council should periodically review and revise the relevant rolls and keep them in satisfactory condition.


WHO
Normally, membership of a PCC will not exceed 15, but for very large corps the DC may approve additional members.
The PCC is comprised of:
(a) The DC, who, by virtue of office, is a member of every PCC in the division. The DC (or DHQ representative) presides at the annual PCC meeting (Annual Corps Review Rolls Update)
(b) The officers officially appointed to the corps.
(c) The corps sergeant-major, corps secretary and recruiting sergeant (RS).
(d) Soldiers selected for their pastoral gifts and availability for the work of pastoral care. Such members may be commissioned LOs but need not be, nor need they wear uniform. Normally, no more than 50% of the selected members will be LOs. Selected members will be appointed only with the approval of the DC. Their initial term of appointment will be for three years, renewable with the permission of the DC.
Where there are regular sections or other identifiable groups within the corps whose commissioned leaders are not members of the PCC, such leaders, or their assistants, may be called in to PCC meetings for consultation as necessary. The YPSM and corps youth secretary, if not members of the PCC, will frequently be consulted.


WHEN
PCC meetings are held quarterly, annually and specially.
(a) The quarterly PCC meeting is presided over by the CO.
(b) The annual PCC meeting is held instead of the usual quarterly meeting on a date notified to the CO by the DC. The DC or DHQ representative presides.
(c) A PCC meeting should be held immediately prior to the CO's farewell.
(d) A special PCC meeting may be held at any time, under the presidency of the CO.
RESULTS OF THE Annual Corps Membership & Strategic Plan - Pastoral Care Council information.
HOW
Shepherding congregants is a primary focus of this council. Looking for opportunity to give direction for spiritual development, note members who may be ready to develop leadership skills or engage in Soldiership training, and other intentional steps to bring congregants to effective discipleship and leadership are all significant roles of the council. Some of these may be undertaken by a Director of Pastoral Care, who's primary responsibility is overseeing the programming that supports these steps (Shepherding programs, leadership development opportunities, Soldiership/Adherent Training).

Records: The PCC minute book is usually kept by the secretary. At the close of each PCC meeting the minutes should show, besides statistics and signatures, the decision or action of the council with respect to:
(a) Converts made recruits,
(b) Recruits and adherents approved for soldiership,
(c) Recruits and adherents enrolled as soldiers since the last PCC meeting, with date,
(d) Soldiers, recruits and adherents transferred from other corps and duly enrolled, with date,
(e) Soldiers, recruits and adherents removed from the books, with reason indicated. The names of those who have been removed from the soldiers' roll (excluding transfers and promotions to Glory) should be entered in the ex-soldiers' roll.
(f) A cadet on becoming an officer. (Names of cadets remain on the soldiers' roll until the cadet is commissioned, when the necessary entries must be made in the roll and the transfer issued in the usual way to the division where the officer is appointed.)
(g) Soldiers, recruits and adherents considered unsatisfactory, with efforts planned to help them, and the results,
(h) Junior soldiers approved for soldiership,
(i) Junior soldiers enrolled as soldiers since the last meeting, with date,
(j) Persons to be made adherents.

More information can be found in the O&R and in the Corps Administration Model document.



---
PCC Minute Books
Order from Supplies & Purchasing
ORDERS & REGULATIONS
The O & R for Senior Pastoral Care Councils contains detailed information.
---
RESOURCES
Assess for the spiritual gift of Shepherding. Visit
ChurchGrowth.org

Discipling the Flock: A Call To Faithful Shepherding, by Paul Tautges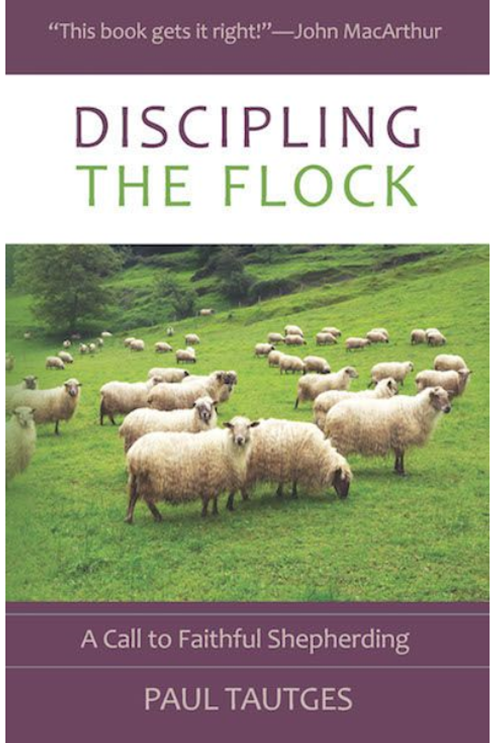 Discipling the Flock is a short book to help church leaders bring about heart-based change in the lives of the people they shepherd, through the personal ministry of the Word.
Here is an urgent appeal to return to authentic discipleship; here is a call to shepherds to be tenacious in their preaching of the whole counsel of God, and tender in their application of its truth to the lives of God's sheep through their personal ministry.
SHEPHERDING PROGRAM MODELS


Ideas for a Shepherding Program
(Lt. Colonel M. Waters)