War Cry / Salvationist Archive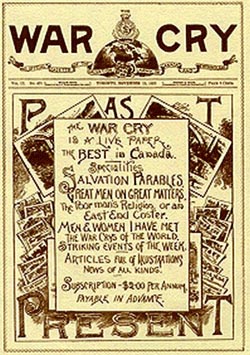 The Canadian
War Cry
was first published on November 1, 1884. Since that date,
The War Cry
has gone through many changes in format, size and design culminating in the current magazine format and name change to
Salvationist
. With the exception of a few issues, copies of all
War Cry
s published in Canada are in the territorial archives.
The archives is pleased to offer online 105 years of the
Canadian War Cry
in PDF format beginning with the first eight editions of
The
War Cry, which was first published on November 1, 1884. Issues for the complete years
1885-1979
(with the exception of several issues that are missing from the archives' collection) are now available. The years
1940-1943 covering the Second World War years
make for interesting reading as these issues document The Salvation Army Red Shield services to the troops.
Also on line are issues of
Salvationist magazine from 2006-present.
Gradually the remaining editions of The War Cry and Salvationist will be added, as time permits.
Enjoy the read!
Most issues are word-searchable. However, a number of issues have been scanned from microfilm and, although readable and downloadable, are not at this time word-searchable.
Click here to access search screen
The archived War Cry/Salvationists can be searched by going to the ALL FIELDS SEARCH BOX and typing a word (e.g. Booth) in the field box or going to the DATE PUBLISHED BOX and typing in a date (e.g. 1884).


Note: Unless stated all content is copyright of The Salvation Army Canada and Bermuda Territory and may not be reproduced without permission.


Permission to reproduce text can be obtained by contacting the Director of the Salvation Army Archives.



|

|

War Cry / Salvationist Archive