Dion Durdle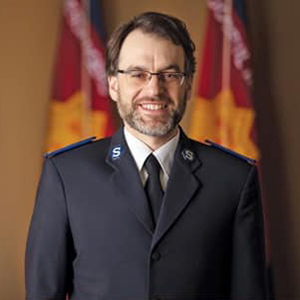 Lieutenant Dion Durdle
Canada & Bermuda Territory
I have always been inspired by the history and tradition of the Salvation Army. When the Army began, it was a radical and innovative movement because it took worldly music and turned it into Godly music. As a soldier for Christ, this is what inspires my writing as I seek to draw attention to the message of the music.
In Halifax, I was a member of the Christian rock band Grounded from 2002-2007. I have had the pleasure of playing alongside other Christian artists at events across Canada. I released my first album in 2009 entitled Rock 'n' Roll and my second album, Praise Loud, in 2017.
God's call on my life has been affirmed through the love I received as a part of the family of God. Growing up as an officer's child, I experienced life and relationships in many corps where my faith was always encouraged, and I was able to grow spiritually through various ministry opportunities. Officership presents a new opportunity for me to witness and serve for the glory of God. I am a newly commissioned Lieutenant at my first appointment in Sydney, Nova Scotia.
---
My inspiration for the new arrangement of Give Us a Day of Wonders came when I was asked by Major Terence Hale to prepare for the Voit/See Youth Conference. This event was cancelled due to COVID in the Spring of 2020, but the meaning of the song remains timely, particularly given the current spiritual climate of our world. The song speaks of hope and I especially hear the refrain "Lord, hear us as we pray" as the heart's cry of a collective voice.