Kathleen Johansson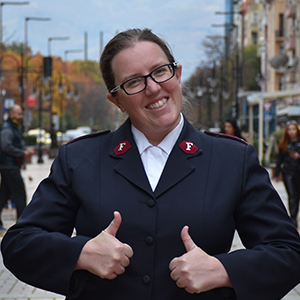 Captain Kathleen Johansson
Sweden and Latvia Territory
Having not grown up in the Army, I was surprised by how much I loved Salvation Army music when I first heard it. The band at my home corps had so much soul and I fell in love straight away. Even before then, music has always been important to me. I started to play the piano when I was six years old. These days, I sing as much praise to God as I can and take every creative opportunity that comes my way. I hope to be making even more music for God and the Army in the future.

---
This song came about because Major Stephen Court shared some "Holiness Meeting Fodder" on his Facebook page and I became intrigued. One of the good things about the English Song Book (compared to the Swedish for example) is that the text is not attached to a melody. As soon as I read the text on his post, I started to sing a melody, even though I had never heard the original song. I wrote it down and recorded myself and tried to figure out some of the chords. I tend to have self-doubt and sometimes think that my melodies are boring, but with a little help from a friend and some chord tweaking, the song was eventually born. I hope that this new melody can give life to the beautiful story that is found in these lyrics from Charles Fry.
I don't remember exactly why or how she asked for it, but at some stage, a dear friend of mine asked me to write a new tune for these beautiful words. It was just before Easter in 2020, so on Easter Sunday that year, I "gave" it to her as a video on Facebook. I didn't think I'd be able to write this tune because I already knew a few incredible arrangements of the original melody. I was worried that I wouldn't be able to get away from those arrangements. I sat down at my piano with the words in front of me, and it just came, as though it was always meant to be. It felt as though the tune was already written and I just had to be the one to write it down. Reading that back sounds a little pretentious maybe, but that is how natural it was. This is generally how it has happened for me throughout my writing process with other songs. I can count on one hand the number of new tunes I've written, so it doesn't happen often, but when it does, it is like a little miracle that I get to hold.
Although this version is slightly different from my original, Salvation Worship have made a lovely arrangement of this song with an incredible brass track that gives me goosebumps. I am thankful that it gets to be shared with the world again in this way. Every blessing!