Louise Mathieson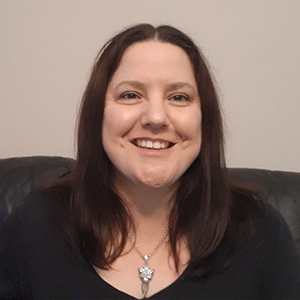 Louise Mathieson
Australia Territory
I've been making music and writing all kinds of things since I was a small child. The creative process never fails to challenge me and bring me joy. Being part of the Salvation Army all my life has led naturally to constant engagement in creative ministry, especially with music. I've been involved in singing company, songsters, vocal groups, bands, musicals, camps, and other teams and ensembles. For the last 14 years, I have also been able to support creative arts as an employee of my Division and Territory. In the last two years, I have become a part of a national Territorial Worship Arts team in Australia, which is an exciting place to work with a phenomenal group of other creatives who love Jesus.
I've been married to my husband Shelden for 27 years. We live with our furbaby Jemima in the beautiful north east of Brisbane. I'm a proud Queenslander at State of Origin football time, but you're more likely to find me reading, stitching, or drinking coffee rather than doing anything very athletic!

---
This song began life as a completely different song with no chorus and lurked in my journal for many years. After workshopping the song at a writer's weekend, I got some fresh ideas and I found the rest of the song wrote itself very quickly, changing tempo and style and evolving into something new.
Lyrically, it is based on 1 John 3:1 which is one of my many favourite Bible verses that centers on our identity in God. It was a natural progression from there for each verse to explore our identity as people beloved, redeemed and transformed. Our corps had recently developed a focus statement which was "Hope, Freedom and Transformation through Jesus." This helped me clarify this message and its implications – because of who (and whose) we are, this is how we live. Attending the Boundless 150 celebrations in London also played a part in inspiring the final title. Musically, I am rather a fan of Rend Collective's work so in style, it pays tribute to that semi-acoustic feel.
---
This song was in my journal for a while before finding its true form. Having participated in a performance of Take Over Bid as a teenager, Kneeling in Penitence has long been a special song for me. After coming up with some new melodic ideas while improvising, it was the song that popped into my head as the right match for a song book makeover. Reflecting on Hebrews 4:16 was the final piece of the puzzle that brought everything together. The original song is a beautiful, simple reflection on the realization of our desperate need for God's forgiveness and our total surrender to Him. By reworking the hymn and adding the original chorus material, it became a very personal processing of how I continually need to bring myself to that place. Jesus has already accomplished my forgiveness, but every time I cling to Him anew, I take hold of the promise again that I can freely and confidently meet His mercy and grace which allows me to stand and move forward with Him.