Osei Stewart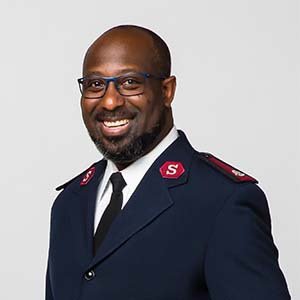 Osei Stewart (Major)
USA Western Territory
Music has always been a big part of my life, but especially as God has used it to draw me to Himself and to minister to me in meaningful ways. I use music to reach those who need a touch from the Saviour. God is in the music. God is in the lyrics, and He brings inspiration to me to draw closer to Him and to better understand His word and purpose for my life. It serves as a way for me to express my relationship with Him so others may understand my testimony of God's work in my heart and life. I currently sing tenor in the USA Western Territory Staff Songsters where I can share my gift of singing and music. I also participate in music ministry at my corps.
---
The song Emptied came about because I was going through a rough patch in my walk with the Lord. I had begun to shift focus on me and what I was doing in my own strength. I had abandoned God in some ways and was so far away from Him, even though I was a full-time corps officer. While lying in bed after reading Philippians 2, I fell asleep and dreamed what would be my complete song of surrender to God – from lyrics to melody, piano, strings etc. Based on Philippians 2, the song reminded me that if Jesus was emptied and lowered Himself for me, I need to do the same and give over my selfish ways to Him so that I could be useful for the Kingdom work He had called me to do. The song is a call to have the same mind of Christ so that the focus can be on serving others above ourselves.
This song was written for a divisional youth retreat that focused on the theme Identity. When we work to be more like Jesus, our identity eventually changes, and we become more of the light that He calls us to be. The inspiration was drawn from Romans 12:2 which says, "Do not conform any longer to the pattern of this world but be transformed by the renewing of your mind. Then you will be able to test and approve what God's will is – his good, pleasing and perfect will." Transformation of the mind and heart helps us to fully understand Him and the life that He calls us to live.