Major Pamela Pinksen - Director of Field Education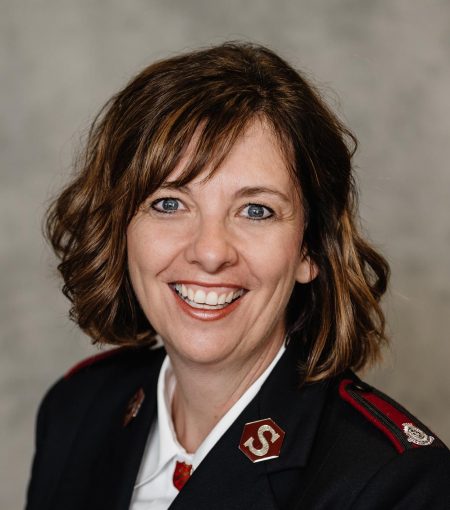 Prior to arriving at CFOT, Pam completed 16 years of officership. Pam has held appointments as Corps Officer in four (4) different corps of the Newfoundland and Labrador Division (Norris Arm, Stephenville, Gander & Corner Brook Temple). While in Corner Brook, she also carried additional responsibility for Student Ministries at the Grenfell Campus of Memorial University of NL. Her other past appointments have been as Assistant Divisional Youth Secretary (Manitoba & NW ON Division) and Divisional Children's Ministries Secretary (NL Central West Division).
Pam completed a Bachelor of Arts Degree (Biblical and Theological Studies) from William and Catherine Booth College in 2007 and a Masters of Theological Studies from Tyndale UCS in 2015. She is currently completing extended studies through Tyndale in order to earn an M. Div. equivalency.
She is passionate about music and worship planning/leading. Her other passions are teaching/preaching and she affirms with Catherine Booth the words the co-founder spoke after she preached for the first time, "I felt quite at home on the platform, far more than I do in the kitchen."
Pam is married to Cory. They have three grown children. Their oldest, Patti, is married to Dustin and living in Pasadena, NL. Their middle child, Victoria, is married to Dan and living in Toronto, ON. And their youngest, Aaron, is a first-year university student enrolled at Tyndale UCS. Everyone has left the nest except Toby, their 8 year old bichon.
In her leisure time, she enjoys walking, reading and watching movies. She is also a huge fan of chocolate.