We Believe
WE BELIEVE is a DVD set containing the eleven Salvation Army doctrines. They are based on a series of Sunday evening meetings, in interview format, conducted at the North Toronto Citadel Corps in 1996. They will be helpful for training (i.e. soldier classes) and are available for your own video library. You will find questions probing the significance, practicality and historical background of each doctrine.
The contributors interviewed are:
Doctrine 1 General Arnold Brown
Doctrine 2 Commissioner Arthur Pitcher
Doctrine 3 Major Kevin Metcalf
Doctrine 4 Lt-Colonel Cecil Cooper
Doctrine 5 Lt-Colonel Douglas Moore
Doctrine 6 Commissioner Ed Read
Doctrine 7 Lt-Colonel Bill Wilson
Doctrine 8 Lt-Colonel Robert Chapman
Doctrine 9 Commissioner John Busby
Doctrine 10 General Bramwell Tillsley
Doctrine 11 Lt-Colonel Wayne Pritchett
The series (2 DVD set) can be purchased through The Salvation Army Supplies & Purchasing Department, 416-422-6100, at the cost of $15 per set (plus shipping and handling).
WE BELIEVE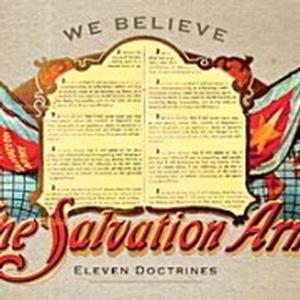 We Believe MP3s