It Is Written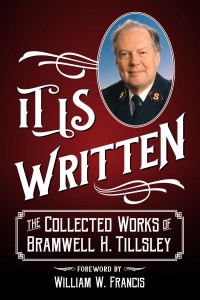 Few Salvationists have proclaimed, taught and penned The Salvation Army's Wesleyan theological underpinnings and biblical teaching of holiness better than General Bramwell H. Tillsley. It Is Written: The Collected Works of Bramwell H. Tillsley is an inspiring collection of writings from a lifetime ministry of publishing articles and books that encourage, disciple and challenge believers in their daily walk of faith.

To those who live and lead in challenging and opportunistic times, I recommend these writings as rock-solid truth with personal growth potential….—Commissioner Brian Peddle, Chief of the Staff

General Bramwell Tillsley is a Canadian treasure. This compilation of his writings and messages is a valuable ministry tool for officers and soldiers alike….— Commissioner Susan McMillan, Territorial Commander, Canada and Bermuda Territory
This book of carefully crafted writings draws a new generation of readers into the Scriptures and thereby into the glorious revelation of God the Father, Son and Holy Spirit … and challenges us with this question: What does God expect of me?— Dr. Roger J. Green, OF, Professor of Biblical and Theological Studies, Gordon College, Wenham, Massachusetts

About the Author
In 1993, Bramwell H. Tillsley was elected 14th General and international leader of The Salvation Army. Together with his wife, Mrs. General Maude Tillsley, World President of Women's Organizations, Bramwell travelled throughout the Army world nurturing Salvationists in their faith and highlighting the work of The Salvation Army.

It Is Written is available at store.salvationarmy.ca or amazon.ca.