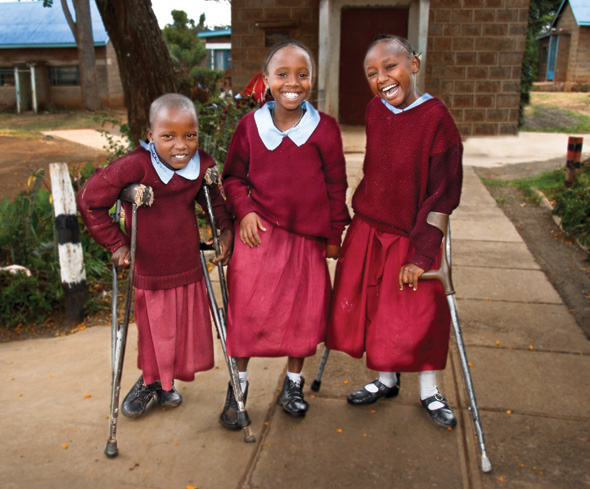 Along with her mitten-like hands, Annie had
10
toes and
two
Achilles tendons on
each
foot and her feet were turned backward. She was, however, blessed with a huge smile that was unexpected given the presence of so many physical "flaws."
Twenty years ago, my daughter, Bethany, and I made an unannounced visit to The Salvation Army Joytown Primary School for the Physically Handicapped in Thika, Kenya. We were sitting on a bench outside the cafeteria when a bell rang announcing lunch. Before us a drama took place that defied our expectations. Dozens of disabled children began to appear. Some were in dilapidated wheelchairs, often pushed by another disabled student. Most wore braces. Their clothing was often in disrepair and sometimes soiled. Some fell and were helped up by their fellow students. Amid the struggle to reach the dining room was a laughter that was not easy to explain, especially for those of us who are not disabled.
Many of these children had previously been hidden from public life and were a shame to their families. Now they were out of hiding and seeking their places in the world. They seemed to enjoy this unexpected opportunity to attend school, mix with other children and laugh.
Our medical work at Joytown began shortly after this initial visit. We would often come with a team of doctors, therapists and assistants to assess the needs of the children. We would ponder the bright letters over the classroom building that announced the school's motto, "Care, Rehabilitate, Educate." This motto has been better fulfilled in recent days through the co-operative efforts of The Salvation Army and
BethanyKids
.
BethanyKids
is an organization that has helped hundreds of children through therapy, surgical intervention, bracing and added encouragement. Some have gone on to high school. A few have finished university. Some have entered vocations through which they can help other students with disabilities.
Visiting Joytown in 2011 is a very different experience from those early days. Not all of the problems have been solved, but progress has definitely been made. Over 300 students at the primary school are being educated. Most of these are undergoing therapy by the
BethanyKids
team through a five-year agreement between Joytown and
BethanyKids
that began in late 2009. The students exercise in the gym and splash in the pool, and many are more mobile. As well, some are introduced to Jesus Christ for the first time.
Is there joy in Joytown? Yes, there is joy found in education, new physical freedoms, improved sense of self-worth, social interaction, and, for many, in knowing Christ.
In 2009, there were 197 applicants for 33 student positions at Joytown. In 2010, there were 150 applicants for 43 positions. Classrooms are overcrowded. Often over 35 disabled students are packed into a room that should have no more than 20 students. Frequently there is only one teacher for an overflowing classroom of disabled students. Teaching materials are scarce. The current facility was built several decades ago and is outdated and inadequate.
In co-operation with The Salvation Army, many more improvements at Joytown are anticipated: a new laundry, new toilet facilities, improved wheelchairs and better braces, more housemothers, a camping program for the disabled during school vacations, new or improved classrooms and dorms, and an expanded discipleship program.
Dr. Richard Bransford is the clinical director/surgeon at
BethanyKids
. The organization's founder, he has worked in Africa for over 30 years in various contexts.
A benefit concert for
BethanyKids
at Joytown is taking place at Toronto's Scarborough Citadel on Saturday, January 29, featuring the North York Temple Band (click
here
to view poster). Help Annie and the other children of Joytown by buying a ticket and offering your support. Visit
bethanykids.org
to learn more and to help bring healing and hope to children with disabilities in Africa.