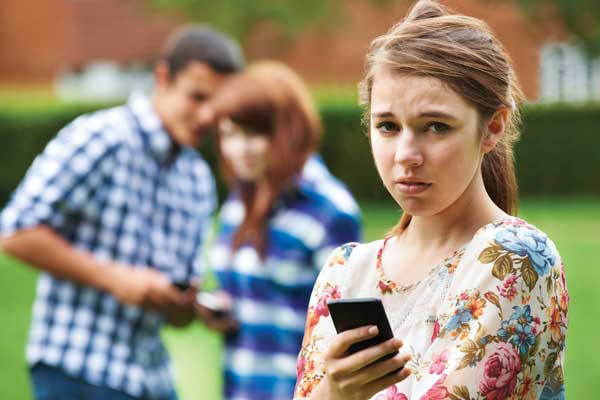 "Gimme your lunch money!" The phrase may conjure up the stereotypical image of the child bully—usually a boy—with more brawn than brains who terrorized other children for a variety of assumed reasons. He may have come from "the wrong side of the tracks" and this was his way of getting back at the world. Among school-aged children, bullying took place near the lockers outside the classroom or perhaps on the walk home from school. Victims experienced taunts, name-calling and physical abuse. Whether it happened five or 50 years ago, few things can harm a child more than bullying; the effects can last a lifetime. Unfortunately, while this kind of child-to-child bullying was terrible for those who experienced it, the bullying experienced by children today is worse.
The same elements of traditional bullying still exist. You'll still find name-calling, verbal harassment and physical violence, only now it is coupled with technology. The popularity of smart phones has seen bullying transition from the real world to the virtual one. Bullying has gone cyber with devastating effects.
On April 7, 2013, 17-year old Rehtaeh Parsons from Dartmouth, N.S., died as a result of suicide. The victim of an alleged sexual assault by a group of boys from her school back in 2011, Parsons' horrific ordeal was further compounded when one of the assailants took a picture of the assault and sent it to other youths in the community. Just days after the event, classmates began harassing her online and through social media. Called derogatory names and then propositioned by other boys at her school, Parsons sank into a deep depression which ended in the taking of her own life.
In 2012, the eyes of the world came to rest on Port Coquitlam, B.C., with the tragic case of Amanda Todd. The 16-year-old also committed suicide due to cyberbullying, but before doing so, uploaded a YouTube video with the remarkable title, "My Story: Struggling, bullying, suicide and self-harm." In the video, which has been viewed 7.6 million times, Todd used flashcards to describe her experience of being bullied, blackmailed and physically assaulted by her peers. Over the course of many months, Todd was constantly harassed by someone online to expose herself on camera. When she did, the cyberbully used the photo to blackmail her. The anxiety and isolation she experienced ultimately led to her death.
Though extreme, the Todd and Parsons examples have galvanized the nation to begin dealing with cyberbullying, pressuring legislators in provincial and federal governments, as well as school board and municipal officials, to enact laws that will hopefully eliminate these scenarios.
Dr. Shaheen Shariff of Define the Line, an advocacy group that promotes responsible digital citizenship, defines cyberbullying as " … the use of a range of digital media and/or communication devices to post or distribute offensive and demeaning forms of expression. Cyberbullying contains all of the elements of traditional bullying, but extends them into a highly public, online environment. Cyberbullying can include using cellular and smart phones, e-mail, or social media to post or distribute insults, threats, gossip, modified and/or intimate photographs, and videotapes of beatings or unauthorized films of intimate sexual acts. The purpose of these acts is to embarrass or threaten targeted peers or authority figures."
Cyberbullying is not only more malicious than regular bullying; it's also more prevalent. Images of little Johnny running away from the neighbourhood toughs to the safety of home is no longer the only bullying scenario. With the access that smart phones, e-mails and social media affords bullies, a child can be tormented while their parents sit in the same room, totally oblivious as to what is going on.
Bullies no longer conform to any one social demographic or stereotype. The anonymity that technology provides has given rise to the social phenomena of "trolling"—where someone posts negative, sarcastic or abusive comments online for no real purpose other than maliciousness. It's akin to a group of bystanders who may encourage a bully to carry out his threat of violence against a victim. In these situations, the negative bystanders, or online trollers, also exhibit bullying behaviour.
So what can be done? The Salvation Army is uniquely poised to be an agent of change. Our mandate, to be a transforming influence in our communities, should cause us to take the rise of cyberbullying seriously. In one of the strongest statements ever made by Jesus, "If anyone causes one of these little ones—those who believe in me—to stumble, it would be better for them if a large millstone were hung around their neck and they were drowned in the depths of the sea" (Matthew 18:6). Inaction in the face of bullying can be as damaging to a child as the physical, emotional and mental abuse caused by the bullying behaviour. We would be wise to heed the words of Jesus and protect the children God has entrusted to us.
Salvation Army programs such as Red Cap (an anger management course for children) are great ways to encourage young people to talk about their feelings and express themselves in healthy ways. Red Cap is being run by the Army in various public school programs throughout the country. Clearly our schools need as much community support as possible and their willingness to partner with religious organizations to run these quality programs affords us a unique opportunity to not only reach out to victims of bullying, but to the children that exhibit bullying behaviours.
There are many opportunities within the day-to-day life of a corps where children can be encouraged to resist cyberbullying. Youth group leaders and corps officers may want to take a novel approach in communicative technologies—not by banning them outright from corps events or services, but by promoting their use in a way that fosters understanding of the Christian message. Some corps officers are doing this by encouraging young people to text them questions related to a Bible study or even to engage with them during the Sunday sermon. Talking with children about cyberbullying and acknowledging that it is a problem will go a long way in reducing its harmful effects. Corps and social service ministries can be a resource to parents to help establish safe use of these technologies. For example, the family computer should be centrally located so parents can easily monitor its use. Facilitating the discussion between parents and their children on the appropriate use of smart phones and social media is one way that the church can fulfil its historic calling to serve the present age.
Parry Aftab, executive director of WiredSafety, notes how "Christianity is very good at making it 'real.' The New Testament is written in parables to teach people through example. Faith-based organizations need to take real stories of real lives affected by bullying. We need to encourage the kids within the church to tell their own stories, so their peers can support them."
Look for ways that you can support youth in your community who may be experiencing cyberbullying. It may be unrealistic to think that we can block out all the negative influences in our children's lives, but let's work hard at being their biggest positive influence.
Robert Jeffery is a Salvationist at Halifax Citadel Community Church and an employee of the Halifax Centre of Hope, Maritime Division.Photo: © iStockphoto.com/MachineHeadz