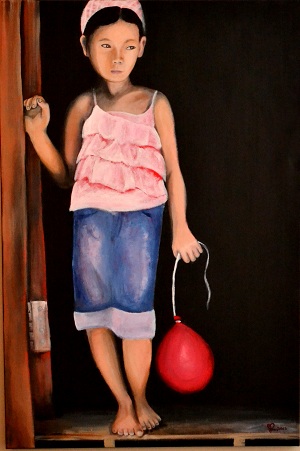 "My goal as an artist is to shake the viewer awake and tell a story," says Jessica Puddicombe. The daughter of Salvation Army pastors, Jessica was born in British Columbia and developed an aptitude for art early on. She coupled this interest with a keen social conscience that grew from watching her parents at work.
"I've always been socially aware and, as I grew up, I became passionate about helping others," explains Jessica. "I started producing what I call 'social-justice art' out of a response to two questions that I continue to ask myself the more I learn about injustices in the world: How can I make a difference? What can I do to help?"
These questions started a journey that changed her life.
"I realized that justice is love in action, and the best way I can make a difference is by showing love through doing what I love to do. And I love to create, paint and tell stories through art."
In 2012, Jessica organized an art exhibit entitled Create Change. "My goal was to use the arts to highlight some important issues, tell stories of the oppressed and provide a platform for young artists to display and sell their work." The proceeds from this event went toward The Salvation Army's outreach efforts in Niagara Falls, Ont.
Last year, Jessica took part in a mission trip to The Salvation Army's Matumaini school for disabled children in Dar es Salaam, Tanzania. She is now working on a series of paintings that will tell the stories of the amazing individuals she met there.
Currently majoring in art and minoring in disability studies at Redeemer University College in Ancaster, Ont., Jessica plans to go into art therapy. "I see that as a way to use my God-given talent to the fullest."