In March, 20 teens from Richmond Hill Community Church, Ont., embarked on a transformative journey, travelling to Costa Rica to share in the ministry of Nicoya Corps. As one of six leaders, I was privileged to be part of this 10-day mission trip.
Our time in Costa Rica began at a creative arts institute, where our youth learned to bring the Scriptures alive through tableau, dance, drama and music, learning alongside Spanish-speaking young people from Latin America North Territory. We experienced their desire to share God's love in the world and encouraged our new friends during morning worship through music, Scripture readings in Spanish, sharing testimonies of how God is working in our lives and a Bible lesson.
From there, our team travelled to Nicoya, where The Salvation Army is a vibrant ministry to children, young people and families. Along with an after-school and tutoring program, the corps serves an evening meal to nearly 100 children every day. It also runs adventure clubs, junior soldiers, corps cadets, Bible studies and "hot Zumba" exercise for moms, among other programs.
This ministry is led by Lieutenant Yessiret Matos, or "Yessi," as she is known to her community. Yessi left her home in Dominican Republic and went to training college at the age of 16. She was commissioned as an officer at the age of 18 and has been serving in Nicoya for the last four years. Many of her local leaders are between the ages of 16 and 20, and it was amazing to see so many young people with a desire to serve the Lord and share his love with their community.
Our team and the young people of Nicoya quickly became friends, working together from the early rise of the neighbour's roosters until evening darkness, when we spent time learning each other's language, laughing, singing and sharing stories.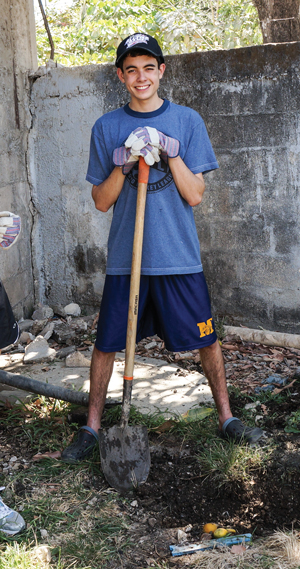 As well as leading a Vacation Bible School program that focused on God's love—how God is kind, patient and forgiving—our team painted walls and fences, repaired damaged walls, assisted with plumbing, dug a trench, cleaned up the yard and helped with minor electrical work. We participated in the evening feeding program, took children to a local park to play, and made crafts with them.
A highlight of the trip was accompanying Yessi on home visits. We met and prayed with families, and shared photos of our own families. Although we saw some difficult situations, we also saw God's love in action.
"As we walked the streets with Yessi, you could feel God's love shining through as she embraced and greeted everyone," says Misha Pavey. "God showed me how great his love is through her. Now that I am home I have made it a challenge to love like Yessi does."
Although there were unexpected challenges—such as the language barrier and technological issues—they strengthened our faith.
"By overcoming the obstacles, we were able to build on our relationships with each other, the people of Costa Rica and Jesus," says Michael Herbert. "What I took away from this trip is that God is the one in control."
We went to Costa Rica with the intention of blessing others, but we came away being encouraged by the Christ-like example of the officer and soldiers of the Nicoya Corps. We were challenged to be witnesses of God's love in our own community, and learned that age places no restrictions on serving the Lord.