"Ava has leukemia," the doctor told Jude Caron about his four-year-old daughter. As the doctor launched into a description of treatment options and side effects, Jude raised his hand to stop him.
"I need my wife here with me," he said. Jude's wife, Anne, was due to deliver their third child any day, and she was at the doctor's office, undergoing an ultrasound.
As Jude waited for Anne to arrive, he struggled to process what was happening. But four-year-old Ava reached for his hand and said, "Papa, I'm going to be OK. Jesus touched me and I'm going to be OK."
"I should have been consoling her," Jude recalls, "but instead, she was comforting me. It went from the worst moment of my life to the most miraculous one. In that moment, my faith changed and I trusted God with her life. I knew that Someone bigger and stronger was taking care of us, and that Ava was going to be OK."
Condition Critical
For a few weeks before her diagnosis, Ava had been complaining that she felt sore. She seemed lethargic and lacked an appetite. "We thought it was growing pains," Anne says. "But, just to be sure, I took her to a chiropractor, thinking that would help with the leg pain."
As the chiropractor spoke to Anne in the lobby, Ava said she felt a large hand on her back. "I've always known that Jesus loves me," Ava explains, "and I knew it was Jesus who was touching me."
The next morning, Ava woke up, unable to walk. Jude took her to their family doctor, who immediately sent them to the hospital in nearby Cambridge, Ont. "Ava was curled into the fetal position and was in tremendous pain," Jude says.
A blood test revealed that her platelets were at zero and the doctor delivered the devastating diagnosis. The leukemic cells were multiplying quickly, and Ava's organs were swollen. In a brief time period, Ava's condition had worsened dramatically.
"All I Can Do Is Pray"
Ava's treatment regimen was rigorous: 32 sessions of chemotherapy spread over two years. During the first week, Ava took an oral chemotherapy drug.The second week, she received chemotherapy via an injection in a port, a small medical appliance installed beneath her skin. She rested during the third week and then the cycle would start all over again.
"It was brutal to watch her go through it," Jude remembers. "I would take her to her treatments and she would throw up in the car the whole way home. I always wished I could take her place."
Ava suffered several medical complications during her two years of chemotherapy. She developed a fungal infection in her lungs. Another time, her port became infected and she went septic. "We almost lost her several times," Anne shares.
But while the family struggled, they knew they were never alone. When Ava first became sick, the family was attending the Salvation Army church in Hespeler, Ont. "It's a tiny church with only about 30 people, but they are such prayer warriors," Anne marvels. One 96-year-old church member sent Ava a letter every month, reminding her that she was praying for her.
And she wasn't the only one. An e-mail went out to Salvation Army members all over the world, asking people to pray for Ava.
"Going through a terrible thing makes you realize how good people are," Anne says. "Our church family was there for us through it all."
After a particularly difficult day, Anne called into a Christian radio talk show and told them what was happening in her life. "This is out of our hands," she said. "I'm powerless and I don't know what to do. All I can do is pray."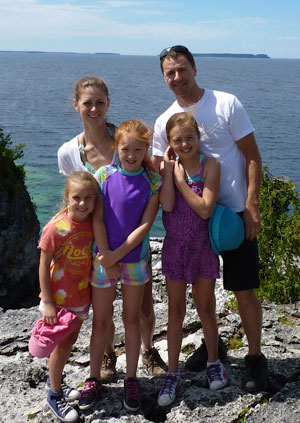 A Walk in the Dark
Over the two years of Ava's treatment, the family saw God working countless times. Ava's youngest sister, Ella, was born five days after Ava was diagnosed. "We were able to save her umbilical-cord blood, which has a 25-percent chance of matching Ava should she need further treatment," Jude explains. "If Ella had been born early, we would not have been able to do that."
Toward the end of Ava's chemotherapy, the family began attending the Salvation Army church in Cambridge. "We loved our church in Hespeler, and everyone has been so good to us here as well."
During the many hours Ava spent in the hospital, she learned how to read. The first book she read was a children's Bible. "This Bible has more than 500 pages and she read it in about three months," Jude smiles. "She's basically memorized it and she can retell all the stories."
Ava trusted in the Lord throughout her treatment. "When it got hard, I just remembered that people were praying for me," she says. "I know that God is always with me and always helping me."
Anne's faith grew as well. "This entire process was like walking in the dark. I had to fully and completely place my child's life in God's hands," she states.
When Ava's chemotherapy treatments were finally finished, her parents celebrated with a "no more medicine" party and invited all of Ava's friends and family. "We rented out a farm," says Anne. "At that time, Ava dreamed of becoming a cowgirl, so it was the perfect theme for her party."
About a month after Ava's last chemotherapy treatment, she and her sisters were playing in the yard. "Through the window, I heard Ava laugh—a real hard belly laugh—and that's when I knew she was back," Anne says. "Some kids never recover from the side effects of chemo, but I feel God protected Ava through her treatments."
Today, Ava is a healthy 11-year-old who loves to swim and do gymnastics. She sings and plays the cornet in the church band. When she grows up, she wants to work in a hospital and teach kids about Jesus.
"I've always believed that God can do anything," Anne says. "We've learned to truly live every day and to walk close to God and each other."