As a high school principal in Vancouver, my life had been comfortable and rather predictable. When a good friend and former colleague challenged me to consider working with his organization overseas, and with early retirement on the horizon, God began to reveal a new purpose for my life. In early 2010, my wife, Nancy, and I moved to Jakarta, Indonesia, to help start a new private Christian school.
Jakarta is a large, vibrant and busy city of more than 25 million people. The people are warm and friendly; the street life chaotic and colourful. It is a city of contrasts, with wealth and poverty side by side. Pollution is a problem and only bottled water is safe to drink. More than 90 percent of the Indonesian population is Muslim—per capita the largest Muslim population in the world—and we grew accustomed to the frequent calls to prayer projected over the loudspeakers of local mosques, starting at 4:30 a.m. every day.
The first phase of my new role as head of Sekolah Pelita Harapan (SPH) International—Kemang Village, involved overseeing the construction of the new building, fitting the school with supplies and equipment, hiring teachers, administrative and support staff, and developing curriculum. In August 2010, we opened our doors to 100 students, from both Indonesian and expatriate families, for classes from kindergarten to Grade 12. Over the next four years, enrolment grew to almost 700 students. Approximately 70 percent of the student body is Christian, and the rest are from Muslim, Hindu and Buddhist backgrounds.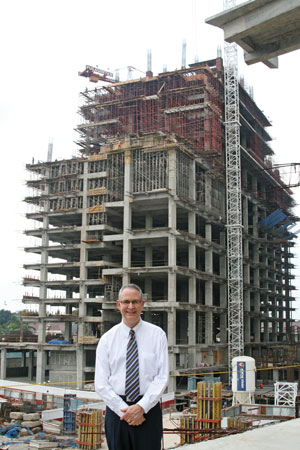 The school is located next to a poor neighbourhood—known as a kampung—giving us many opportunities to share God's love through community service projects. We were able to provide help when tropical rains and inadequate infrastructure caused frequent floods. We arranged for SPH students to volunteer with Salvation Army ministries for a week each year. And we encouraged young Salvationists from across the country to apply to the SPH teachers college, a full-scholarship program that provides an outstanding education. Currently there are 12 Salvationists in this program, and it's our hope that these students will work in Salvation Army schools after graduating, improving the quality of education in a country that now ranks last in an international survey developed by
The Economist
.
The Salvation Army's work in Indonesia includes approximately 100 schools, 20 orphanages and 20 hospitals, as well as 400 churches with 50,000 members. Hosted by Commissioners Mike and Joan Parker, now the territorial leaders, we were excited to visit the island of Sulawesi, where much of the Army's work is focused. In a remote village high in the mountains, we visited a Salvation Army primary school, where there was no electricity and the students were sent home when it rained because the roof leaked. Many children in the area did not attend school because they couldn't afford a school uniform.
As we learned about the economic challenges facing The Salvation Army in Indonesia, we were able to raise support in several ways. These included sponsoring teachers and providing resources for an Army school through SPH; facilitating discussions between Salvation Army hospitals and another Christian hospital group to develop cost-sharing initiatives; and connecting the Army's territorial agribusiness with experts in the coffee industry to improve business strategy and increase funding.
After four-and-a-half years in Indonesia, we returned to Canada in July. We miss much about Indonesia, especially the relationships we formed, but are glad to once again be close to family and friends, to reconnect with our church and to resume our professions. I have accepted a position as principal at White Rock Christian Academy, B.C., and Nancy has returned to her private practice as a clinical psychologist.
Our years in Indonesia were a time of spiritual growth, as the words of Peter became a reality in our lives: "But grow in the grace and knowledge of our Lord and Saviour Jesus Christ. To him be the glory both now and forever" (2 Peter 3:18). There were times when we felt inadequate to meet the challenges before us, but the more we were stretched beyond our comfort zone, the more we learned to put our faith and trust in God. We now have a greater understanding of Paul's statement to the church of Philippi, "I can do all this through him who gives me strength" (Philippians 4:13).