While studying physics at Dalhousie University in Halifax, Jalianne Li was involved with InterVarsity Christian Fellowship. At a weekend retreat, the worship leader asked everyone to close their eyes and imagine themselves alone in front of the throne of God. "She asked us what we were doing," she says. "I saw myself dancing. Then she said, 'Do what you see.' " At first, Li was hesitant. She didn't know anyone who danced in worship. But she got up the courage and danced. "It was very freeing," she says. "That was the start of God calling me to dance."
As Li continued her studies, there was a time when she struggled with depression. "I couldn't feel God's presence. I couldn't pray. I found it hard to find the words to say, let alone the energy to put those thoughts together," she says. "So I started dancing as a way to express myself to God, of getting the inside out, of telling God about my frustrations and concerns, my anger and my hopes. Dancing became my way of praying."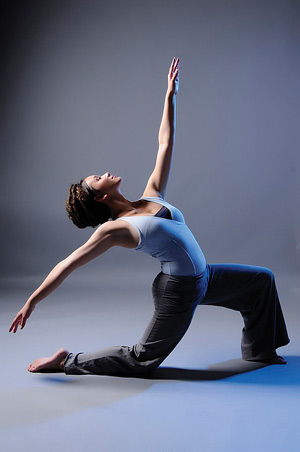 Discerning Vocation
After graduating, unsure of where God was leading her, Li spent a year studying Mandarin in Shanghai. But the desire to dance kept growing. "I had the overwhelming sense of needing to dance all the time—even when I was in public with people around me," she says. "It was this passion building up inside of me. I couldn't contain it."
Knowing God was somehow speaking in her life, Li decided to study at Trinity Laban Conservatoire of Music and Dance, a contemporary dance school in London, England. The year-long, intensive program confirmed this was God's direction for her life. She then apprenticed with Springs Dance Company, a Christian dance company that creates, performs and teaches dance. In England, the national school curriculum includes religious education, and part of the apprentices' role was to visit schools and teach the Bible through dance.
After the apprenticeship program, Li freelanced as a professional dancer and choreographer, creating and performing three pieces. The first, In the Beginning, was inspired by the connections between Genesis 1 and John 1. It was accepted at a festival for emerging dance artists. The second was a collaboration with a composer experimenting with music, movement and video projection.
As she was working on her third piece, Li learned that a friend's boyfriend, a Christian, had committed suicide. "It really hit home for me, because I knew how dangerous the mind can be—how easy it is to get stranded in your mind and how hard it is to get out once you're in there," she says. "I kept thinking how that could have been me, had my depression gotten worse."
Reflecting on her own experience and her friend's death, Li created a piece where the dancers were trapped in the same space as the audience, searching for a way out, but getting distracted and remaining lost. Finally, one of the dancers found the path of hope and broke free, exiting the stage.
For Li, hope is found in God. "Whenever I feel distant from God, that's when I feel the most hopeless," she says. "There came a point when I really needed God to be there, and his presence overwhelmed me. It gave me hope to keep going. That's what drives me, knowing that God is so real and present in our lives."
While living in London, Li attended Deptford Corps. "It was awesome being in London, where The Salvation Army started," she says. On the last Sunday of every month, she also attended dance church—a group of Christian dancers, many involved in the secular dance community, who met to worship together. "There'd be hip-hop artists, African, contemporary, ballet, and we'd all dance in worship and tell stories of when people were able to share their faith in that world," she says. "It was so inspiring to be around all of them and speak into each other's lives."
Vision for the Arts in Worship
After three years in London, Li returned to her home in Moncton, N.B., with a vision to bring her faith to the dance world, and the arts world to the church. "I want to bring biblical stories and themes back to the secular dance world, as a treasure trove of inspiration for creating art and as a platform for discussion," she says. "And I believe that we, as Christians, should be leading innovation and creativity in the art world. God is the ultimate creator. He created the craziest things, from ants to jellyfish to cacti to rainbows—and he called all of those things good. I want my dances to reflect the creativity of God and for people to leave being in awe and wonder of God, as they would be if they consider the world around them." 
Li grew up at Moncton Citadel Community Church, which she still attends. She is encouraged by the movement toward incorporating contemporary forms of worship into The Salvation Army. "There has been a change from having only a brass brand to including a worship band, blending the old and the new," she says. She would like to see even more artistic expression in the Army, without losing its identity.
"We have an identity as social outreach into the community, but we also have this other artistic identity that I think is amazing," she says. "Maybe the brass band could play contemporary songs or walk around in formation rather than sitting down. Maybe you could have hip-hop artists using timbrels. It's finding ways to keep our identity, the things that are dear to our hearts, but figuring out how to transform them for today's culture."
Underlying this passion for the arts is her passion for worship. Within the church, dance can be used in the same way as a musical piece, or as a way to lead people into worship. "The dancer plays the same role as the worship leader, by choosing movements and choreography to help the congregation focus on God and their relationship with him," she says. While she knows not everyone would feel comfortable dancing in worship, she wants people to feel free to worship in their own way, "however God is calling them to express themselves—whether that's through painting or writing poetry or playing timbrels or waving a glory flag. They should feel it's just them in front of God's throne, worshipping and giving him praise."