Soon after receiving the news that General Eva Burrows (Retired) had been promoted to glory on the evening of March 20, 2015, the Chief of the Staff (Commissioner William Roberts) sent out the following information to Salvation Army leaders around the world, paying tribute to "the people's General" – The Salvation Army's 13th international leader:
A daughter of Salvation Army officer parents, Eva Evelyn Burrows was born on September 15, 1929 in Newcastle, Australia. She committed her life to God for service as a Salvation Army officer while she was studying at Queensland University in Australia. Having received her Bachelor of Arts degree in May 1950, with majors in English and History, she entered the William Booth Memorial Training College in London, and was commissioned a Salvation Army officer in 1951.
Her first appointment was to Portsmouth Citadel Corps, in the Southampton and Channel Islands Division of the British Territory, as an assistant officer. Following this initial appointment, Eva Burrows was appointed as an officer teacher to the Howard Institute, a large mission station in Rhodesia (now Zimbabwe).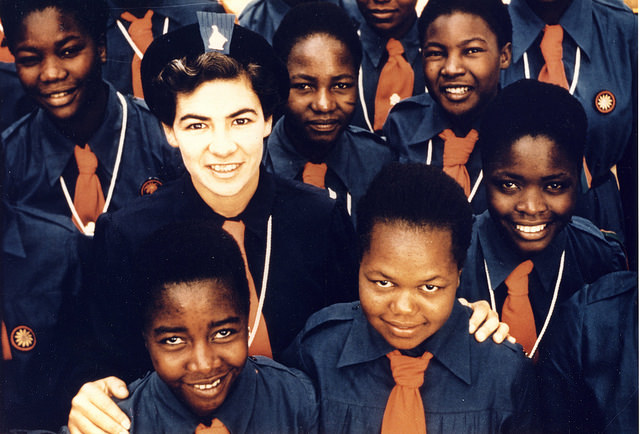 During 14 years at Howard Institute, Eva became particularly concerned with the training of teachers for the network of Salvation Army schools throughout Zimbabwe. During her first homeland leave she undertook a course at Sydney University for the degree of Master of Education, and presented her thesis on the training of African teachers in Zimbabwe.
Returning to Howard Institute, she became the first woman vice-principal and, from that appointment, she became the Principal of the Usher Institute – a secondary boarding school for girls. Under her innovative leadership, Usher Institute became well known in Zimbabwe as an outstanding girls' educational centre.
In 1970 Eva Burrows was appointed to London where she spent five years at the International College for Officers, first as vice-principal and then principal.
A significant impact on Eva Burrows's life was her appointment as leader of the Women's Social Services in Great Britain and Northern Ireland from 1975 to 1977. It brought her into close touch with the effects of poverty and exploitation in the crowded cities of Britain.
Adaptation to a new culture became necessary when in January 1977 she became Territorial Commander for Sri Lanka. In less than three years she had made such an impression in that predominantly Buddhist country that
The Ceylon Observer
said of her: "People like Eva Burrows grace any country they serve in. The Salvation Army has been very pragmatic and practical about its work, and Eva Burrows is a symbol of the Army's attitude to the poor and meek."
In December 1979, she became leader of The Salvation Army's work in Scotland where she undertook a further three years of inspirational leadership. Salvationists remember the drive and devotion which she brought to her task.
After 30 years of officer service, On October 1, 1982, Eva was appointed to the first assignment she ever held as an officer in her homeland. Based in Melbourne, she served as Territorial Commander for Australia Southern Territory. There, significant and innovative initiatives characterised her leadership style over the next four years. Such was the extent of her influence that she was regularly consulted by the Prime Minister for her opinion and advice on a variety of matters.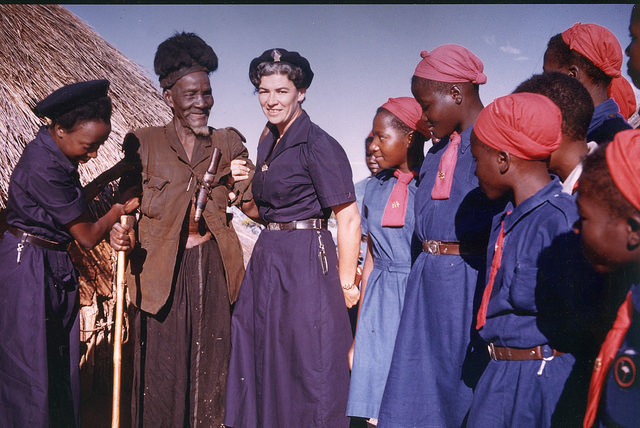 On May 2, 1986, the High Council elected Eva Burrows as the 13th General of The Salvation Army. She succeeded General Jarl Wahlström to office on July 9, 1986. She was welcomed for her energetic style of leadership, for her infectious enthusiasm and for her impatience with anything inefficient. She was the focus and symbol of unity, and her varied international experience eminently equipped her for the role.
The restructuring of the Army's work in the United Kingdom was a complex issue that had been considered a number of times over many years, and with characteristic boldness and determination General Burrows addressed the issue head on, and drove it through to conclusion. In the authorised biography
General of God's Army
(Henry Gariepy) it is recorded: "The international press of the Army headlined it 'Revolution,' the term coined by its chief architect, Colonel John Larsson. 'With characteristic boldness,' wrote Larsson, 'the General has launched the Army's most fundamental administrative change in the its 125-year history.' The restructuring of the Army's International Headquarters and its British Territory was indeed revolutionary and radical."
Under the Army's constitution, General Burrows was scheduled to retire from office in July 1991 but, as a result of the process whereby a General may be extended in office if more than two-thirds of the active commissioners agree to the proposal, General Burrows was asked if she would consider extending her term of office by two years. She agreed to do so, thus enabling her not only to preside over the early development of the fledgling United Kingdom Territory, but also to give vigorous leadership to another of her visionary initiatives – the return of The Salvation Army to a number of Eastern Bloc countries where it had previously worked. General Eva led The Salvation Army back into eastern Europe, with work being re-established in the former East Germany, Czechoslovakia, Hungary and Russia itself.
General Eva Burrows was honoured in many ways during her worldwide travel, not least by the receipt of a number of honorary degrees. On Australia Day (January 26) 1986 she was appointed an Officer of the Order of Australia (AO) with the citation reading: "In recognition of service to the temporal and spiritual welfare of the community and to social justice as the world leader of The Salvation Army." On the same date in 1994 this honour was upgraded to Companion of the Order of Australia (AC), with a similar citation. In 1988 she became an Honorary Doctor of Liberal Arts at Ewha Womans University in Seoul, and was awarded an Honorary LLD from Asbury University in the USA in 1988. In December 1993, she received an honorary Doctor of Philosophy from her alma mater, the University of Queensland. On January 1, 2001, a Centenary Medal, "for service to the Australian community," was awarded.
However, it was through her willingness to spend time with individuals, whatever their status, that General Eva Burrows became known to many as "the people's General" – a title she did not seek, but one that she cherished. People were Eva Burrows's passion. Her interest in people at every level of society was not a professional skill that she had developed. It was an integral part of her nature. Having met a person, she had no difficulty in recalling the name, the face, the family situation, many years later. In her biography,
Eva Burrows – Getting Things Done
, Wendy Green wrote: "She only needs to meet people once and she knows all about them. She recognises them. Puts them in the right pigeonholes. When she was elected General she received a telephone call from her former teacher, Mr Adsett, one of her 'shining people.' She recognised his voice immediately, after nearly 50 years. Mention a place, a person, she can give you an instant rundown." Eva Burrows never lost that passion for people, nor her gift for remembering them.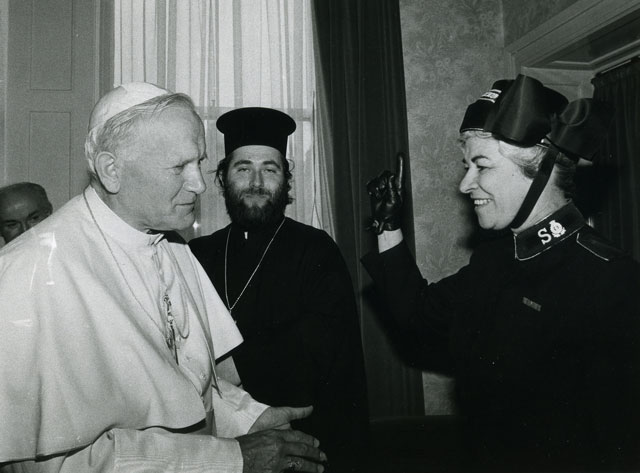 General Burrows's passion in her public utterances was to preach Christ. This came out of her own personal experience of him, which she described thus: "The focus and dynamic of my life is Jesus Christ. I will lift up Christ and would challenge all Salvationists to a commitment to Christ which makes them a powerful witness for him in the world today." And on another occasion she declared: "I do not preach Christianity; I preach Christ, as a living Saviour."
Dr Billy Graham, with whom General Burrows had a warm association, said of her: "General Eva Burrows is unquestionably one of the most respected and influential Christian leaders of our time. She is also an individual of great warmth, selfless compassion, unusual vision, and profound spiritual commitment. She embodies the spiritual commitment and dedication that led to the founding of The Salvation Army by William and Catherine Booth over 100 years ago."
General Eva Burrows entered honourable retirement in July 1993, but hardly slowed down. She maintained a busy schedule of international travel and, when not travelling, could be found taking her place as an active soldier at the Army's urban corps in Melbourne, Australia – not only attending Sunday meetings, but engaging with homeless youth during the week, leading Bible studies and being what she had always been – a good soldier of Jesus Christ. In addition to all of that, she served on the board of the International Bible Society from 1995 to 2005.
In recent months Eva's physical strength began to wane, but her mental acuity, her spiritual vigour and her indomitable spirit remained unabated. To the very end of her earthly journey, Eva Burrows was an amazing role model and an inspiration to all who had the privilege of sharing her life. We thank God for the life of General Eva Burrows and for the impact of her ministry in the name of Christ on so many people throughout the world. Our thoughts go out in prayerful support to her family and friends.
General Eva, one of nine children born to the later Major Robert and Mrs Major Ella Burrows, is survived by one sister, Margaret Southwell, and many nephews, nieces, great nephews and great nieces – all of whom meant so much to her.
Let her official biographer, the late Colonel Henry Gariepy, have the final word: "General Burrows, you transcend your generation as one of the greatest leaders of Salvation Army history, a leader of vision who took the Army where it had not dared to go before."
Salvationists of the world join me in saluting one of our great Army leaders of modern times – General Eva Burrows. "Servant of God – well done!"
For more photos of General Eva Burrows, visit the IHQ Flickr page.