Water
is one of the most precious resources in the world and basic to healthy living, yet millions of people don't have access to clean, safe water. The only water available usually requires walking an hour or more to reach – and all too often is full of water-borne diseases.
The following are just two examples of how The Salvation Army World Missions department, with the support of its donors, are addressing the water needs in developing countries.
PAKISTAN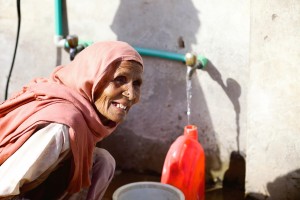 Unclean water is a challenging problem throughout Pakistan. A recent study identified four major water quality problems: bacteriological contamination, arsenic, nitrate and fluoride present in the water. Other research indicates illnesses resulting from the consumption of contaminated water contribute to 40% of deaths in Pakistan. The drinking of unfiltered water is a major cause of Hepatitis A & E, typhoid, gastrointestinal disease and diarrhea.
The challenge of providing clean water is faced daily in children's homes, hostels and schools run by The Salvation Army. Recent testing of the drinking water provided evidence that the water is not fit for consumption.
Through Gifts of Hope donations, the Pakistan Territory will install water purifiers and treatment plants that will ensure the children (1,393) who attend the six benefiting institutions have clean water to drink. By way of this project, the children will be healthier and able to attend school consistently with the energy to focus on their school work.
DILZAWL, INDIA
Dilzawl is a small village located on the eastern side of India. The majority of individuals survive on an average monthly income of $30 CAD per month and live in bamboo thatched houses.
Electricity just arrived there in 2013. The village is not easily accessible due to the lack of roads and requires three hours of walking from the nearest accessible road.
Currently, it takes over an hour to walk to the closest stream. The long journey leaves villagers susceptible to mosquito bites in an area where malaria is present. During the summer months, considered the rainy season, the stream is very dirty while the water runs dry in the winter.
Our Gifts of Hope program is providing a water harvesting project to the community. This will provide sustainability to ensure villagers will receive clean water throughout the year and for many years to come.
If you would like to receive more information on
Gifts of Hope
Water projects, or would like to donate, please call 416-422-6224, email world_missions@can.salvationarmy.org or visit
www.salvationarmy.ca/giftsofhope
.