Betty Haggett had been living with a chronic liver disease, primary biliary cirrhosis, for 10 years. But in March 2014, after days of feeling dizzy and tired, she was admitted to her local emergency room in Acton, Ont. The diagnosis was as unexpected as it was devastating: her liver was failing and she needed a transplant.
Betty's need for a suitable donor was all too real. In Canada, one third of patients die before a transplant organ becomes available.
Fortunately, she didn't have to look too far. Help lived just five minutes away—and attended a Salvation Army church.
In Good Hands
Even though they had both grown up on the island of Newfoundland, Elaine Daamen hadn't known her cousin, Betty, very well until she moved to Acton.
"Then we became close," says Betty. "She was maid of honour at my wedding. We live only minutes apart and get to see each other on weekends."
As soon as she heard the news, Elaine volunteered to be a donor.
This was no small decision. No matter how competent the surgeon, every surgery involves risk. Elaine knew she could survive with a partial liver, but there was the possibility of infection, leakage, even death. Her husband, Joe, although understandably nervous, respected her wish.
"My father was one of seven children, so we have lots of cousins," Elaine comments. "Many said that if I had to back out, they would do it. It was wonderful that our extended family was willing to step up, but I really wanted to help my cousin if possible.
"I knew I was in good hands," she continues. "The staff at Toronto General Hospital, where the operation would take place, double- and triple-checked to make sure everything was all right."
Natural Progression
Besides the expertise of a great hospital, Elaine had a loving and supportive family who had a steadfast trust in God. And she faithfully attends The Salvation Army Acton Community Church.
"My parents started attending church when I was seven and I officially became a junior member of The Salvation Army when I was eight," says Elaine. "Now all three of my daughters are helping out with Sunday school, I run the projection system and PowerPoint at the church and my husband helps out with the distribution of food hampers to the needy."
For Elaine, it was a natural progression to go from sacrificing her time and talents for her church to sacrificing a part of her liver for her cousin.
"His Will Be Done"
Before she could become a donor, it was necessary to make sure Elaine and her cousin were medically compatible.
"The whole week before the surgery last June, I had to go through numerous screenings," she recalls. "I was at the hospital from eight in the morning to four in the afternoon almost every day. The blood type had to be compatible, my liver had to be healthy and I had to be in good overall health."
Tests done, Elaine joined with Joe and their daughters in prayer in a hotel around the corner from the hospital, the night before the operations took place.
"We prayed that God would watch over me and my cousin," she says, "that we would come through everything OK, and that His will would be done."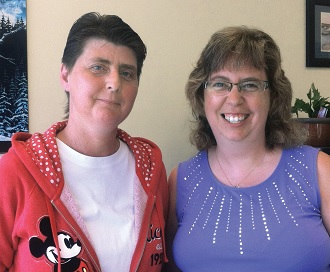 Twin Success
Prayer did see the family through, as the surgery on both patients went smoothly.
"I was in the hospital for a week after the operation, and took six weeks to fully recover," Elaine says. "Betty stayed a week longer than I had to, because they had to monitor her for any indication of rejection. There was an initial sign of infection, which is normal, but they reworked the medication and everything was fine."
Now the two cousins are both living happy and healthy lives and are grateful to be able to still be there for each other.
"I know if I need anything, all I need to do is call Betty," Elaine says.