Major Shari Russell, territorial Indigenous ministries consultant, speaks to Kristin Ostensen about the Army's plan for reconciliation with Indigenous Canadians—attitudes that need to change, ministries that are already succeeding and practical steps corps can take toward integration.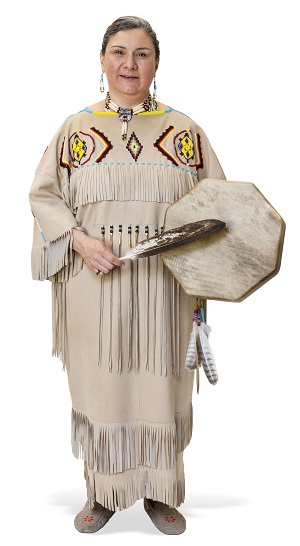 Stories about Indigenous issues are more common in the media today than they have been in the past—for example, the inquiry into missing and murdered women and the rash of suicide attempts at the Attiwapiskat reserve in northern Ontario. Why do you think that is?
These issues were there, but they weren't something that the general public wanted to hear about, so they were often dismissed or presented in a negative light. In recent years, we've seen much more sensitivity and cultural awareness. And as Indigenous people, we've articulated our voice differently. We have the resources and personnel in key leadership positions who can communicate our concerns in a way that the general public understands and responds more positively to.
What are some of the most significant issues for Indigenous people in Canada today?
There are issues that are evident, such as alcoholism, poverty, abuse, broken relationships. We want to address those issues, but we also want to look at what's behind those issues, which isn't always visible. Underlying attitudes need to be addressed. The doctrine of discovery, for example, is not just an issue; it's a way of thinking. It's the idea that, before settlers came, Canada was
terra nullius
, which means "no man's land," and this gave settlers the right to claim the land for themselves. The doctrine of discovery still affects us. And that's where education comes in, to create awareness and repudiate those attitudes.
Canadians today look back with horror on what happened when the settlers came. Yet, among non-Indigenous Canadians, there can be a sense of, "That was a long time ago. I didn't oppress the Indigenous peoples."
One of the pieces I often talk about is, although that may not have been you, and you are not personally responsible, the systems that we have in place are a result of what happened. A lot of our systems—whether it's education, the legal system, social services—continue with that type of thinking, and that's how we get systemic injustice. We take our systems for granted—we work within them and don't think about them. But for an Indigenous person, they are still huge barriers. When we perpetuate those systems, we allow them to continue to oppress.
In March, The Salvation Army, along with other church groups, responded to the Truth and Reconciliation Commission's Call to Action 48,[1] which asked faith groups to issue a statement as to their implementation of the United Nations Declaration of the Rights of Indigenous Peoples. What does that mean for the Army?
It means we recognize that Indigenous people have the same dignity as all people. We recognize that there has been an inequity, and so we're trying to help and empower Indigenous people to a level of equity.
We have also developed a comprehensive plan for The Salvation Army, explaining how we're going to implement the declaration in concrete ways. For example, in terms of ensuring equality, we're looking at accessibility. Many Indigenous people are unaware of our services, or have encountered challenges to accessing our services. We need to identify and overcome those challenges.
If we in the church don't take reconciliation seriously, we might lose a lot of Indigenous people
We also want to build trust. One way to do that is to celebrate the Indigenous presence and expression. An example is honouring the traditional territories of the local Indigenous peoples when we have a public gathering, recognizing that we are on their traditional land and thanking them for their hospitality. On National Aboriginal Day, it could mean having a celebration and asking an Indigenous group to come and share.
Within the Army, it's asking, "How do we allow Indigenous people to celebrate who they are? What gifts and abilities do they bring to the Army as followers of Jesus?"
Throughout the comprehensive plan, we emphasize communication and consultation with Indigenous people. Rather than assuming we know the answer and going ahead and doing something, we will go to Indigenous people and groups and ask, "How can we come alongside you and strengthen you in this area? What are some things that would be helpful for you?" It's developing partnerships so that it's not "us helping them," but there's mutual giving and receiving.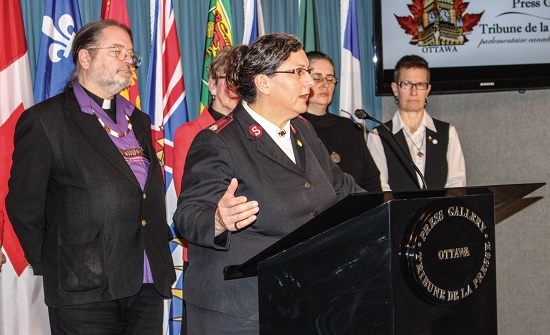 According to a recent census, 60 percent of Aboriginal Canadians identify as Christian. Does this surprise you, given the church's history with Indigenous peoples?
No. Among the last few generations, many Indigenous people went to church-run residential schools
[2]
and out of that, there is a kind of love-hate relationship. Indigenous people have a strong connection with the Creator, with God—that is something we've always understood. The church's purpose is to help people connect with God. Indigenous people understand that and connect with the Creator. But I think that if we in the church don't take reconciliation seriously, we might lose a lot of Indigenous people. It's important for us to be ministers of reconciliation so that we can continue to nourish and build those relationships.
The Salvation Army is holding two Aboriginal roundtables this year. What is the purpose of these gatherings?
We had our first one last year because we wanted to bring together Salvationists who self-identified as Indigenous. We want to develop Indigenous leaders—sadly, we don't have many in the evangelical church. So what does it take to develop them? We're working toward that.
Then we wanted to bring people together again because we realized that some Indigenous Salvationists felt alone in their local setting, trying to grapple with the history and the challenges on their own. Coming together provides encouragement and creates a collective voice. One of our main focuses has been addressing the question, "How do I express myself as an Indigenous Salvationist?" And then, "How can we reach out to our Indigenous brothers and sisters?"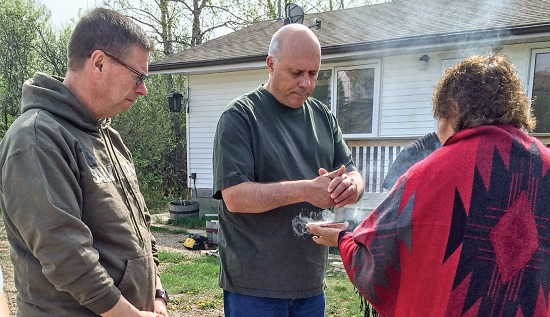 Where is the Army doing Indigenous ministry well?
Some ministry units have good relationships with the nearby Indigenous communities. British Columbia north is a wonderful example. Their history is part of that because they brought The Salvation Army back to their own communities themselves. They discovered Jesus through the Army, and thought,
This would be good for our community
. They were missionaries to their own people. Over time, the Army has grown and there's a real sense of pride in being Salvation Army.
Some areas don't have a positive history, but new bridges are being built. I think of Wiarton, Ont., Edmonton, Winnipeg, Hamilton, Ont., and Ottawa. I'm hoping there will be more as we continue in this. At the end of May, we held an Indigenous awareness weekend in Liverpool, N.S. We had a concert with drummers, dancers and storytellers from the local community. On Sunday morning, we had an ecumenical service where we worshipped together. That's exciting for me.
As the Army works toward reconciliation and reaches out to Indigenous people, how can we ensure that our ministries—both corps and social services—don't replicate old patterns of colonization?
Recognizing what colonization is and how it has impacted our organization is key. At the corps level, The Salvation Army has a very strong culture, and that culture came out of 19th-century England, out of the British Empire. It's not said, but it's often assumed, that when Indigenous people come, we'll change to adapt to that culture. So how we get saved, the way we are discipled, the way we grow in our faith, is influenced by that colonial history in many ways.
How so?
It's what we look like—the uniform, cutting our hair. But it's also how we live. For example, for the general public, success is often seen as having a job, looking respectable, and so on. Indigenous people place a very strong value on community and family, and sometimes that comes into conflict with our success. Take, for example, an Indigenous person going to school—if school conflicts with their family values and focus, they might leave school, and some people may look at that as failing.
There might be just one Indigenous person in your congregation; walk alongside them so they can begin to find their voice and integrate that
In the corps, these are things we don't even think of. We don't realize what a strong message is given to Indigenous people—that in order to be part of us, this is what is expected. It's not intentional on our part, but it can create discomfort for Indigenous people. "I'll never be able to be a part of that group, I don't really belong here."
How we set up our corps as a physical space also sends a message. When you come into a church, everybody is lined up in a pew, in rows, facing forward. If you go to a traditional powwow, there might be rows of chairs in a circle, facing the centre, but then there's always movement—people moving around, talking to one another, and establishing relationships. There might be a speaker or dancing going on, but we're not being disrespectful. It creates a real sense of community.
What about colonial patterns in social services?
It's the assumption that we know what is best, we know how to help. For example, thinking, "These are the issues that you need to work on in your life," rather than listening to the Indigenous person. They might say, "Rather than focusing on poverty, the issue we want to look at is our family, because when we look after and care for one another, that takes care of the poverty issue."
Are there Salvation Army practices that overlap with Indigenous culture?
There are some rich traditions within the Army that Indigenous people love and appreciate. One would be testimony times because they're about story, about people's journeys. It puts everybody together in the same field, and creates a sense of community. It's like an Indigenous sharing circle.
[3]
Another part of the Army that Indigenous people love is the colours. If you go to a powwow, you'll see lots of colours. And we love the flags. We have flag staffs that come in before every powwow. And the hallelujah windups. We would call that a big round dance.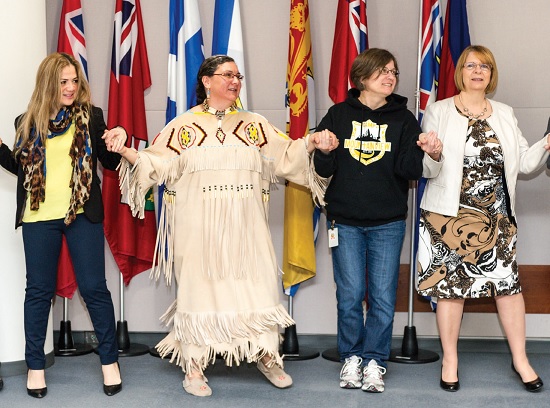 How can The Salvation Army work not just toward reconciliation, but integration?
By helping Indigenous people express themselves. Because of our history, most of us won't stand up and say, "I can do this." It takes a lot of encouragement. There might be just one Indigenous person in your congregation; walk alongside them so they can begin to find their voice and integrate that.
There might be some hesitancy around doing that. If we have one Indigenous person in our corps, we don't want to put them on display, and unintentionally fall into tokenism or cultural appropriation. How can we avoid that?
There's a fine line that sometimes, even with our best intentions, we might cross over. Being aware of tokenism is helpful and God can use our efforts even when we make mistakes. It's the motivation of the heart that's more important than what it looks like at first. And keep in mind that some Indigenous people may prefer the existing culture. We don't want to force anything on anybody or say, "This is what it means to be Indigenous," but instead let them find their own expression and journey.
There might also be some hesitancy around incorporating Indigenous practices into the life and worship of the corps.
There is a fear on all sides. Because of colonization, Indigenous people have learned that our culture and spirituality are wrong or evil. Mainstream society has been taught that as well. And so teaching is needed on both sides.
As we move forward, it's important for us as Indigenous people to figure out our theology and our culture, and what it looks like for us to embrace different elements of who we are. For somebody else to say, "You can't do that," is paternalistic and not helpful. We need to selftheologize, in a community. We need to ask, "Can we use this practice? Can we integrate it? If yes, how?" There will be things that we will not want to integrate. But there are practices where we can say, "This is a beautiful expression and God is in this expression; this is a way that God can be honoured, worshipped and celebrated."
---
1
Truth and Reconciliation Commission (TRC):
The TRC was founded in 2008 as part of the Indian Residential Schools Settlement Agreement. Its mandate was to inform all Canadians about what happened in Indian Residential Schools, and to help guide Aboriginal peoples and Canadians toward reconciliation and renewed relationships. It held its final hearings and delivered its report to the public and to the federal government in Ottawa in June 2015, marking the official end of its mandate. As part of that final report, the TRC delivered 94 Calls to Action in order to redress the legacy of residential schools and advance the process of reconciliation.
2
Residential schools:
Over the course of 130 years, 150,000 Indigenous children were forced to attend church-run Indian Residential Schools (IRS). The purpose of the schools was assimilation: children were deprived of their community, language and culture, and many were physically and sexually abused. At least 6,000 children died while attending these schools. The last IRS closed in 1996.
3
Sharing circle:
Participants gather in a circle to share stories and seek wisdom. A talking stick is used. The person holding the talking stick has the opportunity to speak uninterrupted while the circle listens respectfully. Everyone in the circle has an opportunity to speak.