The Salvation Army's Rio 2016 mission teams are having an impact in communities around Rio de Janeiro. Team members are forming close relationships with children and families living in often-difficult conditions, and are demonstrating the love of Christ through practical and other means – all based around a shared love of sport.
The mission teams were split into two blocks, with Block A working from August 3 to 13, at which point Block B took over until August 23. International team members from 10 countries (Australia, Canada, Denmark, Germany, Iceland, Norway, Sweden, Switzerland, United Kingdom and the United States) are working with a domestic team of 29, comprising 15 cadets, three officers from the training college in Sao Paulo, two officers, six young people sourced through the territorial youth department, and three volunteers who are assisting with administration and translation duties.
Lt-Colonel David Bowles (Sports Ministry Coordinator for Europe) explains: "The focus of #SARio2016 has always been to impact the local neighbourhood with the gospel and to make disciples for Christ using the tools of sport and play. Our goals have been to connect with people living around the corps, build relationships and keep those relationships growing after the mission teams have left Rio de Janeiro."
The general emphasis has been on neighbourhood children, who have no school during the 17 days of the Olympic Games. Teams have been going to local parks where they play football (soccer) and simple games. "The kids come," says Lt-Colonel Bowles, "the contact is made, the language barrier is broken by a ball, relationships are started and the gospel is shared. The formula is simple and effective."
Team members intentionally share personal stories of their relationship with Jesus, using sport as the connecting point. The colonel says the process is a fresh spin on proven Salvation Army culture - the open-air meeting.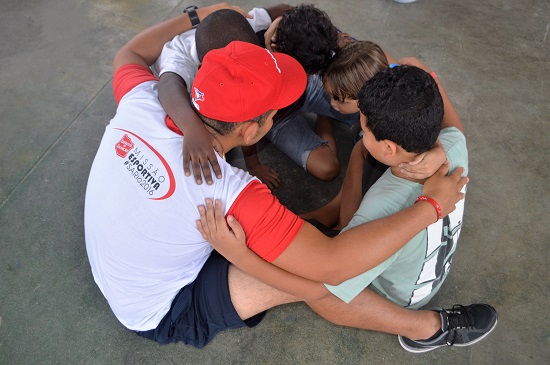 The #SARio2016 Mission Teams have been split into three groups for accommodation purposes, working out of Méier Corps/Education Centre, Bangu Corps and Niterói Corps to provide sport and Olympic-themed craft activities and games for local children.
There have been many meaningful contacts made. At Divinéa Education Centre, four men (electricians) who were passing joined in with a game of football and also listened to the gospel message given by team members from Norway and Switzerland. At São Gonçalo Corps, where there are only a few young people, the mission team took to the streets with drums, musical instruments and flags to invite children to come. About 20 arrived the next day for a "mini Olympics."
Niterói Corps is a very community-minded church so the team has been involved in a variety of activities linked to programs already in operation, including ministry to prostitutes, a community party and blanket distribution to people living on the street. Children's activities were arranged in a favela about 20 minutes' walk from the corps.
Lieutenant Juan Chirinos, corps officer, Église communautaire de l'Outaouais in Gatineau, Que., was sitting with four boys during Bible time. He asked, "What sports do you love?" and chatted with them about why they love football so much. Lieutenant Chirinos explained to the boys: "God created sport so we could have fun and enjoy a healthy life. God loves us so much he would do anything to make us happy." He then asked them: "Would you like this happiness from God?"
When they replied in the affirmative, Lieutenant Chirinos prayed with them and led them to Christ.