In March 2016, Lt-Colonel Sandra Rice, divisional commander of the Ontario Central-East Division, accompanied Major Gillian Brown, then director of the world missions department, as she visited Sierra Leone and Liberia to determine the next steps in The Salvation Army's response to the Ebola epidemic. Lt-Colonel Rice shared her reflections on the experience with features editor Giselle Randall.
What were some of your first impressions upon arriving in Sierra Leone?
We arrived in the middle of the night following a long, challenging trip and then travelled by a small boat to the capital, Freetown. The following day, as we moved beyond our accommodations, I observed the reality of poverty within the busy, noisy city. People were going about their daily lives, but doing so surrounded by garbage heaps, open sewers, roaming animals, chaotic traffic, etc. The overwhelming visual stimulation impacted my emotional reactions.
Sierra Leone is a small country in West Africa with a population of 6.5 million and a life expectancy of around 56 years. Its history is a sad one, in that the country was devastated by civil war (1991-2002). Tens of thousands were killed or maimed, almost two million were displaced as refugees to neighbouring countries, and the country's infrastructure was destroyed. The results can be seen everywhere.
Then Ebola struck in 2014. It was a huge humanitarian crisis that took the lives of thousands and destroyed the livelihoods of many, particularly in rural regions. Quarantine prevented people from tending to their small farms and their equipment was left to the elements, soon rendering it useless.  Small businesses (known as "petite traders")—from the making and selling of soap to the gathering and selling of used clothing—came to an abrupt end; schools were closed; orphans were left to the care of aunts, grandparents or siblings as young as 15.
Liberia has its own equally devastating history of civil war and the Ebola crisis, and we heard similar stories repeated from community to community.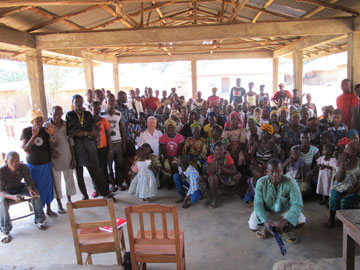 The gift of this trip was the face-to-face engagement with the people in their communities, hearing their stories and delivering a message of hope through partnership. No matter where we travelled, I couldn't help but observe two extremes: the sadness on their faces, and yet their determination to rebuild. They were not too proud to ask for help, but ever so gracious and grateful to receive help. I didn't sense entitlement or assumption. They clearly understood that they were part of the rebuilding process and had little expectation that others, including The Salvation Army, were arriving on the scene to "fix" their problems for them.
What was the specific goal in travelling to Sierra Leone and Liberia?
Both countries are part of our Partners in Mission commitment. We spent six days in Sierra Leone, visiting nine communities, followed by seven days in Liberia. Our approach was the same in both countries—the capital city was our home base, and, following conversations within the city, we travelled to rural communities to hold town hall meetings. Wherever we went, Major Gillian Brown invited the people to come together and tell their story, after which she asked, "How can The Salvation Army help?" Three themes emerged—they needed help returning to farming, rebuilding their small businesses and getting children back in school.
Communities shared the impact of Ebola and the difficulties in rebuilding. They told us stories of losing family members and the challenges they continued to face caring for orphaned children. They explained, with vivid and sometimes painful detail, the impact on their livelihoods and their fears for the future. The individuals and community partners were invited to speak about the possibilities that The Salvation Army might bring to their lives and communities.
In one of the first town hall meetings, an elderly woman stood and quietly shared her story. Her daughter and son-in-law both died from Ebola, and she is now caring for her three grandchildren. School was not an option and her small business had disappeared. She wondered if The Salvation Army could help her rebuild her "petite trade" and bring some hope into their world. I remember thinking,
They surely are not asking for much.
Testimonies such as this were shared over and over.
The Salvation Army has since developed a specific plan, in partnership with the Army in Sierra Leone and Liberia, as a response to some of the most pressing needs identified.
 What did you observe about the spirit of Salvationism in these countries?
It is to be noted that Liberia is mainly a "Christian" country, with a Muslim minority. Sierra Leone, on the other hand, is a predominantly Muslim country, but with—what some might arguably point out—an influential Christian minority. The tolerance and collaboration was obvious and the camaraderie, in the midst of limited resources, seems to be understood as necessary in their common quest to have a better life.
This is the setting in which you find The Salvation Army. In fact, the Army is fairly new to Sierra Leone. It became part of the Liberia Command in 2010, and is still quite small with three official corps, but 12 unofficial centres or outposts. They continue to establish the Army in a country that is incredibly broken and with few resources. As might be expected, it reminded me of what I take for granted. Nevertheless, their joy and trust in a faithful God did not seem to waver. I greeted one officer outside her quarters—a mud-brick structure—and asked how she was. Her reply has stuck with me: "It is good to have life. I praise my God."
The Army in Liberia is larger and more established, with around 60 officers, 40 corps and outposts and close to 20 schools and clinics. Still, the impact of war and Ebola is everywhere, yet the "spirit" of Salvationism continues to expand.
How did this trip contribute to your own reflection on Partners in Mission?
I grew up in a small town and corps in Newfoundland and Labrador, being encouraged, even expected, to contribute and raise money for the "self-denial" focus. We knocked on peoples doors, saved our own pennies and hoped that our contribution would warrant receipt of a little badge we could wear on our jacket. That was a long time ago, but Partners in Mission has continued to be part of my own spiritual service and responsibility throughout my adult life.
There are many miles between Robert's Arm, N.L., and West Africa, and clearly many years have passed since those early days. Nevertheless, I was grateful for the opportunity to listen to first-hand stories about how the smallest gifts can make such a difference. Contributing to the purchase of a wheelbarrow or fertilizer, or helping a child go to school, is a big deal and I was challenged with my own giving. Hearing the stories and seeing the impact giving can make is powerful, inspiring and motivational. The context for my responsibility and engagement has become more vivid.
Apart from that, after seeing and hearing the support first-hand, I am even more grateful for and proud of The Salvation Army's international work. As divisional commander, I am compelled to call on Salvationists to reach beyond ourselves, to be part of the support we give outside our own ministry units and territory. I still prefer the earlier campaign slogan "self-denial," simply because it served as a reminder to not only live with restraint, but also respond with sacrificial giving.
Is there a particular Scripture passage that has come to life through this experience?
Allow me to highlight two. I admit I have plenty of questions arising from what I saw and heard, including why some lands are blessed with peace, resources, freedom and opportunity, while others are plagued with poverty and war, going from one crisis to another. Nevertheless, these questions remind me of God's particular love for the poor, the widow, the orphan, and his call to us as Christians to respond (see Psalm 82:3; Job 31:15-22). It would be dishonouring for me to ignore that responsibility.
Finally, one of my favourite passages of Scripture has always been Habakkuk 3:17-19: "Though the fig tree does not bud … and the fields produce no food … though there are no sheep in the pen … yet I will rejoice in the Lord, I will be joyful in God my Saviour. The Sovereign Lord is my strength." God has neither abandoned nor ignored the people of Sierra Leone and Liberia, and I was reminded of how they took hold of their faith with grit and strength. I can't help but connect this to my own world—so different, yet challenged to marry gratitude with responsibility and commitment, no matter what the circumstances.