(Above) General Brian Peddle with Ace, mascot of the Blue Jays, and Reggie McNeal, guest speaker at Tuesday morning's plenary session
For more photos, see our photo album on Facebook.
The excitement of INSPIRE continued on Tuesday as nearly 1,000 delegates converged on the Rogers Centre for Salvation Army Night at the Toronto Blue Jays. It was an atmosphere of joy and enthusiasm as Salvationists cheered on the Canadian home team.
The game opened with The Star-Spangled Banner and O Canada as sung by the Canada and Bermuda Territory's own Alexandria Venables, member of the Canadian Staff Songsters. Her performance was a proud and memorable moment for Salvationists and friends who came to watch.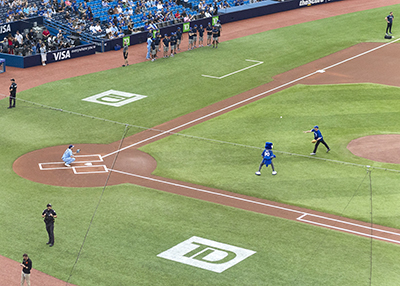 Perhaps the most anticipated moment of the night was when General Brian Peddle, international leader of The Salvation Army, stood on the pitcher's mound to throw the first pitch of the game, dressed in a custom "Peddle 21" jersey—a number chosen for his role as the 21st General of The Salvation Army.
The Toronto Blue Jays game was a night of fellowship, celebration and a reminder to all of The Salvation Army's unyielding presence in the communities where we serve.
The day's events started with a morning plenary session featuring a time of worship led by the music and arts ministries department. Video greetings were shared from the Honourable Elizabeth Dowdeswell, Lieutenant Governor of Ontario, and Herbie Kuhn, voice of the Toronto Raptors and chaplain for the Toronto Raptors, Toronto Argonauts and York Regional Police.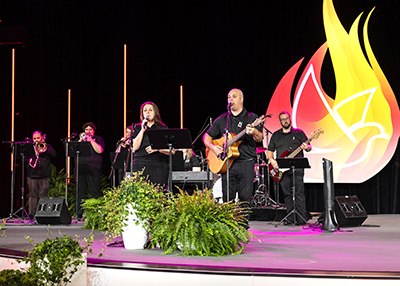 Guest speaker for the plenary session was Dr. Reggie McNeal, Christian thought leader and author of Kingdom Come. "If The Salvation Army did not already exist, God would have to create it," he said as he encouraged those gathered to recapture the DNA of our movement.
Throughout the remainder of the day, delegates attended a variety of workshops on topics as varied as business, children and youth, community engagement, corps health, ethics, Indigenous and international development, leadership, musical ministry, public relations and communications, and social mission.
Here's just a sampling:
More Than Just Potlucks: The (Actually) Welcoming Church

—

Rev.

Leanne

Friesen, executive minister, Canadian Baptists of Ontario and Quebec, led a session on becoming a welcoming church, encouraging attendees to consider their space, language and culture through the eyes of a "stranger"—someone new to the church, or to church in general. "Does it feel like you need a passport to go to church?" she asked. She challenged attendees to come up with

one thing they could do in the next week to create a welcoming space for the "stranger."
Does Harm Reduction Help or Hinder the Mission of The Salvation Army? A 3Practice Circle

—Major Rick Zelinsky, territorial public affairs director, led a 3Practice Circle—a method of conversation designed to help people communicate across differences—on harm reduction in The Salvation Army.

"I'd heard of 3Practice Circles but hadn't observed one, and wanted to see how it worked," says Captain Kristie Marsh, corps officer in Botwood, N.L. "It was a respectful way to have a conversation as a group on a difficult topic, and I'd like to use this approach going forward."
Innovations in Community, Safety and Justice

—Delegates who attended this panel discussion

heard about the risk factors for offending, the barriers to re-entering the community and the impact of stigma. Lieutenant Nathanael Hoeft, corps officer in Williams Lake, B.C., attended this session because he wants to be an ally in people's journey toward wholeness. "I learned how important it is for people to have supportive relationships when they are released, and how far that goes in reducing re-offending," he says. "This is important work in The Salvation Army, and there's still more we could be doing."
Planning Inspiring Worship Services

—

"What if your corps has no musicians?" asked Heather Osmond, territorialmusic and arts secretary. This workshop was a one-stop shop to find musical resources to support ministry. "We will get you what you need somehow, someway. If live music is something we want to see in our congregations, in our churches and in our communities when you think about banding and outreach, we need to invest in music programming."
How to Peel an Orange: Using Orange Strategy and Resources Effectively in Any Setting

—

This workshop applied essentials of the Orangecurriculum, which is an important part of The Salvation Army's youth strategy and programming. "How can we build a better strategy to increase our influence with kids and families?" askedJackie Raihl, Orange specialist for Salvation Army accounts in Canada and the United States. "Curriculum without a strategy is like a car with no engine. Your strategy is your engine—it moves you. Humans breathe life into it, and we breathe life into our kids. Two combined influences make a greater impact. Parents, families and the church are a team. We need to find ways to work together and bring them into the influence of what we are trying to do with our kids."
Public Affairs: Being a Representative in the Public Sphere

—"

Which of these are public affairs," asked Major Karen Hoeft, divisional public affairs officer for the Prairie Division, "a meeting with the mayor, a prayer breakfast at a rodeo weekend or a complaint about the trash around the thrift store?" The answer is: all of them. "If they need you to engage in the public sector, you find that you have sent a front-line worker to represent The Salvation Army in all of its glory." This session helped people to see themselves as that very important link.