In October 2019, Major Morgan Hillier, the Salvation Army pastor at Mount Pearl Corps, N.L., met a friend for coffee at a Tim Hortons.
"He was going through some challenges. As we were talking, I gave him some advice, which I wrote on a napkin," says Major Morgan. Wondering if others would find it useful as well, he snapped a picture and uploaded it to social media.
"All of a sudden, my accounts lit up with people commenting and sending me messages, so I thought, Why not keep doing this?"
It was the beginning of Coffee Conversations, a note of encouragement—always written on a napkin, beside a Tim Hortons coffee cup—that Major Morgan shares on social media every day. But as much as his words inspire others, they are also for himself. He often adds the hashtag #overcomer.
"That's what I've called myself for the last two years," he says. "I've overcome so many obstacles to be where I am today."
Dark Time
Major Morgan was a pastor in Bay Roberts, N.L., when he suffered a concussion while playing hockey. Over the next five years, he had three more. The last one—from hitting his head on a cupboard door—did the most damage.
"It took me out of ministry for a while," he says. "That was the year I lost my memory. I lost who I was."
A concussion is a traumatic brain injury caused by a blow to the head or body that makes the brain shake quickly back and forth. Although not usually life-threatening, the effects can be serious. Short-term symptoms include headache, nausea and disorientation, but a concussion can also lead to memory loss, changes in personality and depression.
"I remember sitting in band practice after clearance to play again, and not being able to read a note on the page—and I've been playing cornet since I was eight years old," Major Morgan says. "I had sticky notes everywhere to remind myself to do things. I even forgot my kids' names.
"But it also brought up buried memories, unhealthy memories. It put me in a dark place."
In the middle of this, the Hilliers were transferred to a small, rural community in central Newfoundland, a move that was also hard on his two youngest daughters.
"The congregation was amazing throughout our journey, but it was a struggle for me," he says. "My whole personality changed. I used to be easygoing, loved to laugh, loved life. Now I was just angry at the whole world. It was devastating."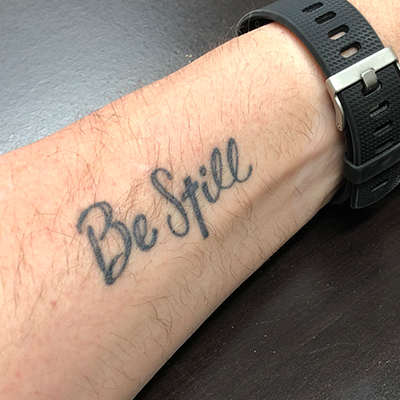 Being There
Things started to change when The Salvation Army got Major Morgan in touch with a local counsellor.
"She pulled me out of the darkness," he says. "We came to believe we were there for the opportunity to connect with this counsellor. It was an appointment for healing. God knew what we needed. It's not always about the moment we are in—it's about God's plan. He is always faithful and can be trusted."
Late one night, while driving near the ocean, Major Morgan paused for a moment. Opening a Bible app on his phone, Psalm 46 caught his eye.
"It described my life—mountains crashing, devastation all around me. It felt like everything was falling apart," he says. "And then it says, 'Be still, and know that I am God.' And I realized, He's there. He's there through it all."
"Everybody Needs Hope"
Throughout his recovery, Major Morgan made a practice of writing down positive thoughts. After the response he received to the first encouraging message he shared on social media, he decided to continue the conversation. Every day during his morning coffee break at Tim Hortons, he writes a note, posts a photo and leaves the napkin for others to find.
"I share ideas I've read, thoughts from a sermon I'm writing or inspiration from a walk," he says. "But everything I write applies to me first—it's what I need for the day. And usually, after those coffee conversations, my day takes on a whole different perspective."
Sometimes, it makes an impact on others as well. Major Morgan recalls a message from someone who discovered one of the napkins he left on a table.
"This gentleman was in town for a doctor's appointment, and he was very anxious," he says. "He dropped by Tim Hortons for a cup of coffee and saw my napkin. It was a note about finding peace, reflecting on 'be still' from Psalm 46. He said it gave him the reassurance he needed to go to the appointment."
The response he's received to this simple gesture of encouragement has surprised Major Morgan.
"It evolved more than I thought," he says. "But people are searching for peace and comfort and strength in this chaotic world. If I can offer a little advice, something to help people get through the day, a glimmer of hope—we need more of that. Everybody needs hope."
This story is from: