NEW & NOTABLE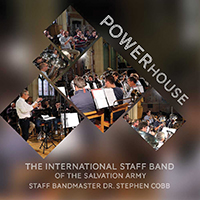 Powerhouse
International Staff Band
Led by Bandmaster Dr. Stephen Cobb, the International Staff Band began recording Powerhouse prior to the COVID-19 pandemic, finally releasing the 13-track album two years later. The band marked the launch of the album and their return to in-person ministry with a concert at Regent Hall in London, England, playing featured tracks such as Legacy of Faith by Captain Nicholas Samuel, corps officer, London Citadel, Ont., Paul Sharman's Soul-renewing Grace! and the title track, Powerhouse, composed by Kenneth Downie. Powerhouse offers a mixture of gentle arrangements, hymn-inspired variations and vibrant new works by Salvationists.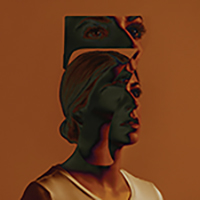 Seven
Brooke Ligertwood
REVIEW BY JESSICA MORRIS
Now based in the United States, New Zealander Brooke Ligertwood made a name for herself in Australia through secular music and is
known for her role in Hillsong Worship. Her new album, Seven, is her first solo worship record.
Named Seven after the number symbolizing completion, which is repeated in Scripture multiple times, the album points us toward the Lord's coming, urging us to be ready for the day of his return.
Undoubtedly, Ligertwood's vocals and lyrics are beautiful, but the focus of this recording isn't her—it's Jesus. And you know it from the first chords of Ancient Gates, which reminds you of your heavenly home, all the way to the meditative Communion.
Founded in biblical literature, principles and the Spirit, the songs are easy to sing, easy to engage with and will suit multiple generations. With Seven, we see Ligertwood pushing worship musicians across the globe to enter a new realm of excellence—where personal expression meets corporate worship and biblical literacy.
Reprinted from Others, others.org.au.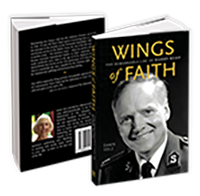 Wings of Faith: The Remarkable Life of Harry Read
BY DAWN VOLZ
On D-Day in 1944, 20-year-old Harry Read, a child of Salvation Army soldiers, parachuted into France where he served in the trenches as a wireless operator. After serving in the war, Harry spent the rest of his life serving in The Salvation Army with his wife, Win. Harry and Win trained in the King's Messenger Session (1947-1948) and were appointed British commissioner and territorial president of women's ministries, respectively, in 1987. On the 75th anniversary of D-Day in 2019, Harry parachuted into Normandy for a second time to raise funds for The Salvation Army's anti-human trafficking programs, a cause he felt called by God to support.
Wings of Faith, written by Dawn Volz, former assistant literary secretary of the Australia Southern Territory, captures the full and dedicated life of Harry Read, filled with anecdotes, inspiration, wit and poems by Harry.
"You will be inspired by Wings of Faith," writes General Brian Peddle, who wrote the foreword and shared his own memories of Harry and his lifetime of ministry in The Salvation Army. "It beautifully captures the story of Commissioner Harry Read and his dedication to God. I hope we will each aspire to live such a life."
"I hope that this book will be of interest not only to those who knew and loved Harry and Win, but also that the story of his remarkable life and faith may inspire many others," says Volz.
Wings of Faith is available to purchase on Amazon as a hardcover, paperback and ebook. All proceeds will go to the anti-trafficking department in London, England, a cause close to Harry's heart.
---
IN THE NEWS
Pop-Up Pods Help Tackle Homelessness in England
In Sheffield, England, pop-up "pods" provide a bed, chemical toilet and charging facilities. They are aimed at helping people who have been sleeping on the streets and have complex needs and thus may struggle in hostel-style accommodation.
As part of a pilot scheme, The Salvation Army has provided two pods, made by Amazing Grace Spaces, to provide support to clients and help them move into more permanent accommodation.
"The pods provide a warm, dry and safe place for people to sleep, while support from The Salvation Army and the Sheffield City Council is helping to tackle some of the reasons why they may have become homeless in the first place, such as poor mental health, addiction, job loss or relationship breakdown," says Andy Parkinson, service manager at Charter Row and Lincoln Court, Salvation Army Lighthouses in Sheffield. "In just a couple of months, we have seen a real difference in the two clients who have been placed in them. They are more engaged with mental health and housing services. One has now been offered an apartment, and the other has been referred into long-term supported housing. These pods are flexible. They can be moved to a different part of the city, and they can go where the need is."
This story is from: