For British Army Signalman Harry Read, the Second World War started at 10 minutes past one on June 6, 1944. As part of the British 6th Airborne Division, nicknamed the Red Devils, Harry's unit dropped behind the German defences, their mission to secure the left flank of the Allied invasion during Operation Overlord, the D-Day landings that would liberate Europe from Nazi occupation.
Little could Harry have imagined that, 75 years later, he would be making the same parachute jump over Normandy, this time for another and no less noble cause.
Exciting Times
Harry was the youngest of three children, a third-generation Salvationist whose father had fought in the First World War.
Harry's brother joined the British Army and became an officer cadet at the outbreak of the Second World War, and his sister was conscripted into the air force. Harry became a wireless operator in the Royal Corps of Signalers.
One day, it was announced that a new division was being formed, an airborne division, and they were in need of wireless operators. "I volunteered immediately," says Harry.
Why? "I liked adventure," he replies, "and the challenge of belonging to a regiment that was created especially to spearhead the return into Europe. We had magnificent training and we were brilliantly led. It was an exciting time of life."
By Air to Battle
With the rest of his division, Harry parachuted into the maelstrom of D-Day.
"We flew in American DC-3 Dakotas," he recalls, "which was a gentleman's way of jumping because previous to that, we had flown in old converted bombers that were slow, smelly and dangerous to get out of.
"Ahead of us was the most magnificent firework display I'd ever seen in my life, except they were not fireworks. Just slightly ahead of us, an aircraft blew up in a ball of fire. The anti-aircraft fire was intense.
"Our plane was rocking and it was impossible to keep one's footing."
"But there was a big burly bloke who assisted me out of the aircraft with great skill," he smiles.
The Germans had flooded the rear areas to impede movement and Harry landed in water. His landing was safe if soggy. Others were not so fortunate.
Three times, Harry and his bulky transmitting equipment slipped in and out of the waterlogged fields. Eventually, he linked up with a fellow paratrooper and together, they dodged German patrols until they linked up with more of their unit. It took the group three days to join their divisional headquarters.
"There was a load of fighting all around us and we were part of it," Harry says, "but we held the line until relieved."
The division returned to England in early September, having suffered more than 4,500 casualties since D-Day. Harry's war was over.
Jumping for a Cause
After the war, Harry was ordained as a Salvation Army officer (pastor) in 1948. Eventually assuming a senior leadership position in Canada in 1981, he rose to the rank of commissioner and served in Australia and the United Kingdom. Retiring in 1990, Harry stayed active but another parachute jump was the furthest thing from this veteran's mind until last year.
"My son and I were chatting," Harry explains, "and he casually mentioned, 'You know, we never know what to give you for Christmas, we never know where to take you. I can take you here, I can take you there, I can even take you to France.' From the moment he said that, the thought went through my mind,
Oh, I'd love to do a jump.
"
Harry made inquiries and found out that the Red Devils would be making a commemorative jump to mark the 75th anniversary of D-Day. He was determined to accompany them if he could.
A rehearsal jump last fall was "an absolute pleasure."
But it was when his daughter-in-law suggested they use the D-Day jump to raise awareness and funds for The Salvation Army's anti-human trafficking programs, Harry realized he was jumping for more than just himself.
" 'God, is this just a personal thing or is it something You have in mind?' I prayed. I expected our Lord to say, 'Harry, forget it.' Common sense says it's daft for elderly people to do parachute jumps. But God seemed to be saying, 'I approve. Go ahead.' "
But Harry didn't understand why God was telling him that until his daughter-in-law's suggestion. Then it clicked.
"The more I thought about human trafficking, the more I became aware of the fact that this is truly international," Harry says. "There is not a town, city or country that is immune; it is a worldwide issue. I heard God saying, 'This is not just a jump for pleasure. This is a jump to make the world aware of the fact that we need to do something about human trafficking.' "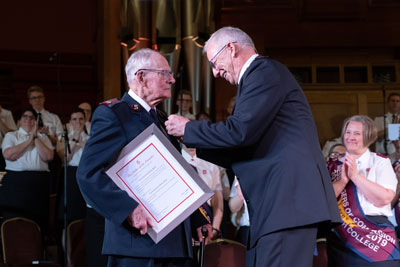 "A Good Jump"
The anniversary of D-Day this past June dawned and Harry was up bright and early. There was a concern earlier in the day that the massed jump might be cancelled, but in the end it went ahead, albeit three hours later than planned.
"It was a very good jump," declares Harry. "Not the easiest of jumps. There was a bit of a breeze to start with. And we were supposed to drop in a meadow, but unbeknownst to us, it had been newly planted and so when my tandem jumper hit the ground, his foot went into the soil three or four inches. Because his foot went there, mine followed.
"There was a split second of apprehension but we worked it out.
"You either like parachuting or you don't," Harry smiles. "I happen to like it."