Bill was 37 when he was diagnosed with Parkinson's, a neurodegenerative disease. Now 71, he'd had it for almost half his life. As the disease progressed, so did the challenges he faced, but his spirit has remained unshakeable.Bill was admitted to The Salvation Army Toronto Grace Health Centre (TGHC) and its complex continuing care unit in January 2013, when his condition was such that he could no longer stay with his wife, Esther, at their nursing home. It was with the support of his daughter, Emily, who has been instrumental in keeping the family together, that he was able to share his story about the quality of care he received there:

Overall Support
My goal when I arrived at the TGHC was specific—I wanted to return to the nursing home so I could be with my wife. TGHC's nursing and inter-professional health team respected my decision, working with me on my general physical rehabilitation so I wouldn't develop muscle atrophy, and I could maintain my independence.
I was slowly weaned off my tracheostomy tube, spending a few short hours every day without it. The tube would be capped, cutting off air circulation and prompting me to breathe on my own. The nurses would monitor my breathing for shortness of breath, a good cough and no phlegm problems.
The nurses and health team were outstanding. They were just as determined as I was for me to improve my health so that I could return to my wife.
In my rehabilitation program, Laura, my physiotherapist, helped me retain my mobility. I was already able to transfer from my wheelchair to a bed or walker. She worked with me on moving my limbs, helping to maintain and improve my flexibility, balance and strength.
Dori, my occupational therapist, re-customized my wheelchair. A new back accommodated my kyphosis (hunched back) and rigid posture, and the back cushion was designed with an opening that helped me avoid a pressure wound on my back.
I also took part in recreational therapy programs such as tai chi and seated yoga. Besides helping me maintain my physical abilities, recreational therapy is a good place to meet other patients and socialize. I've also enjoyed many conversations with the nurses and health team. I've developed some wonderful friendships at the TGHC.
I do see my wife, Esther, when our daughter, Emily, is able to organize a rendezvous at her apartment, the nursing home or here at the TGHC. I know the logistics of our visits take a certain amount of preparation and planning, and I am thankful to everyone at the TGHC for their support because I really look forward to these visits.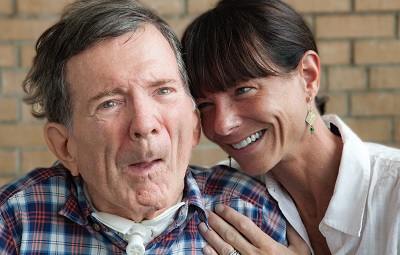 Here Comes the Bride
My daughter, Emily, was married in July 2014 in Gatineau, Que., the same place where Esther and I were married 46 years ago. Emily's special request was that I walk her down the aisle. My goal was to fulfil my daughter's wish and I had eight months to prepare.
There were many questions. What type of flooring would I be walking on? What type of shoes would I be wearing? On which side of the bride was I going to be?
Together, Dori, my occupational therapist, and Laura, my physiotherapist, helped me with my pacing because, like most Parkinsonians, I shuffle quickly when I walk due to my rigidity. I used a cane and worked on maintaining balance, strength and mobility.
Due to patient relocation while TGHC's renovations were taking place, in March 2014, Michelle, my new occupational therapist, and Barbara, my new physiotherapist, began working with me and continued to provide the same quality of care in helping me achieve my goal of walking Emily down the aisle. I practised with both therapists supporting me on one side as I balanced myself with a cane. Everyone did an outstanding job.
As the father of the bride, I wanted to give a speech. Three or four times a week, I met with Ashley, a speech-language assistant, and Lisa, a speech-language pathologist, to work on it. My penmanship is limited, which makes writing difficult. Sometimes, I was able to communicate what I wanted to say; other times, we used an alphabet communication board. It was hard work, but because of Ashley and Lisa's commitment, we succeeded in writing a father-of-the-bride speech. My preparations were supposed to be secret but I think Emily knew what was going on.
The wedding was a success. I walked Emily down the aisle and, at the reception, my brother-in-law read my speech. It was liberating to be with my family, and I was thrilled to have made the journey so I could be with Esther to celebrate this wonderful occasion and create another memory in a place that made us both happy. I think that was Emily's goal.
This wouldn't have happened without the TGHC's nurses and health team, and their outstanding dedication and hard work; the care they provide is special.
Bill passed away earlier this year.
---
What is Parkinson's?
Parkinson's causes progressive motor disability, which begins with a tremor and loss of normal arm movement. Articulation of speech becomes worse as co-ordinating the tongue, jaw and lips grows more difficult. Over time, the body's trunk becomes rigid and walking degenerates, resulting in small, shuffling steps. Gradually, the ability to initiate and control one's limbs is lost, and those afflicted are locked inside rigid, trembling and unresponsive bodies. Despite the deterioration, few with the disease suffer cognitive impairment, and so are fully aware of their deteriorating physical functions.
Feature photo: Neustockimages; Stock.com via Getty Images