If a true display of God's grace has ever been seen, it is that more than one year after the COVID-19 pandemic began, the Canada and Bermuda Territory will commission 26 officers in the Messengers of Grace Session on June 19. As these Salvationists prepare to carry out the mission of The Salvation Army, they reflect on their calling, their ministry during the pandemic and how they have seen God's grace in their own lives. (Photos: Symon Ptashnick)
---
Roger Barrow
I had a tremendous experience of hearing God's call at the divisional congress in Newfoundland and Labrador in 2017. From that moment, I witnessed God moving mountains for me to go to CFOT. During my winter assignment in Orangeville, Ont., I saw how God uses the Army in partnership with others to provide hope at Christmastime. It goes far beyond gifts and hampers as people share the love of Christ. I would like to see God breathe new fire into the souls of Salvationists, igniting a passion and a burning desire to see souls saved.
Glenda Barrow
Messengers of Grace is far more than just a sessional name to me. It embodies who I am. I came to know Christ at 34 years old and personally know the transformative power of his grace at work. One meaningful experience I had at CFOT was my field placement in correctional and justice services. It was eye-opening to see Christ's love in action in the darkest of situations. My vision for The Salvation Army is that God would speak new life into what some may perceive as dry bones through a fresh infilling of the Holy Spirit.
Appointed corps officers, New Hope Community Church, Orangeville, Ont.
---
April Barthau
I have felt the call to officership since I was a child, but it was a journey to come to CFOT. When my husband and I were serving in Papua New Guinea as laypeople for The Salvation Army, our calling was confirmed—we were not simply following in the footsteps of our officer parents. My vision for The Salvation Army is that we would go back to our roots of meeting people where they are and spreading the love of Jesus in practical and meaningful ways, taking time with people and focusing on holiness rather than just statistical success.
Dr. Marco Herrera Lopizic
Being a Messenger of Grace reminds me that the grace of God is what we want and need. I am growing in grace and I reach for God's grace in my everyday life. I pray that our territory will grow closer to the grace of God. I have felt the call to officership since I was a child. Growing up, I could see the hand of God in my life and my family's life. God has shown me what he can do through us and how we can deliver the gospel to everyone. He's shaped me and moulded me to be his servant.
Awaiting international appointments.
---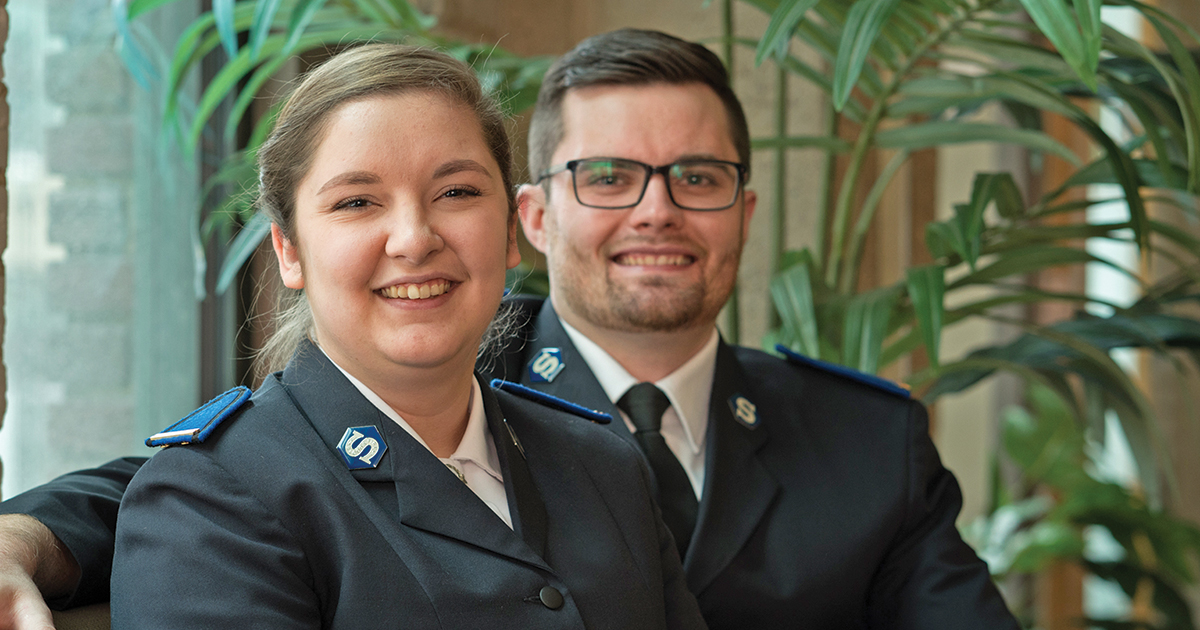 Kelsie Burford
God has been calling me to officership my whole life, though it took time for me to know and accept this. Each step that I've taken with the Lord's guidance has led me to places I've needed to be to serve him, and I know he will continue to guide me. My hope for the Canada and Bermuda Territory is that we would be a place of love and acceptance. Through our teaching and serving, it is important that we portray a God who loves nonexclusively. I believe we are to create safe spaces for those who don't have them, and through this show and teach the love of Christ.
Mark Burford
During our summer assignment in Portage La Prairie, Man., my wife and I performed a baby dedication. We were able to connect with a family who used to attend the corps and heard stories of their time at the corps. We were blessed by the opportunity to minister to them. My vision for our territory is that we would be an Army on its knees praying, an Army that accepts and adapts to change, accepts and loves all people for who they are, just as Jesus loves us for who we are, and an Army that listens to the guidance of the Holy Spirit.
Appointed corps officers, Flin Flon, Man.
---
Beverly Burton
The idea of officership had been in the back of my mind for many years, and when the time was right, God made it possible. A highlight of my time at CFOT was my winter assignment in Chilliwack, B.C. Watching a community pull together in difficult times to make sure no one went without a merry Christmas was very inspiring. I will never forget helping with the drive-through hamper distribution in the middle of a snowstorm and the positive attitudes of the workers on that cold day.
John Burton
I have always had a strong awareness of impoverished and marginalized people, and The Salvation Army has facilitated my desire to help those suffering from poverty and injustice. My call to officership is the result of listening to God as he laid the needs of others on my heart. I felt an immediate sense of God's presence when I heard our sessional name. Grace is an amazing gift from God, and I feel privileged to be able to "make disciples of all nations" (Matthew 28:19) and spread this message of grace to all people.
Appointed corps officers, Glace Bay, N.S.
---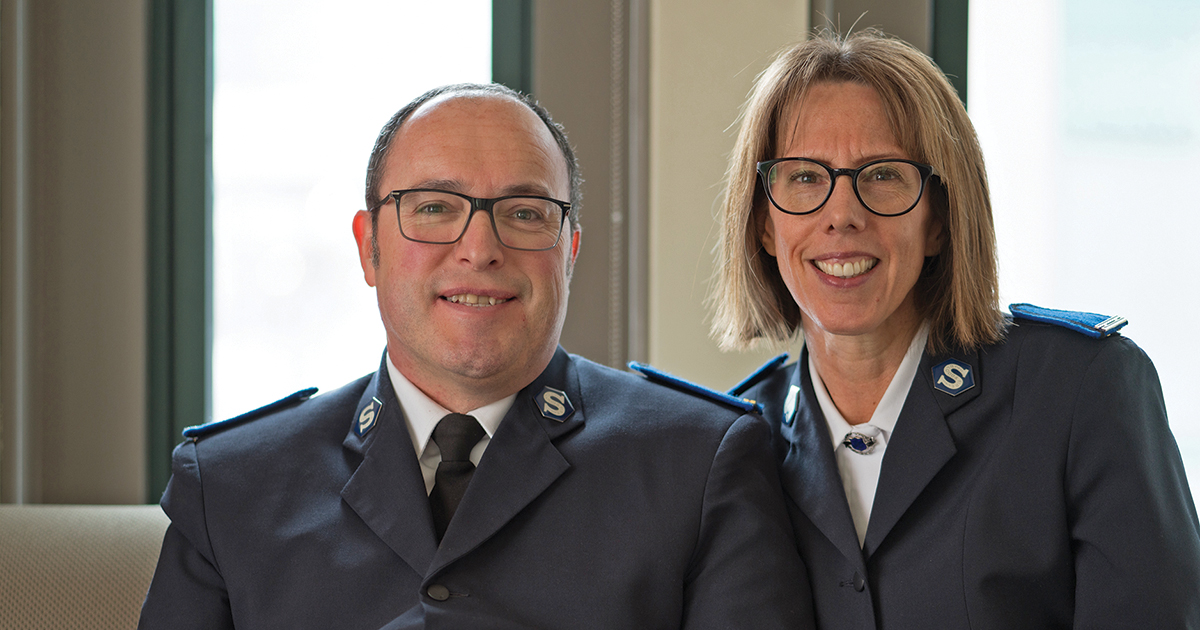 Tony DaSilva
My calling to full-time ministry happened when I fully surrendered to God during the 2019 commissioning weekend in Vancouver. One of the best experiences I had at CFOT was having meaningful conversations with Joseph, a janitor at the Centre of Hope in Winnipeg who was new to the Christian faith. Another meaningful experience was our winter assignment in Sherbrooke, Que. Going to a Frenchspeaking city when we did not speak French was a challenge. But God allowed me to receive from those in the ministry—the officers there were genuine and full of love.
Anjie DaSilva
One of my most meaningful experiences at CFOT was sharing a message about the incredible, eternal value of our souls. I found my truest self in the preparation and delivery of that message. While at CFOT, I learned the ability to shout "Grace, grace!" to the mountains I face within myself and around me. My vision for myself and my hope for The Salvation Army is that we would have the flexibility to include and accommodate the Holy Spirit in everything.
Appointed corps officers, Nelson Community Church, B.C.
---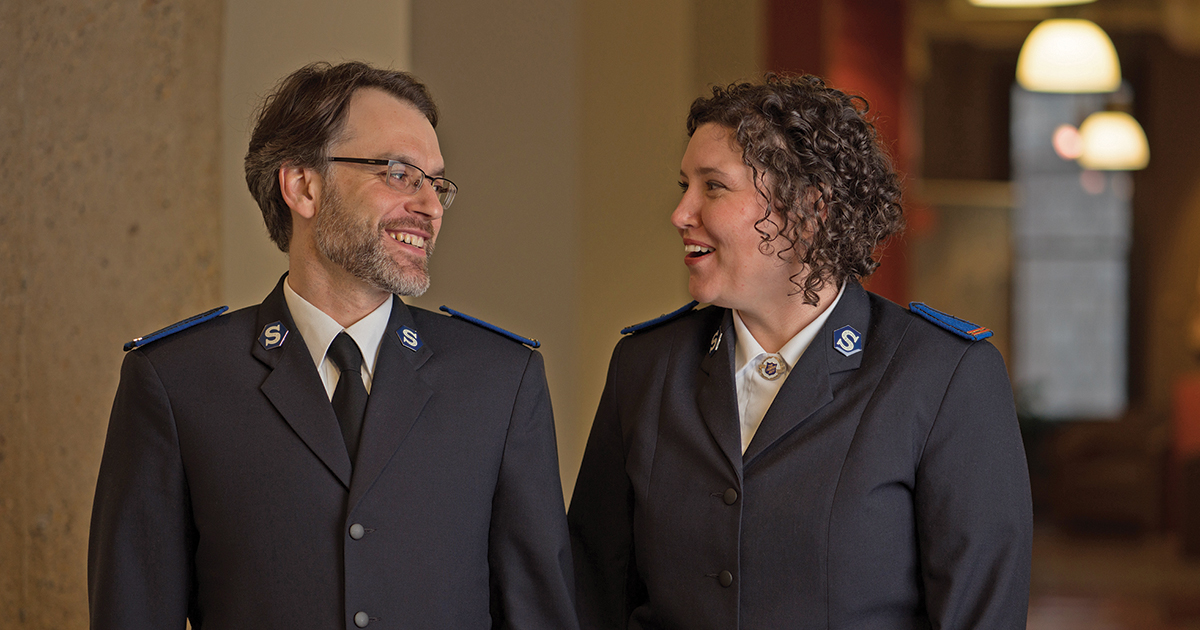 Dion Durdle
Within the first week of arriving at CFOT, a number of our session-mates gathered in my living room for a praise time and we sang
Grace Is Flowing Like a River
. As I think of that chorus, I pray that our session will carry the freshness of the grace of Jesus with us as we love and serve him. During my second year at CFOT, I ministered in the Winnipeg North End Church Plant. I had never had an opportunity to be a part of a new faith community at the beginning stages of growth. It was exciting to witness the fresh sense of hope and expectation among the people.
Jenelle Durdle
One day during my placement at the Winnipeg Centre of Hope, I was cleaning the chapel pews with a volunteer. I learned about this individual's life with God and we prayed together. Her passion for knowing God was inspiring and the evident work of the Holy Spirit in her life and her family was humbling. Although we were essentially strangers, separated by masks and COVID-regulation physical distancing, God united us in a moment of deep connection that I will never forget.
Appointed corps officer and community ministries officer, Sydney Community Church, N.S.
---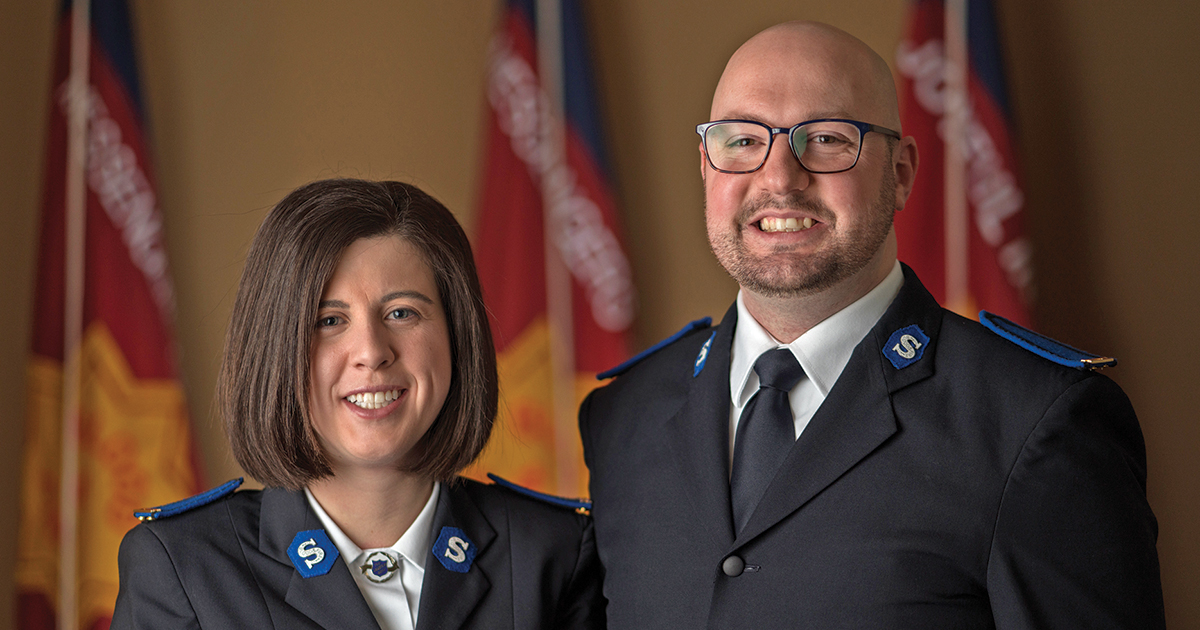 Rebecca Hewson
I knew at the age of 13 that God called me to be a funeral director and I thought that was it. Then in 2010, we attended an Officership Information Weekend. We sensed God's calling but weren't ready to commit to officership yet. In August 2018, new corps officers came to our church and I had an overwhelming sense of God telling me these officers would guide us into training. I told Jory about the reaffirmation of my calling and he felt the same! We thought we had given up on officership, but all along God was still tugging at our hearts.
Jory Hewson
Our experiences of hands-on ministry during our time at CFOT looked quite different than we expected, due to the pandemic. We had hoped to travel within the territory to gain exposure and field experience, but instead we remained in Winnipeg. Though we were disappointed initially, God in his faithfulness provided an amazing time of growth and blessing through our assignment at Southlands Community Church. It has been a joy to journey with this faithful and encouraging community and its exceptional leadership, who have provided us with so many intentional learning opportunities and loving support.
Appointed corps officers, Owen Sound Community Church, Ont.
---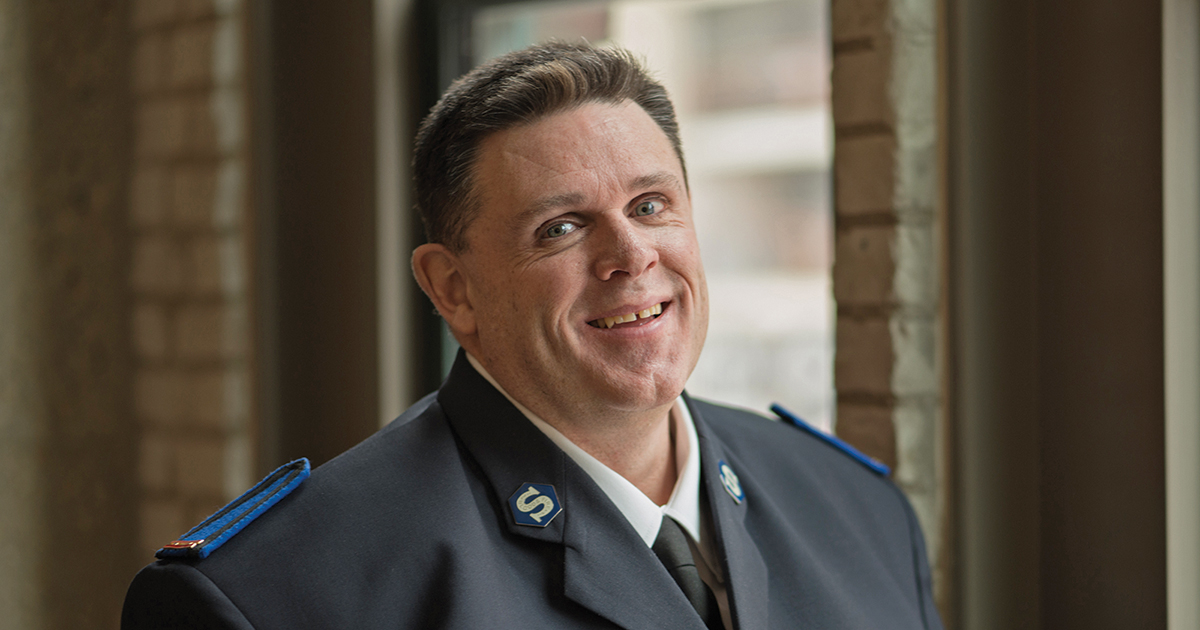 David Hipperson
I was first called to officership while helping at senior music camp at Jackson's Point, Ont., in 2010. I was walking to my cabin when I heard a voice say, "You can do that." During my winter assignment in Medicine Hat, Alta., I met a man who was experiencing homelessness and battling a drug addiction. We spoke about life and his journey, and he showed me the pickup truck his father left him when he died. I was able to share an encouraging word with him, and my heart was warmed to know that God is there, even in conversations about a truck.
Appointed corps officer, Georgina Community Church, Jackson's Point, Ont.
---
Tina Jatzkowski
I am the only German Messenger of Grace at CFOT and therefore the only "Botschafter der Gnade." I love my sessional name because God's grace brought me to The Salvation Army and to Canada. Because he is graceful when I am not the best version of myself, I can be graceful to the people around me. This is what the world needs! We can only change the world around us by showing this grace. Let us be a community of brothers and sisters who deeply care for each other. Let us bring God's love and mercy to our communities so people can find Jesus as their Saviour.
Appointed corps officer, Korps Bielefeld und Osnabrück, Germany, Lithuania and Poland Territory.
---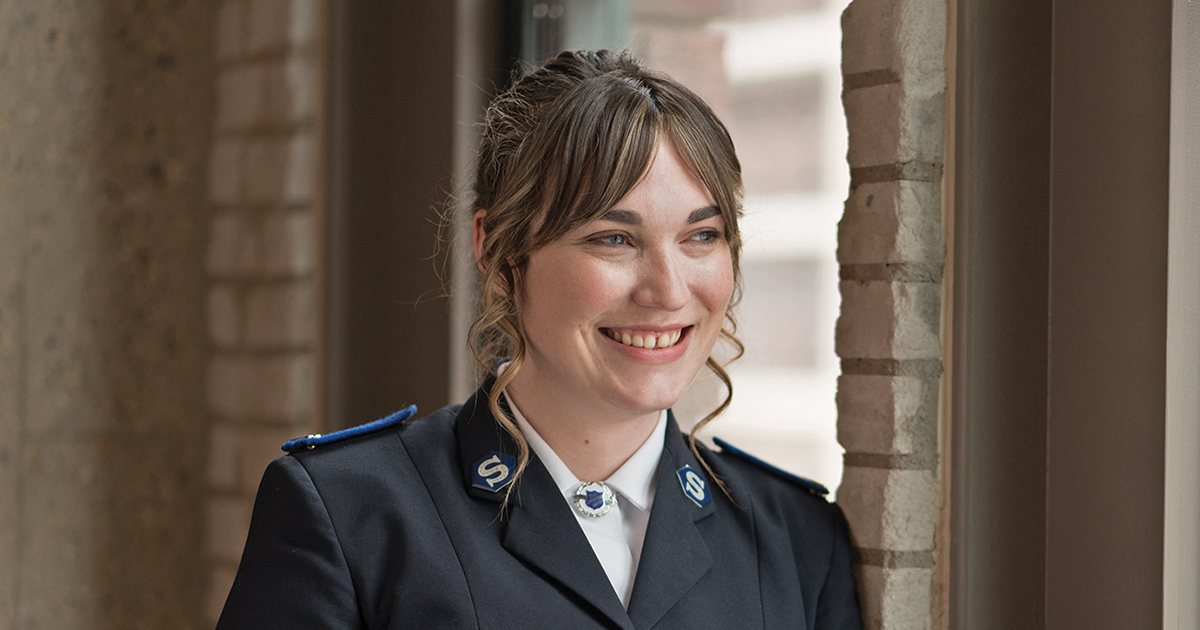 Amy Patrick
My journey to officership was gradual. After I graduated from high school seven years ago, I had the opportunity to travel to Sri Lanka. My grandparents, Majors Glenn and Jaqueline Patrick, had been stationed in Sri Lanka, and their overseas work had always inspired me. Sri Lanka is where my inclination toward officership began. When I went to Booth University College, my desire for officership grew. Then after graduating, during a Sunday service, I heard a voice clearly saying, "Stop making excuses; you're doing this." I felt many emotions through the application process, but I was reminded time and again that I was following God's path for me.
Appointed corps officer, Edmonton Crossroads Community Church.
---
Patrick Penton
My calling to officership came at a young age, and I publicly committed to serve the Lord in this way at a 1999 congress in Newfoundland and Labrador. After graduating from Booth University College, I lived and served in South Korea for nearly 14 years, with my last ministry appointment being acting corps officer at the Korea International Corps. I enjoyed my ministry there, but I still wasn't living the commitment I had made to serve God in full-time ministry as an officer. The Lord was calling me home to Canada. It took longer than anticipated to be commissioned, but the time has come. I am humbled and honoured to serve the Lord in this capacity and preach that there is still salvation for the world.
Appointed corps officer, Glovertown—Circuit with Charlottetown, N.L.
---
Aimee Thomas
The most meaningful experience I had at CFOT was my second-year placement at Winnipeg's Weston Community Church. It allowed me to see how God is moving in the Weston community and how a small church can be mighty with the Holy Spirit. It also showed me that a church is not just a building with four walls; it is a body of people who come together in the community and worship God. This inspiring group made pandemic preaching a pure joy, and I will always remember Weston and be thankful for their impact on me.
John Thomas
My time at CFOT has been blessed with community—community with God, my session-mates, the faculty and those I have met through field placements. As a family with three boys, it was important for us to have them involved in our ministry, and some of the most meaningful experiences we've had were times when our families came together at community life events and monthly "in Sunday" gatherings. To see God at work in our studies and field placements was affirming, as was seeing God's loving grace working through our family and bringing us closer to him and to each other.
Appointed corps officers, Midland Community Church, Ont.
---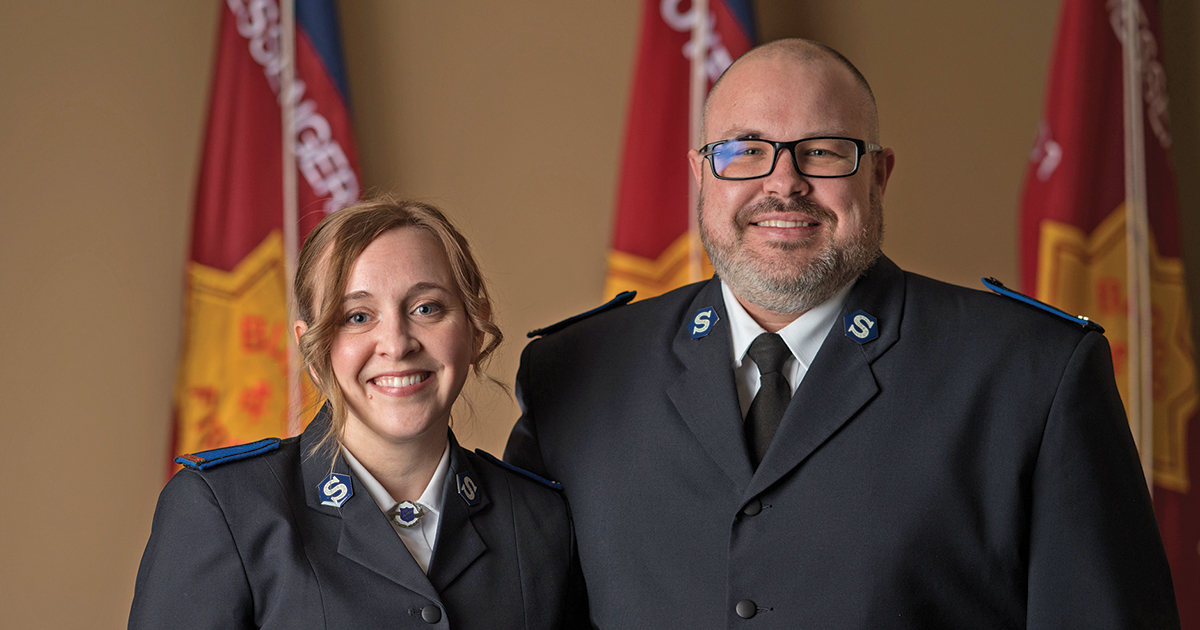 Amanda Thompson
My husband and I went to an Officership Information Weekend in 2018, and two weeks later he sent me a text saying, "We have to go." My only response was, "I know." Although this journey has not always been easy, I have never felt such peace that we are following the path God has called us to. COVID- 19 has changed some of our training experiences, but God has still provided opportunities for connection during the pandemic. It has been amazing to see how even though we are working within restrictions, God is moving in people's lives and in my own. God's grace is not limited.
Jeremy Thompson
These two years at CFOT have been a time when I have visioned for the future. I have been able to see purpose behind all my classes, field work and community living, and how these experiences will prepare me for ministry with forward momentum in the 21st century. My vision for The Salvation Army is that we will continually seek creative ways to be transformative in our communities through the intentional communication of Scripture.
Appointed corps officers, Downtown East Community Church, Toronto.
---
Lester Ward
In my second year of training as a fieldbased cadet, I was serving lunch to people in need in Moose Jaw, Sask. One gentleman approached me and asked if he could speak with me privately. He told me that my presence expressed to him and others experiencing homelessness that they were loved and cared for. It was not just about doing, but about being present in their reality. This really tugged on my heart as I knew I was where God needed me to be. Spending time connecting with these beautiful people has made my ministry so worth it.
Almeta Ward
My call to officership did not include any dramatic experiences but was an ongoing awareness. I knew God was calling me but was unsure of what that would look like. Initially I was excited, then doubt and fear began to overcome me. I was shy, quiet and from a small town, and yet God was calling me into the unknown to serve him in ministry. I was overwhelmed at first, but as time went on, I realized saying yes to God was what I must do. I feel blessed to have this sessional name because it is through God's grace that I can be who he has called me to be.
Appointed community ministries director and corps officer, and corps officer and community ministries officer, Moose Jaw, Sask.
---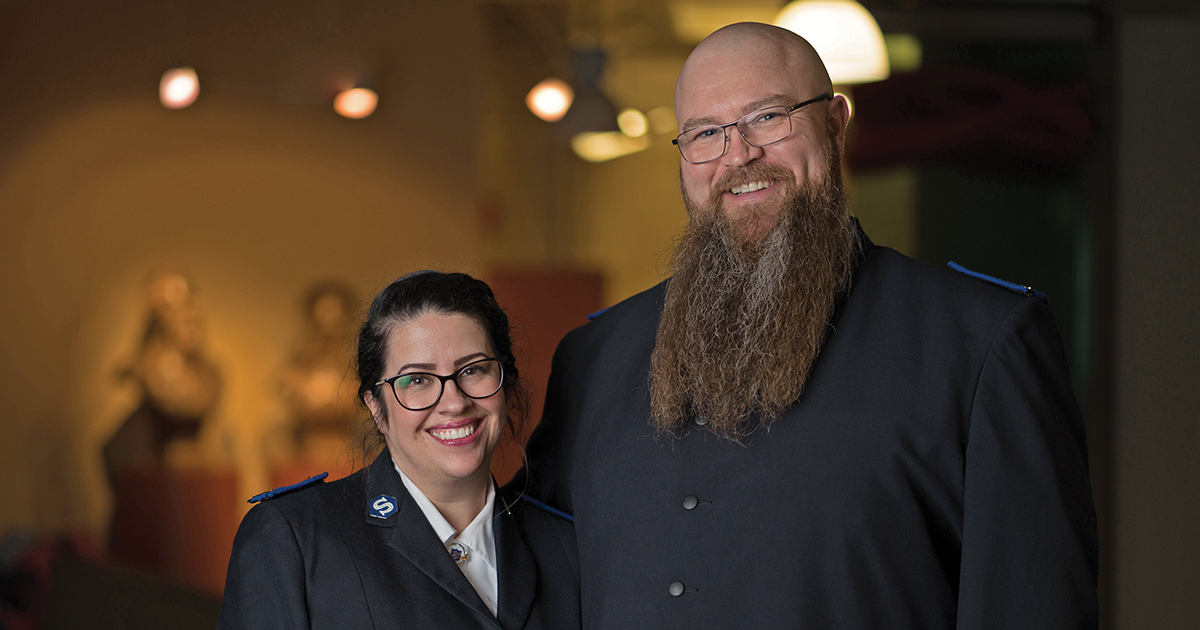 Amber Wareham
God called me to officership in 2017 at women's camp in the Maritime Division. Then the calling of my husband, Brent, confirmed my own calling. God has shown me time and time again that his grace is sufficient. God is the ultimate example of showing grace and I will strive to live in it, offering grace to others and to myself. My vision for The Salvation Army is one of transformation. May we allow ourselves to feel uncomfortable, and allow the Holy Spirit to work in us and through us to bring glory to the Most High.
Brent Wareham
Our sessional name is a constant reminder of my calling to lead a graceful life of loving service to our true King. My vision for The Salvation Army is to seek justice for our youth, have mercy for the aged and walk humbly with our God. My most meaningful experience at CFOT was during my first-year placement which included having to preach at a prison. I spoke about Jesus openly and plainly to six inmates. The next week I found out they asked when I would be returning. I was humbled at how God used me to show his love for those young men that night.
Appointed corps officers, Thompson, Man.
---
Principal's Commendation
On behalf of the College for Officer Training (CFOT) staff, it is my privilege to present the newest session of cadets to be commissioned and ordained as officers in the Canada and Bermuda Territory. I commend these Messengers of Grace to you with the firm conviction that they are full of grace and power. Their power is the active work of the Holy Spirit in their lives. These cadets are like the Apostles—with great power, they testify to the Lord's Resurrection and much grace is upon them all (see Acts 4:33). Join me in praying that these Messengers of Grace will also be like Stephen, full of God's grace and power (see Acts 6:8).
During 22 months of training, these Salvationists have developed in character and competency through spiritual formation, academic studies and practical field training. They are equipped to be Messengers of Grace, mobilized to share hope wherever there is hardship, and build communities that are just and know the love of Jesus.
These Salvationists are convinced of their calling and now commit, by God's grace, to prove themselves as worthy officers, loving Jesus and serving him all their days. I am confident, as the Messengers of Grace continue to learn, gain experience and grow into the fullness of their calling, that the power of God and the grace of our Lord Jesus Christ will be upon them. It has been a joy to journey with these cadets during their time of training. The CFOT staff now release these new officers, full of God's grace and power.
Major Andrew Morgan, CFOT Principal