(Above) Jean, a resident of the transitional housing program at the Gateway of Hope, is an avid gardener
When Jean wants to water his plants at the community garden at the Gateway of Hope, a Salvation Army emergency shelter in Langley, B.C., he doesn't go outside—he goes upstairs, because the sunny, peaceful retreat is on the roof. Designed with a garden in mind, the roof can hold people and soil, and has a safety railing around the edge. Jean grows flowers, herbs and vegetables in his plot, one of eight raised beds.
"We've seen such a rise in the cost of living," says Andrea Voss, family services co-ordinator at the Gateway of Hope. "Even though our local food bank offers fruits and vegetables, most of them are donated and don't last very long. The garden is a way to increase food security for vulnerable individuals and families, by providing access to fresh, nutritious food."
Voss started the garden in 2015, in partnership with A Rocha Canada, a Christian environmental stewardship organization. "They helped us develop workshops for each stage of the growing season," says Voss, "from planning and starting seedlings in the greenhouse, to cultivating the soil, to planting, tending and harvesting, to preparing the garden for winter."
After the first season, Voss continued the workshops on her own. The program, which is open to members of the community and residents of the transitional housing program, has grown from three gardeners to eight.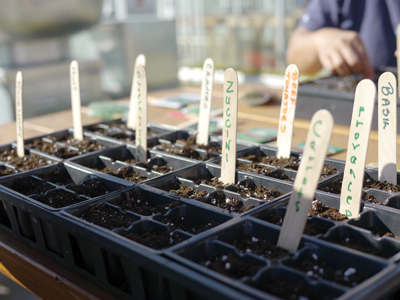 "We ask them to commit for a year," says Voss. "They are responsible for watering and weeding their plots. A garden isn't something you can plant and leave—you have to nurture it. And those skills of patience and discipline can transfer into our lives. Gardening can be a life-changing experience."
Jean moved into the transitional housing program after spending a month in the hospital recovering from an accident. He often goes up to the garden to find quiet and to pray. "It's very healing," he says. "It's soothing to have my hands in the soil."
"Our goal is not only to help people grow food, but to provide a meaningful place to connect with God as our creator and provider," says Voss.
The Gateway of Hope is within walking distance of the downtown core. "Having a garden on our roof is a way to reclaim an under-utilized space," says Voss. "Gardening can be an act of restoration."