In response to the escalating pace of inflation impacting countless Canadians, The Salvation Army is announcing the commencement of its 133rd Annual Christmas Kettle Campaign, marking the organization's largest public fundraiser of the year. This initiative aims to support 2.7 million vulnerable individuals across 400 communities throughout Canada.
The economic challenges posed by ongoing and rising prices have led to a 31 percent increase in new households seeking assistance from The Salvation Army's community services this year. Notably, 34 percent of those requiring aid are children, highlighting the urgent need for support.
Lt-Colonel John Murray, secretary for communications, passionately declares, "In this critical time, as more and more individuals and families grapple with the daily challenge of making ends meet, the weight of stress and anxiety grows heavier. With Christmas on the horizon, there's no better moment to ignite a powerful wave of joy, kindness, and compassion through your generous giving. What's even more remarkable is that your gift today will be doubled, thanks to a generous donor who will match your contribution. Your donation is a lifeline, a beacon of hope that will ensure our neighbours in need have access to nutritious meals, safe shelter, and the transformative support that can change their lives forever. Act now and be the difference this Christmas season!"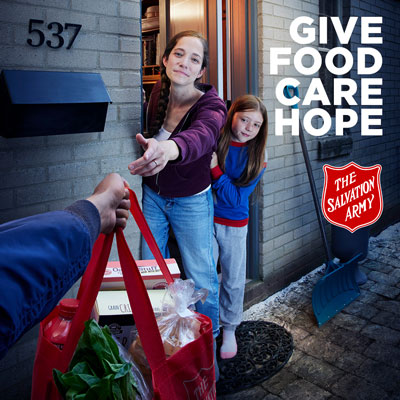 The Army's support extends to practical assistance, including meals and shelter, addressing the diverse needs of individuals and families facing financial hardships. The recipients include employed individuals with low wages, those on social assistance, and Canadians living on fixed incomes, including seniors and people with disabilities.
To address the overwhelming need, The Salvation Army has themed this year's Kettle Campaign as "Her Only Meal," focusing on providing crucial support to hungry children and families during the Christmas season. The campaign aims to raise $22 million, with the added incentive of an anonymous donor providing a matching gift up to $100,000, effectively doubling the impact of contributions.
Donations to the 2023 Christmas Kettle Campaign can be made at SalvationArmy.ca, by calling 1-800-SAL-ARMY (725-2769), or via mail to The Salvation Army, 2 Overlea Blvd, Toronto, ON M4H 1P4.
Contributions to the Kettle Campaign enable The Salvation Army to provide year-round practical assistance, including meals, food banks, children's breakfast programs, housing support, substance-use recovery, and care for women and children fleeing domestic violence. Donations remain in the local community where given, supporting specific local needs. With over 2,000 kettle locations most units offer a safe and simple tap-and-go payment option to donate.
The Salvation Army expresses gratitude for the support of thousands of kettle workers, corporate partners such as Walmart Canada, BellMedia, Loblaw Companies Limited, Costco, and many others who make the Christmas Kettle Campaign possible.