(Above) Lt Jennifer Henson (centre) with Rowan and Sophi, students from the local high school, who volunteered to put up the red dress display at the Salvation Army thrift store in Westbank, B.C. (Photos: Lisa-Marie Pettovello)
Over the past couple of years, I haven't been able to get the words of Martin Luther King Jr., in his Letter from Birmingham Jail, out of my head: "Injustice anywhere is a threat to justice everywhere. We are caught in an inescapable network of mutuality, tied in a single garment of destiny. Whatever affects one directly, affects all indirectly."
This quote helps me understand why I sense such heartache as I bear witness to the suffering of those around me and why I cannot, and should not, ever look away from another's pain.
When my husband, Lieutenant Rob Henson, and I were training to become Salvation Army officers, one of our practical classes was in the north end of Winnipeg. One day, our assignment was to drive around the neighbourhood, notice things and pray. That's when I spotted, in a variety of houses, a single red dress hanging in a window. Some had a name or photo with them. It's as if they were calling for my attention, but what did they want me to hear? It struck me as something I couldn't ignore. When I returned home, I Googled "red dress in window."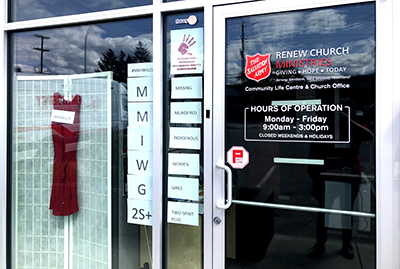 It was then that I first learned about Jaime Black, the Indigenous Canadian artist and activist who created the REDress Project. Black meant for a red dress, whether hanging in a tree, window, gallery or anywhere, to be a visual reminder of the staggering number of women, girls and 2SLGBTQQIA people who are no longer with us. She wanted to draw attention to the gendered and racialized nature of violent crimes against Indigenous women and to evoke a presence through the marking of absence.
When I came across a news story about a group of Winnipeggers who volunteer to search in and around the Red River every year for bodies or evidence of missing persons, I felt physically ill. The organization exists in response to the issue of missing and murdered Indigenous women and girls, and many who participate have loved ones who never came home and they don't know what happened to them.
You know what else we see floating in rivers? Garbage. My gut wrenched at the thought of someone's auntie, daughter, mom or grandma being discarded like garbage in a river. How was this happening and why wasn't something being done?
Fast forward three years to our first appointment in Westbank, B.C. The staff and volunteers at our Salvation Army thrift store decided they wanted to host a red dress display on May 5, the National Day of Awareness and Action for Missing and Murdered Indigenous Women and Girls (also marked on October 4 and known as Sisters in Spirit Day).
As I prepared for the display in April 2021, I came across the final report of the National Inquiry into Missing and Murdered Indigenous Women and Girls, which was released in June 2019 after three years of gathering truth and included 231 Calls for Justice. It struck me that I had heard of the 94 Calls to Action, from the final report of the Truth and Reconciliation Commission in 2015, but never these Calls for Justice.
I wanted to share what I had learned with others. We printed the Calls for all Canadians, 15.1 through 15.8, as a large poster and placed it in our storefront window. We also displayed red dresses, with the hashtag #MMIWG2S.
Conversations started with staff, volunteers and customers. At our daily stand-up meetings, we spent time discussing the significance of the red dresses. We watched a clip of the artist explaining why she created the installation and considered the statistics in Canada for how many sisters are missing or have been confirmed murdered. I remember the feeling in the air, almost like our breath was taken away, when I shared with the staff that British Columbia has the highest rates of missing and murdered Indigenous women, girls and 2SLGBTQQIA people in all of Canada. Gut punch. What were we going to do about it?
As a team, we decided that we were going to start by talking about it: with each other, with customers who asked about it and with our families. We also asked each staff member and volunteer to read the eight Calls for Justice posted in our window and to consider reading the remaining 223.
This devastating injustice is happening in our communities, all of our communities, and the reality is that what is hurting some is hurting all. Genesis reveals how Creator God spoke this universe into being, and as we recall the story of creation, we clearly see that it was designed based on interconnected relationships. Relationships between humans and Creator, humans and humans, and humans with the rest of creation. When we deny our interconnectedness, we grow cold toward one another and slowly, but inevitability, we become broken. We see violence rise and empathy drop, until we deteriorate so much that our sisters are discarded like garbage in rivers and millions of Canadians look the other way.
As followers of Jesus, we don't have the option to look away, unless we aren't truly followers. Jesus taught: "If you love me, keep my commands" (John 14:15). Jesus commanded us: "This is my command: Love each other" (John 15:17).
I ask you, what would love do? How would love respond to the statistics that reflect the fact that Indigenous women and girls are 12 times more likely to be murdered or missing than any other women in Canada?
Love wouldn't look away. Love would go toward. What would "going toward" look like for you, your corps, your youth group, your family? Spirit of the Living God, Father to us all, show us the way of love and may we be willing to walk in obedience.
Lieutenant Jennifer Henson is a corps officer at The Salvation Army Renew Church Ministries, which serves Westbank, West Kelowna and Peachland, B.C.