"William and Catherine Booth designed this organization for people," notes Jan Barton, chief human relations officer. "The Booths' original plan for The Salvation Army infused dignity in each person. They touched the roots of society and reminded us of our individual and collective humanity. That's why our systems today need to be focused on equipping people to deliver mission."
Last month, Salvationist looked at the first pillar of the new territorial strategic plan, Strengthen Spiritual Health (for the full plan, visit salvationist.ca/strategicplan). In this issue, we consider another pillar, Design for People. This pillar has three strategic objectives:
Driven by Christian love and principles, we are a welcoming movement for all.
Our human relations systems equip people to best deliver and support mission.
Our culture encourages innovation that enables a strong, sustainable, growing movement.
In the Army, people are one of our greatest strengths. There is nothing we do that does not involve people at the centre. We are focused on creating people-centred processes driven by Christian love through the development of officers, employees, Salvationists, volunteers and community partners.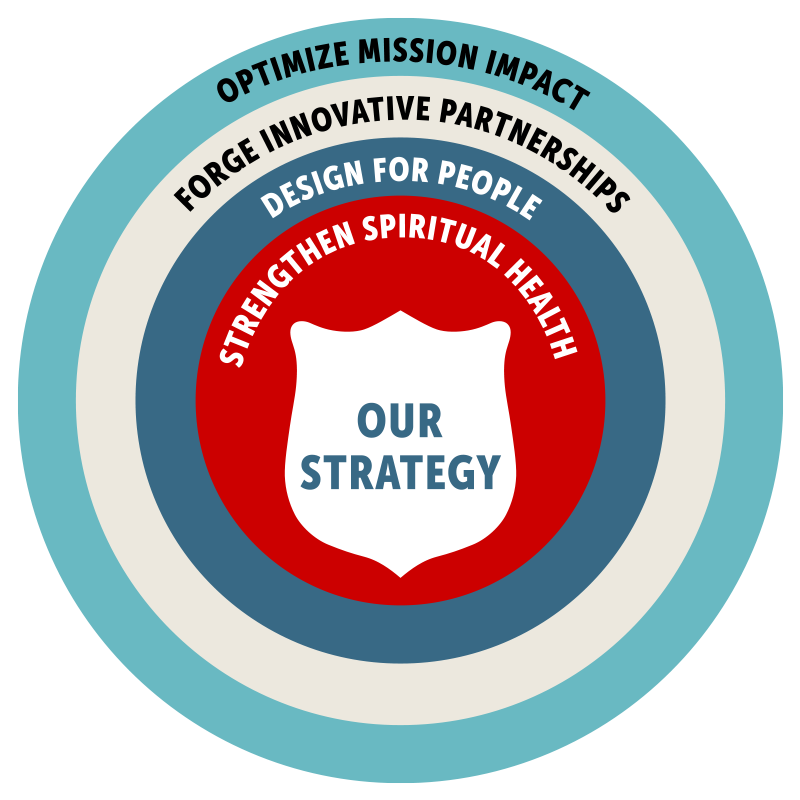 "We are aiming to create a culture built on our faith in God and our organizational values of hope, dignity, service and stewardship," notes Lt-Colonel Brian Armstrong, secretary for personnel. "It includes equipping people for success through greater accountability, role clarity and a front-line view of our mission."
"We need consistent ways to assess someone's fit, build inclusive workplaces and create common messaging," agrees Barton. "We want to be a welcoming organization that engages people, who in turn will refer others to us. Team members do their best work and choose to stay when they feel valued and a sense of belonging. People want to know that they matter."
Part of valuing people includes a commitment to equity, diversity, justice and inclusion (EDJI). Dr. Ellen Melis, our organization capability and EDJI strategist in the human relations department, notes, "At our heart, we must represent and reflect the diversity of the communities we are serving. That means having understanding, empathy and respect, as well as valuing difference and ensuring all feel they belong."
Other areas of focus for this pillar of the strategic plan include a robust compensation program, intentional succession planning, and a flexible work policy that prioritizes good stewardship. The Army has also dedicated itself to developing a culture of continuous learning. To this end, the territorial leadership department is partnering with Harvard Business Publishing to offer its foundational and executive leadership programs.
"There will be new opportunities for people to signal their interest in growth and leadership," notes Barton. "We are evolving our staffing practices so people can speak into their calling."
A top priority continues to be officer recruitment, helping individuals discover, explore and align their spiritual calling to full-time ministry in the Army. Captain Kristen Jackson-Dockeray, secretary for candidates, notes, "The work of candidate recruitment is the responsibility of all. It's an invitation to participate in discerning conversations and mentorship, prompting individuals to listen to the stirring of the Holy Spirit. Through these spiritual relationships, future officers will awaken and come alive to their calling."
Another change involves a relaunch of Performance Excellence and Coaching (PEAC). "Although this performance review tool is based in solid principles, it hasn't been universally understood or consistently applied," notes Barton. "Everyone wants open, honest and timely feedback, and PEAC has that coaching element to help people achieve their career goals."
PEAC will be adapted for front-line workers whose jobs are inherently task-oriented and rating scales will be incorporated to objectively assess performance.
"Our human relations work has a long arc," notes Barton. "It's not a destination, but a journey. We're going to have to make difficult decisions. In some instances, it's going to mean changing our practices. We want pastoral, prayerful hearts, but we also have to give truthful feedback and make smart decisions that best support mission."
Ultimately, it's about getting back to the foundational principles laid down by the Booths. Barton concludes, "When there is so much division in society, now is our time as an organization to stand in the middle of it all and be a beacon of hope."
---
People Experience Life Cycle
The territorial human relations department has developed the following framework to emphasize the importance of providing meaningful work, building an environmentof trust and producing inspired results.
Planning We care deeply about our mission and the work we do.
Attracting We value you, with all that you uniquely bring.
Recruiting Let me tell you about the amazing work of my colleagues.
Onboarding Welcome. Let me show you around.
Developing Share with me how you want to grow.
Retaining We support and recognize you.
Transition We evaluate and learn and keep doors open to referrals and rehires.
Illustration: nazarkru/iStock via Getty Images Plus
This story is from: