It doesn't take long after meeting Commissioners Lyndon and Bronwyn Buckingham—affectionately known to friends and family as Bucko and Bronny—to realize they're down-to-earth, genuine people who would rather the spotlight shone on others. But they will step up to get the job done.
In August, Lyndon took up the role of Chief of the Staff—the second highest position in the worldwide Salvation Army. Bronwyn became World Secretary for Women's Ministries.
Their heritage is firmly rooted in the Army. Bronwyn's parents have been soldiers of Whangārei Corps in Northland, New Zealand, her whole life and a sense of deep pride is evident as she speaks of their faithful service in the local corps. "We go back a number of generations so it's deep within me," she says.
Lyndon's parents were officers and he loved growing up in that context. His family became associated with the Army three years after it arrived in New Zealand, when Lyndon's great-great-grandfather was converted in 1886.
Childlike Faith
Both had significant experiences as children that shaped their faith over the coming years. Bronwyn came to faith as an eight-year-old during a Sunday night "salvation meeting" and remembers it as clearly as if it was yesterday. "I made my way to the mercy seat … it was childlike but it was real."
She knows first-hand the spiritual concept of generational transfer. "I've been covered in the prayers of my grandparents and parents since before I was even born." But Bronwyn is quick to point out that we all have to come to a point where we accept it for ourselves. "I'm a fifth or sixth generation Salvationist but a first-generation Christian."
Bronwyn never strayed from that decision to follow Jesus. At 16 years old she prayed for "Holy Spirit empowerment."
"I can put a stake in the ground as that being a significant moment for me," she says.
Lyndon's childhood faith experience is different. As a six-year-old he attended a congress and didn't listen to anything during the weekend, "until the end when the preacher said, 'If you want to meet Jesus, you can, by coming down the front.' So I went down the front and knelt, thinking I was going to meet Jesus." Lyndon is a great storyteller and the anticipation he had felt was almost tangible in the recounting, all these years later.
The person who put his arm around Lyndon and spoke into his ear sounded a lot like his uncle Wes Rabbits, who, while being a godly man, was certainly not the "Jesus" he expected. "I have to be honest, in a childlike way I was disappointed and felt like I had been cheated. I think that's when I became what I can best describe as a cultural Salvationist." He went through the motions—becoming a junior soldier, going to youth group, becoming a senior soldier and playing in the band.
But on August 12, 1979, everything changed for Lyndon. He was at youth councils when God broke through the walls that disappointment had built. "I had a deeply moving, spiritual encounter with God … it was physical, emotional and real. I was sobbing but filled with joy at the same time, overwhelmed by the presence of God."
As a result of that encounter, Lyndon signed a little yellow form—indicating he was offering himself to be a Salvation Army officer. He handed half the form in and kept the other half. It has been at home in his Bible ever since. Years later, while attending the International College for Officers, Lyndon prayed for a special encounter with God—"Something to remind me or push me forward. I opened my Bible and that little piece of paper fell out." The date was August 12, 2009—30 years to the day that Lyndon first said "yes" and signed that slip of paper.
A Perfect Partnership
When asked how they met, their first response is a giggle, before Bronwyn confesses, "As only you can in the Army, we met at a band concert."
Lyndon recounts how during the halftime break his friend told him, "I've found your future wife, she's sitting in such and such a row." Lyndon's years of dedicated practice were about to pay off: as the soprano cornet player, he got to sit right on the edge, with a clear view of the audience. When he finally spotted her, his first reaction was, "Way above my station, it's not going to happen."
After the concert there was a youth group supper and the driver of the car said to Lyndon, "We can only take everyone if someone is sitting on your lap." Lyndon had no problem with that and when the car door opened, who should land on his lap, but Bronwyn. "I was sitting in the car going, 'There is a God,' " laughs Lyndon.
The First of Many Yes's
In her later teenage years Bronwyn wanted to do whatever God asked of her. She had a job she loved, she was a soldier and fully involved in the corps, and felt like Whangārei would always be home. When Lyndon came into her life, it didn't take long before they both realized this was going to be serious.
About six months into their long-distance relationship, Lyndon came to visit from Wellington, New Zealand. Bronwyn recalls Lyndon saying, "There's something we need to talk about before we take this relationship any further."
"In that moment I knew—we'd never talked about it—but I knew," says Bronwyn. "He said to me he had a calling to officership and couldn't go any further with this relationship without being honest about it. For me, that became the moment that God said, 'This is what I'm asking of you.' "
It wasn't easy for Bronwyn. "I was a homebody, I didn't feel that I had anything that I could bring as an officer in the Army ... Lyndon is very outgoing, gifted, all of that stuff. And then there was me—this shy little girl from Whangārei."
Unexpected Adventures
Two years after getting married, and five months after their son, Daniel, was born, the Buckinghams headed for training college, as part of the 1988 Ambassadors for Christ Session. Their first appointment was as corps officers in Queenstown, New Zealand, for two years, during which time their daughter, Emma, was born. The phone call came appointing them back to the training college—first as training officers, then Lyndon became field training officer and business manager for the college. "It was a great two and a half years, we loved it," says Lyndon.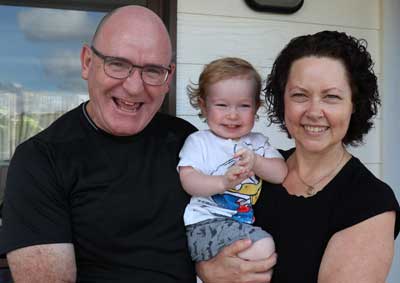 South Windsor Corps in Ontario, Canada, was next, after an unexpected call from the chief secretary asking if there was any reason why they couldn't do an overseas exchange. "We'd never talked seriously about serving outside New Zealand, so it was a shock, but it was wonderful," says Bronwyn.
"It was the making of us in many ways," adds Lyndon. "It was nice to be in a context where no one knew us ... we were able to do ministry, learning in a completely different context, surrounded by great people. I personally believe it set our ministry journey up."
Wellington City Corps in Wellington, New Zealand, was next for five-and-a-half years, and they loved it. They desperately didn't want to leave when the call came, transferring them out of corps ministry into territorial headquarters (THQ), as territorial youth and candidates secretaries.
"It was painful for us at the time," reflects Bronwyn. "But now I look back and see those three years setting me up to the rest of my officership. We journeyed with our kids' generation intimately, and I think it gave us insight into what that generation needs going forward."
"We learned that it's not just the older generation that inspires the younger, but young people speaking truth into us," explains Lyndon. "At times it might have been a little hard, and it was humbling to find yourself being shaped in terms of your own spiritual journey by the insights of younger people."
In 2007, they headed south to lead the newly formed Southern Division for two years, before a return to THQ where they served as secretaries for program for four years.
But it was their next appointment that was most surprising (up to that point). "The phone call came from the Chief of the Staff," says Bronwyn—before laughing at the realization that Lyndon will soon be the one to make those calls. Lyndon was appointed as chief secretary, and Bronwyn as territorial secretary for women's ministries, of the Singapore, Malaysia and Myanmar Territory. Then only 14 days after arriving in Singapore, they received changes of appointments—becoming territorial leaders four months later.
In January this year, they set up home in London, England, taking over the leadership of the United Kingdom with the Republic of Ireland Territory. "Coming into the UK was a fairly easy transition. After five years away from home, we'd done the heart-wrenching stuff of leaving family," says Bronwyn.
It was a different role for Bronwyn, not automatically being given women's ministries, but rather territorial leader for leader development. "I felt good, really empowered … leadership development interests me and I have a passion for it. I've been given an opportunity to do something different and new."
High Council has Consequences
They both counted it a privilege to be in attendance at the High Council in May, where General-Elect Brian Peddle and Commissioner Rosalie Peddle were chosen. "We came home on the Friday, feeling we had contributed well, happy with the outcome and ready to get on with our roles for the second half of the year," says Bronwyn. "That was Friday and by Tuesday our worlds were turned upside-down again."
They got the call, appointing Lyndon as Chief of the Staff and Bronwyn as the World Secretary for Women's Ministries, supporting the Peddles in their leadership of the Army world. "We feel it is a wonderful privilege and a tremendous responsibility, but we have not sought this," says Lyndon.
At the High Council, the Peddles shared their vision for the future and Lyndon says a lot of that resonated with him.
"Continuing the progress we've made, encouraging creativity and innovation, looking to the growth of the Army—not just survival. It's about being willing to have tough conversations over these next five years—who we need to be as an emerging Army," says Lyndon.
When asked about why they might have been chosen for these roles, Lyndon says, "You'll have to ask Brian that question—and I probably will—when I get over the shock!"
Bronwyn is equally excited about Rosalie's vision for the future, and her desire to address issues of women in leadership, married women in leadership and default appointments. "My absolute passion is about the generation coming on behind me—in 20 years time I don't want my daughters' generation sitting around tables having these same discussions. I feel like it's my time now to make a contribution and help make a difference for women."
Lyndon and Bronwyn are deeply grateful to their Army family and expressed an overwhelming sense of gratitude for the emails and Facebook contact people have made. "New Zealand is home, it will always be home," says Bronwyn. "There's something about hearing from your people."
The Next Yes
The Buckinghams have been reflecting a lot on their officership journey recently. "[It's around] the whole context of availability and that with every 'yes' to the Master comes a deepening and awakening for that 'yes' to be fulfilled," says Lyndon.
"You say your 'yes,' and in obedience and surrender, there comes a renewed sense of intimacy with him, that compensates and balances out the realities of what that 'yes' means. Saying 'yes' is part of what the covenant of officership has been about for us."
Shar Davis is the assistant territorial communications secretary in The Salvation Army New Zealand, Fiji and Tonga Territory.
Reprinted from War Cry magazine (New Zealand, Fiji and Tonga Territory).