Ten-year-old Matthew Gordon's life changed forever when his father, Ken, was killed in a highway traffic accident in 2017. Ken was checking the cargo in his truck by the side of the road when he was struck by another vehicle.
Weeks after his death, Matthew and his mother, Lorna, who live in Tantallon, N.S., continued to grieve and sort through his things.
"It's a great feeling to have community support and we plan to keep doing this to let his memory live forever." MATTHEW GORDON
"Always Help"
"My father's clothes were sitting in bags and not going anywhere, so I asked my mom where we could donate them, and she suggested The Salvation Army," says Matthew.
The family, including Lorna's three children from her first marriage, put up posters to ask the community for donations to their clothing drive in honour of Ken. The response from the community was overwhelming, with strangersdropping off clothes at the family'sdoorstep and packing the family'strailer.
"It's a great feeling to have community support and we plan to keep doing this to let his memory live forever," says Matthew, now 15. Over the past five years, Matthew's annual campaign has helped hundreds of people at The Salvation Army Halifax Centre of Hope through clothing and donated gift cards. He and his mother also volunteered to help during a Christmas meal and were able to meet some of the recipients.
"They're just like other people who deserve a chance, and because of the campaign, they've gotten new clothes, they've gotten to go to job interviews, and they've gotten jobs," he says. "Some own their own house now and they're doing great.
"It doesn't matter if you're rich or poor, you should always help people."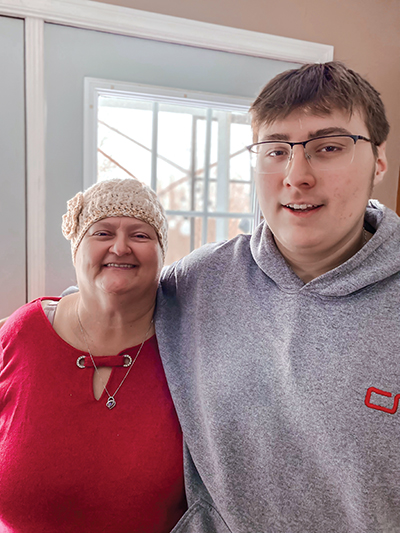 A Different Life
Lorna chose The Salvation Army for a reason. Her husband was an alcoholic and was only able to overcome his addiction through their support and interventions such as Alcoholics Anonymous.
"He would go to The Salvation Army to talk with the men that were in the shelter," she says. "He needed to be near other men who were like him and know that he felt safe going there."
Lorna loved her husband's willingness to help anyone, his kind-hearted nature, humble spirit, and the fact that—even though he was six feet two inches tall and 320 pounds—he was "a gentle giant."
"His struggle with alcohol was the worst demon I've ever seen in a person," says Lorna. "I didn't even realize he had an alcohol problem when I first met him."
Lorna describes the tough times watching Ken drink, get sick, seek help and then repeat the cycle. She felt powerless as she worked three jobs and cared for her children. It wasn't until 2013 when a major health issue and the threat of losing his family for good forced him to sober up. Ken was sober for three years and nine months and a true family man before he died.
"It was a different life for us," says Lorna. "We did all the family adventures and were living a good life … then it was gone."
Lifeline to God
After Ken's death, a friend invited Lorna to a church in Halifax. At first, she adamantly refused.
"When Ken died, there was no God. I was so angry," she says. "I yelled and cursed for six months because I wanted to know why He would take Ken when we were finally in our happy place."
She eventually relented and scoffed, at first, when the young pastor spoke about death and dying when he had not experienced it himself.
"Then, my heart warmed up, and I felt I was being loved by God right there in that moment," she says. "I felt accepted, not judged, and the church became more than my family … it became my lifeline to God."
Today, Lorna helps others by organizing free grief counselling sessions at a local community hall.
Going National
In 2017, Keith Reardon, a senior vice-president at Canadian National Railway (CN) in Ontario learned about Matthew's campaign and garnered support from staff. Last year, he presented him with a cheque for $14,450 for the Army. CN's future plans include taking Matthew's campaign national, collecting clothing donations from coast to coast.
"It warms our hearts that this young man, who is struggling with the loss of his father, has done something so utterly incredible to remember him by," says Rebekah Brounstein, residential manager at the Centre of Hope for the past six years. "Folks that come to the shelter, because they're homeless, don't often come with anything. With Matthew's help, we're able to give them what they need."
Melissa Yue Wallace is a journalism graduate and freelance writer who is passionate about helping people in need and encouraging the organizations that work tirelessly to care for them. Melissa lives in Richmond Hill, Ont., with her husband and twin children.
This story is from: