PRE ORDER T-SHIRTS NOW - ONLY UNTIL APRIL 25th 9AM!
Corps will be billed when shipped; individuals emailed with payment details. (Note: t-shirts available for pre-order only; gold medal is not made of gold)
For any questions, email us at CANBDA.youth@salvationarmy.ca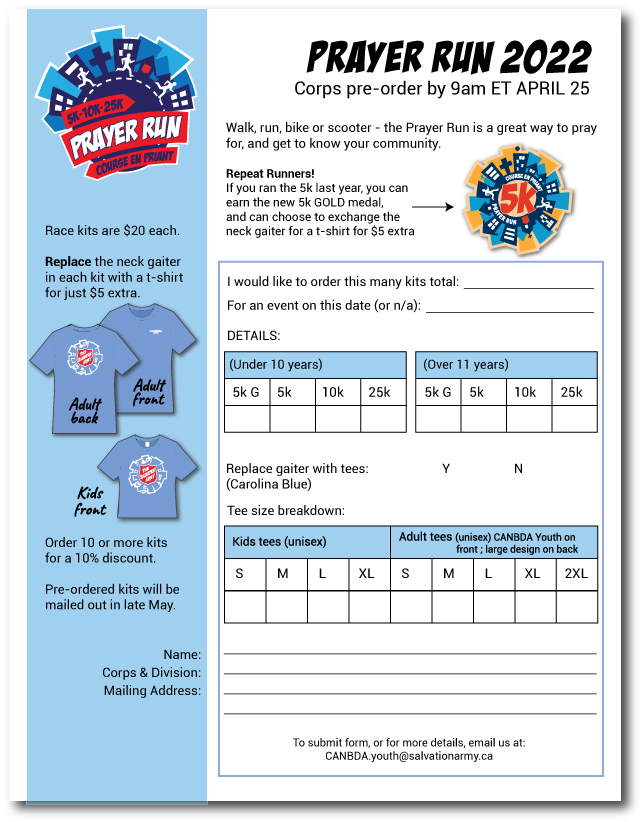 Many people run for fitness, to raise money, or because there is cool swag :)
This year we are introducing Prayer Runs - with finishers medals! - to encourage children and youth to pray outside. These runs are not for fitness or fundraising, nor even for the cool swag, but to get out and pray in and for our communities.
Each run has resources aimed at a specific age group, but everyone is free to choose the distance they prefer:
5k - Elementary age kids and younger (3-10) 10k - Junior high youth (11-13) 25k - High school and older (14-25)
When you sign up, your race kit will be mailed out in two parts (your medal will come later on). Runs can be plotted on Google maps in advance to check for distance, or individual runners can use fitbits/distance tracking apps. Send us a screenshot/photo of your completed run by email or facebook message to receive your finishers medal.The resource is adaptable to any number of participants and any budget or pandemic restrictions. Children & youth can participate individually (with appropriate supervision) or youth leaders can run a group event depending on your local situation.
Don't forget to use #GoPrayTSA as a hashtag for posts on social media!DETAILS HERE:

FAQs

Does it cost money?
The race kits (incl. medal) cost $20. Prayer walking without a kit/medal costs nothing. Feel free to peruse our resources for ideas!

What if we have a group running?
If you have fewer than ten in your group, you can still order though Amilia.
If you need ten kits or more, email us at CANBDA.youth@salvationarmy.ca to ask about bulk order pricing & other details. Bulk orders are mailed in one shipment.

Do I have to run the distance?
No, you can run, walk or scooter – just remember the idea is to pray in our community. It's not a race.
Do I have to go into my community?
To earn the medal, yes. These prayer walks are specifically aimed at youth praying out in their community.

Can I just pray on my treadmill?
Not for this. Feel free to pray on your treadmill whenever you want, but the point of a prayer walk is praying IN your community, FOR your community.

Can I take my treadmill INTO the community?
*sigh* Go for it. Add signs offering prayer. Check if you need a permit. Bonus points if you wear full Salvation Army uniform.

Do I have to run it all in one go?
No. The distance may be covered in one go, or in several increments.

Can I get more than one medal?
Yes - provided you don't run the distances simultaneously (i.e. must cover 30km minimum to receive the 5k and 25k).

What is my medal made of?
The 5k and 10k medals are made locally in AB, Canada. These wooden medals have the durability to last as a keepsake, while also being a renewable resource. The 25k medals are made in Hong Kong from a plated zinc alloy.

When is the run/when can I start?
Any time this summer. You can start as soon as you've signed up, and should be finished (and have proof submitted) by the end of September 2021.
What do I pray for on my walk?
Pray for the people and places you see. If you pass a school, pray for the students and teachers. If you see trash, pray for the environment (and maybe help clean up?) Offer to pray for people you pass. If you pass a cemetery, pray for people mourning their loved ones.
Where should I go for my prayer walk?
Anywhere local to where you are. Plan a walk through the centre of town, or near places you'd like to pray for. Or just go for a walk and see what turns up.
Should I take my dog?
Yes! Then when people stop to pat your dog, you can offer them prayer!
Should I take my parents?
Depends. Are you in a rough area? Will they get lost without you? Are you a small child? All things to consider.