Co-operation
We encourage and foster teamwork and partnerships.
An army is built upon the knowledge that everyone works in relationship with others. It's not a solo effort. Teamwork and partnership are foundational to every aspect of The Salvation Army. The sum of our individual parts pales in comparison to the impact of our collective work. And that happens only because of co-operation.
In Action – Co-operation
Following the recent earthquake, Captain Kathy Crombie was sent to Nepal as part of the Salvation Army's international response team. We asked her to share her experience, reflecting on the value of co-operation.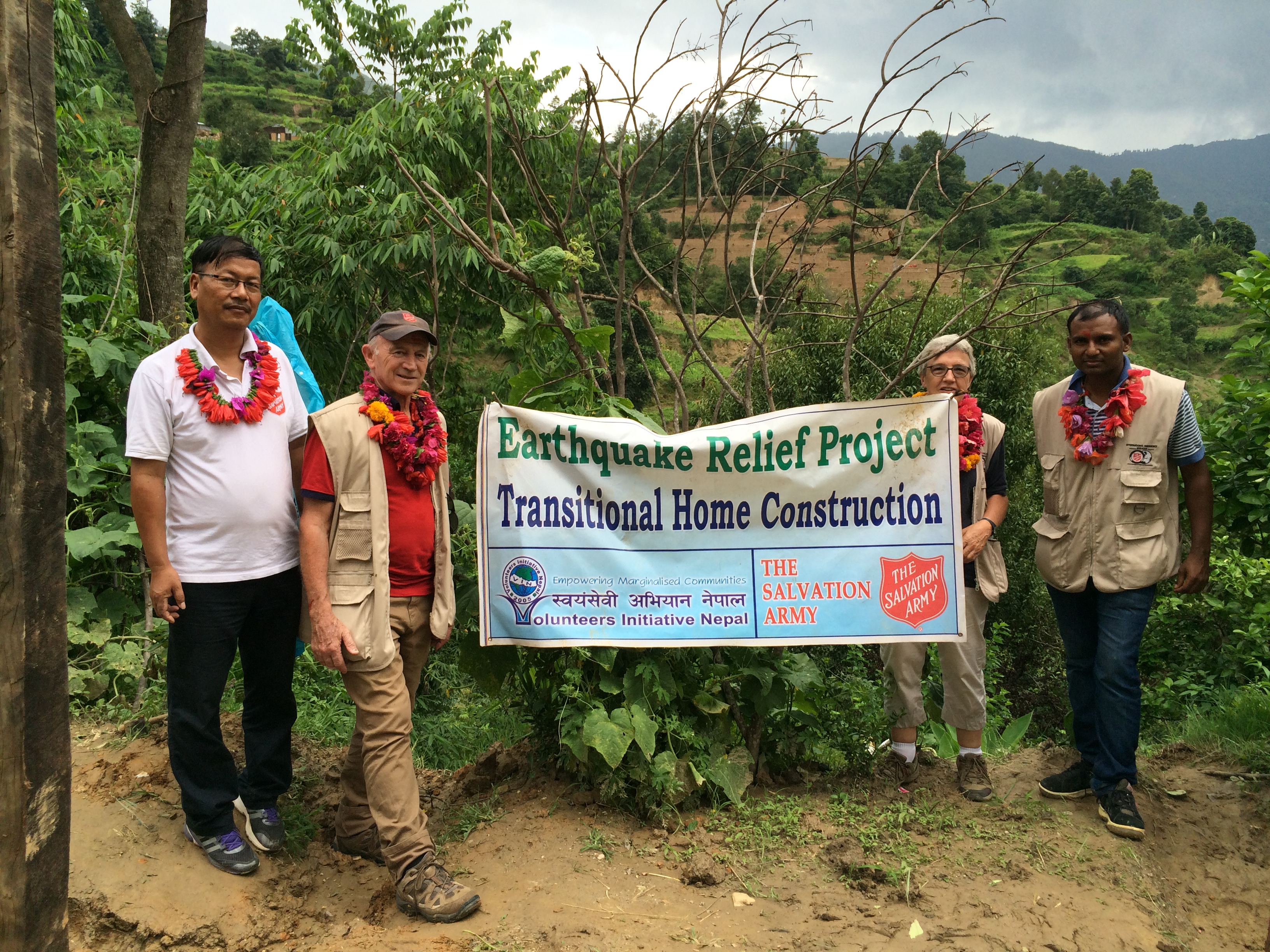 Helen Keller (1880-1968) once said "Alone we can do so little. Together we can do so much." Team work and partnerships are fundamental to co-operation.

The violent earthquake of 7.8 in Nepal on the 25th of April this year (2015) presented a situation that required teamwork and co-operation on many levels. Over 9,000 people lost their lives and more than 23,000 were injured. In many places entire villages were flattened, leaving hundreds of thousands of people homeless. On May 12th a major aftershock of 7.8 occurred, making the devastation even more widespread. The epicenter was in a different location, which meant more people lost their lives and more damage was done.

Numerous Non-Government Organisations (NGOs) rapidly responded to the disaster and came to offer support and relief. Regular cluster meetings amongst the NGOs were quickly set up to co-ordinate efforts in many areas, including food, shelter, education, water, sanitation and hygiene. The Salvation Army deployed an International Emergency Services (IES) team within three days. This small team quickly bonded to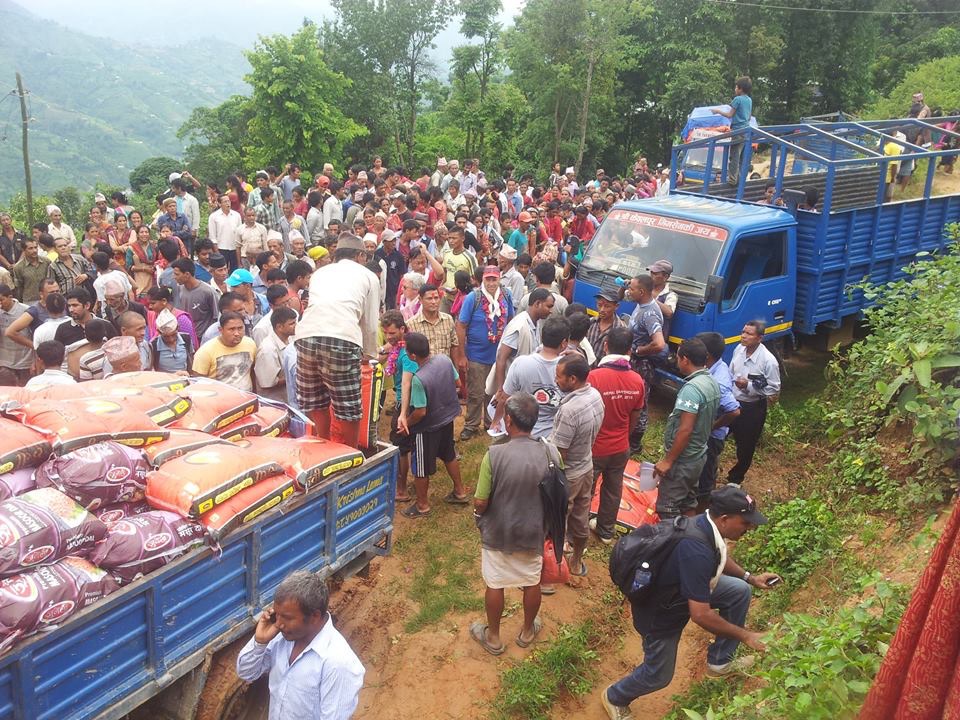 work in a way that called for close teamwork as well as the creation of networks within the community.

Effective communication and trusting partnerships were integral to the efforts, whether it was sourcing and distributing supplies or finding transportation to actually get to the affected areas to perform needs assessments. Liaising with the local community leaders was integral to receiving the supplies, arranging trucks or even helicopters in some places, loading the supplies, getting the supplies to the community and then distributing them. The biggest amount of food that we distributed at one time was for 3000 families – 116 tons of rice, lentils, oil, and salt!

As the monsoon rains increased, the conditions of roads deteriorated and we faced bridges washed away, landslides, muddy roads/tracks that were not easy to traverse without trucks becoming stuck in deep mud. Sometimes we faced all of these obstacles in one day! Our goal to take supplies to the communities especially in rural areas required much team work, especially when the convoy of trucks became stuck in
the mud as they tried to ascend steep unpaved tracks. Human effort to push four-ton loaded trucks up the hills out of the quagmire of mud was a mammoth joint effort.

The IES team had several amazing opportunities to partner with other organizations. We worked with Filters For Families to supply water filters to communities and schools. A partnership has also been made with other NGOs to construct temporary schools in remote areas. In another district on the outskirts of Kathmandu, a community development partnership has been forged with another Volunteer NGO (VIN) for a housing project. To see the construction of 500 simple sustainable houses and the joy of the recipients who no longer need to live under leaking tarpaulin and plastic was truly inspiring. Ralph Waldo Emerson once said that "no member of a crew is praised for the rugged individuality of his rowing." This certainly was the case every day for our small IES team throughout the earthquake relief operation in Nepal.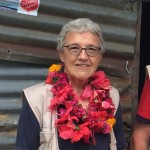 Kathy Crombie was appointed from the Australian Eastern Territory to the International Social Justice Commission in New York in 2014 as the Senior Policy Research Analyst. Prior to being an officer, Kathy spent many years working in developing countries of Nepal and Bhutan. She also spent 11 years in academia, teaching research, health promotion and public health at a Sydney based university. Her degrees include a Master of Arts Theology, Master of Public Health and Doctor of Education. Kathy has a heart for people from other cultures. She has a passion about social justice, particularly in the areas of racism, health for all and equality between genders.



Click here for a printable copy of In Action – Co-operation
A Glimpse from the Past – Co-operation
When you think about The Salvation Army, investigators and detectives don't readily come to mind. Interestingly enough however, one of our longest-standing programs is exactly that. Now known as the Family Tracing Program, the "Help and Enquiry Department" was established in 1885 to assist parents find their missing daughters – an outreach initiated during the Army's campaign to raise the age of consent in England. An 1891 War Cry article describes the work in colourful prose

"One-third of the cases being foreign, a vast amount of correspondence has to be attended to as soon as possible after receipt, entailing communications with agents abroad, etc. And this part of the work is daily increasing, owing, not only to a certain amount of publicity having been given by various successful cases to the existence of this special Department, but doubles also in a great measure by the publication of "In Darkest England."

To show what effect these two causes have had upon the Department, it is necessary to go somewhat into statistics. For example, in August, September and October of last year, the three months preceding the appearance of the work referred to, 486 new cases were investigated, and 115 people were found. For November, December and January last, the three months following the publication of "Darkest England," 594 new cases were received by the department, and of these 132 were traced. This points to an average of about one in every four cases investigated being successful. In the course of investigation, no less than 2,490 interviews with different people were conducted by representatives of the Department which interview apply to London and provincial cases alone. "

It is evident that cooperation – working with families, authorities and other agencies – was a founding principle of this 'Salvation Army Detective Department'.

In fact today in Canada & Bermuda it's not only our family tracing services that are continuing this important work. The Salvation Army Atlantic Immigrant and Refugee Services program operates year-round out of the Spryfield Community Church and Family Resource Centre. It works to reunite refugees and immigrants with their families. They assist over 300 clients annually, and open approximately 50 files each year, with many cases taking up to three years to be completed. The success of this far-reaching ministry could not happen without teamwork and ongoing partnerships, with co-operation at the core.

Click here for a printable copy of A Glimpse from the Past – Co-operation
Faith & Life – Co-operation
Doreen walked through the door of the Family Services at Scarborough Citadel feeling desperate. She had received counselling at The Salvation Army's Homestead ministry but with temporary custody of her 2 year old granddaughter, Tiffany, she needed more support. Doreen was warmly welcomed and, along with the immediate practical aid of food from the Corps Food Bank, was given direction as to long term support. With the co-operation of government funding and the corps, Tiffany was able to attend Scarborough Citadel Childcare. Over the years Doreen and Tiffany attended Baby Song and worship services at the corps. One summer they attended Moms and Tots Camp where Doreen came to experience God's peace in her life.

Addictions counselling, community and family services, daycare, government, corps, music and camping ministries – numerous people – in co-operation with each other exemplified the love of Jesus, met the needs of this little family and resulted in the transformation of two lives.

Co-operation is critical to the success of any organization but in the case of The Salvation Army it is at the core of who we are because it is deeply rooted in Scripture.

At the dawn of creation God spoke the Word, the Spirit hovered over the deep and all things were created in and through the Son. The triune God in perfect harmony provided a flawless example of co-operation. God created man and woman to co-operatively share in the beauty and care of the garden. Noah co-operated with God for the redemption of humanity in the flood. Abraham willingly was used by God to father His chosen people. Mary co-operated with the Spirit of God when called to be the mother of the Messiah. And Jesus, our Messiah, in co-operation with the will of His father, endured the cross so that you and I can participate in this partnership with God.

Our most crucial co-operative relationship exists with God. We are given the privilege, and called upon, to co-operate with Him so that His will is accomplished in the world. Jesus gave the perfect example of how this works. The key to the success of this partnership was Christ's attitude. Paul reminds us that this is how we are all called to live.

5 In your relationships with one another, have the same mindset as Christ Jesus:

6 Who, being in very nature[a] God,

did not consider equality with God something to be used to his own advantage;

7 rather, he made himself nothing

by taking the very nature[b] of a servant,

being made in human likeness.

8 And being found in appearance as a man,

he humbled himself

by becoming obedient to death—

even death on a cross!

Phil 2:5-8 (NIV)

Co-operation requires humility. Not a door-mat mindset but a true view of who we are in Christ and before God. We can't generate this type of attitude on our own; it is a result of God's work in us. As we co-operate with the Holy Spirit He enables us to act and react in a Christ-like manner fulfilling God's will. When our relationship with God is right, we are better equipped to work in co-operation with others.

Paul describes our co-operation within the church like a body. We have different abilities and God given gifts. Each person is needed for the overall health and functioning of the body. Embedded in this metaphor is the understanding that we cannot all be the same; we are not all an eye or an ear. We are all needed in our diversity. That reality can cause difficulty when trying to co-operate with others. At times we will have differing views or ways of doing things. For the body to function well we need to accept people as they are, and even more, to find ways in which our uniqueness and theirs can complement each other. In The Salvation Army we are blessed to co-operate with those of diverse cultural, economic and societal differences. Our ability to work, fellowship and worship beyond these often restrictive boundaries is a testament to God's love for all people.

As the early church expanded, a conflict amidst cultural differences threatened to disrupt the mission. The disciples recognized their need for help. They humbly asked for help. Seven men were chosen to carry out that part of the mission. These men humbly accepted the role that God had for them. Together, in co-operation, "… the word of God spread. The number of disciples in Jerusalem increased rapidly, and a large number of priests became obedient to the faith." (Acts 6:7)

May it be so where you serve in The Salvation Army! Humbly submitting to God in co-operation with His Spirit, let us keep God's will as our supreme goal so that in co-operation with others His mission will be accomplished.

"For we are co-workers in God's service" 1 Cor. 3:9a




Alison Moore serves as the Integrated Ministries Coordinator at Scarborough Citadel facilitating spiritual connections between the corps members and Outreach Ministries participants. She enjoys connecting with people and worshipping God through playing the piano.




Click here for a printable copy of Faith & Life – Co-operation