Integrity
We are honest, trustworthy and accountable.
Having integrity means being honest and trustworthy. Integrity is when your word actually means something. Integrity in practice ensures accountability, to each other and to those who entrust themselves and their resources to us.
Integrity from Salvation Army Ethics Centre on Vimeo.
In Action – Integrity
It's not easy to make a long-term care facility feel like home. But that's what has happened on Angus Road in Regina. Whether you're a resident, staff or a family member, walking through the door of the William Booth Special Care Home is like coming home. That's due to a lot of things, according to the Executive Director, Ivy Scobie. From interviewing a potential employee to ensuring sufficient staff presence at meal times to participating in one of the facility's family events, the well-being and dignity of the residents are paramount.

One of the initiatives at WBSCH that has contributed to their success is known as the 'Visibility Wall'. It's an ordinary portable white board, but its significance is anything but ordinary. The Visibility Wall is not in itself the goal; the discussions, actions and accountability are what are important. The components consist of:


The purpose statement of the service area (mission of the organization and how the services are delivered)
Communications section / Training schedule

Educational sessions
CQI activities
Corporate Communications, e.g. notices from the Salvation Army, Ministry of Health, regional health alerts, etc.

Staff Bouquets
Improvement areas, e.g. safety, WCB and absence stats, educational opportunities,
Salvation Army Values (monthly value reviewed), along with things to inspire – a 'why we're here' message

The Visibility Wall has heightened awareness of how everything that happens on a shift impacts both the well-being of the residents, the efficiency of the unit and the impact on other departments in the facility. Twice weekly, on each unit and department, staff gather for 10 minutes where the board is reviewed and updated. The board is then posted in a central spot in the staff room for all staff to see. This process occurs on each unit and in each department.

The Visibility Wall is an ongoing reminder of good practice and each team's commitment to excellence. It also helps build an accountable and transparent workplace. It's a great model of integrity in action.

Click here for a printable copy of In Action- Integrity
A Glimpse from the past – Integrity
The Guardian newspaper referred to it as "the ethical bank that offers salvation" but many in the UK know it simply as their local bank. The Reliance Bank (formerly known as The Salvation Army Bank) was established in 1890 by William Booth when he needed to attract investments to finance mortgages on property integral to the work of the movement. Reliance is now over a century strong, with assets of more than $400 million. And it evidently keeps some pretty high standards. That same Guardian article states:

"It has never sold payment protection insurance. It has never had a customer complain to the financial ombudsman. It has never been fined by the regulators – and it was certainly not mixed up in the Libor scandal. Yet it offers customers a full current account service, with debit cards, cash machine access, savings accounts, cash Isas [tax free savings accounts] and internet banking … Throughout the financial crisis Reliance Bank has remained in profit – which it puts down to its low-risk, ethical business model – and it has the sort of internal capital ratios and financial safety cushions that the major high street banks can only dream of. "

The Reliance Bank will never be one of the big players. It has not expanded beyond a single branch with a small number of staff. But its principles, established in the earliest days of The Salvation Army, are grounded in the same value of integrity that informs all aspects of our ministry and operation today.

Click here for a printable copy of A Glimpse From the Past- Integrity
Faith & Life – Integrity
Holding on to Integrity

I am a hypocrite.

According to R.C. Sproul, to preach on holiness is to risk being called a hypocrite. Yet, I am compelled in the midst of my humanity to speak on such lofty topics as holiness and integrity, knowing that I fall short of the ideal. My soul cries out for holiness and integrity, needs them, reaches for them; and so, I speak, clothed in the filthy rags of my own lack of integrity, holding tightly to the torch of my desire. My study shows me once again where my life lacks integrity. Yet, I am not defeated; rather, I am empowered to align my heart and soul once again to the source of integrity and to listen more attentively to the Spirit who leads us to walk uprightly.

In the same way as I desire to be a person of integrity, The Salvation Army has declared Integrity to be a core organizational value. The biblical history of the Kings of Israel and Judah illustrates that organizational Integrity can only exist where there is personal integrity.

So what is Integrity? Integrity speaks to the core of who you are. It is character that comes from the heart; resolute and unblemished.

Integrity says, "I will do right no matter what; no matter who is or isn't looking. When I'm afraid, I will do right. When I am confident, I will do right. With my friends, I will do right. When my friends attack me, I will do right. When it's easy, I will do right. When it's hard, I will do right. When there's no cost, I will do right. When the cost seems high, I will do right. When people like it, I will do right. When people don't like it, I will do right." That's integrity.

Proverbs 10:9 says "People with integrity walk safely, but those who follow crooked paths will be exposed."


Recently in Edmonton a steel bridge that was under construction had four of its seven 40 ton steel girders twist. The engineers stated that "lateral torsional buckling may occur in an unrestrained beam." What this means is that the steel didn't have all the anchors it needed to keep it straight.

I realized that, like the steel, Integrity cannot stand alone. Without enough restraints, the steel went the way of least resistance. When we are faced with the weight of stress and the pressure to conform, our integrity will be skewed if we do not have supports to keep us true.

Job in the midst of his trials was commended by God as holding on to his integrity (Job 2:3; 27:5). He held integrity in his heart. It was not in him to compromise even for his own benefit.

Like Job, it is our job to hold on to our integrity. Only by keeping integrity in our hearts will it hold fast. If it is not in our heart, it is subject to corruption. Our minds will look for ways to get around it, or someone with a better argument will talk us out of it. If it is only in our hands, the right price and the right opportunity will be able to buy it from us.

According to a recent study The Salvation Army is an organization that donors give to because we are who we say we are. We serve with compassion, we work hard and are honest. Our donors say it is how we do things not so much what we do that they support. As an organization our mission and values are what the public see. Donations are measurements that tell us our donors are happy. But let us not be mistaken: donor happiness is not the criterion of our integrity; Scripture is.

The major threat to any spiritual organization is not from without but from within. How do we grow without compromising? Do we have the supports that help us to pass the integrity test? Those supports are men and women of God who hold integrity in their heart, people that will hold us personally responsible for the decisions that we make and ask us the tough questions. However, we also need systems and a framework that support Spiritual Integrity.

Are our systems and framework evaluated not merely as a means to an end? Are they infused with a mechanism that calls us to act righteously in our decision making, planning and operating? Will they support us to act organizationally with integrity even when it is not convenient, even when everyone else is doing it, or even when it may be costly?

Can we pass the integrity test? Do we have the supports we need to hold Integrity in our hearts so that we will not only value integrity but, that we too may receive God's commendation as a People of Integrity?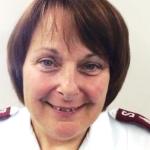 Commissioned in the Messengers of God Session in 1982 Toni Cartmell has served along with her husband Ron for 25 years as Corps Officers and 8 years in a variety of Divisional Appointments. Toni is passionate about the Kingdom of God and the call that He has placed on individuals that make up TSA to serve wholeheartedly and sacrificially as we walk in holiness. She loves the opportunity that being an Officer in TSA gives her to develop and use her gifts to build up a vibrant effectual people of God who are changing history one life at a time. Toni currently serves as a Divisional Leader in the Alberta and Northern Territories Division.




Click here for a printable copy of Faith & Life- Integrity