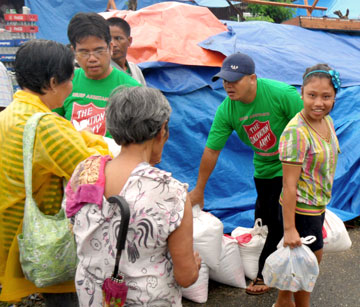 The Salvation Army in The Philippines is providing ongoing care to people affected by Typhoon Bopha. The storm system, which made landfall in December 2012 as a category five "super typhoon," was the strongest ever experienced in the country. Creating winds of up to 160 miles an hour, it left a trail of devastation on Mindanao Island, killing 600 people and leaving thousands without homes.
The Salvation Army responded immediately, with funds from International Emergency Services being used to provide food and essentials to almost 500 families.
After consultation with the civic authorities, The Salvation Army identified and registered 1,820 vulnerable families in the town of Baganga. In January, thanks to funding provided by the Salvation Army World Services Organisation (SAWSO), these families received packages that consisted of food such as rice, noodles, sardines and corned beef, in addition to sleeping mats, blankets, buckets and water dippers.
The storm destroyed huge swathes of cultivated coconut trees, taking away a very important means of livelihood for many citizens, so further intervention is going to be necessary to assist the population on the road to recovery. The Salvation Army's Hong Kong and Macau Command has sourced funding from the Hong Kong Government that will help to provide vital assistance over the coming months. Even so, these are early days of a recovery that will take months if not years, so all donations and support will be gratefully received.