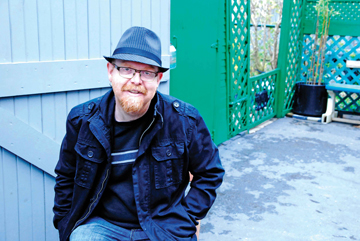 Finding affordable housing in major urban cities like Toronto is no easy feat. And for those who stay at the Gateway, a Salvation Army 108-bed shelter and drop-in centre for men and women in Toronto, the hurdles can seem insurmountable.
Director Dion Oxford has seen first-hand how individuals who transition from shelter life to a place of their own often wind up back where they started—living on the streets due to loneliness and bad habits. That's why he started the Causeway initiative: to create a solid support network of Christ-followers and recently housed individuals. Oxford spent time with Salvationist to update us on his ministry.
Tell us about the Gateway.
The Gateway is a 13-year-old ministry and one of five shelters run by The Salvation Army in Toronto. Between us we operate 615 beds per night for men and women who are experiencing homelessness. We called ourselves "Gateway" because we wanted to provide a place where, when people come through our doors, other doors would open to them. We didn't simply want to be a warehouse for humanity. We believe that all people have been created in the image of God and, therefore, all people have gifts and skills and something to teach us. At Gateway, we do all we can to tap into those gifts and skills with the hope of seeing people regain their self-worth and identity as God's people.
What's currently happening in your ministry?
One of the most difficult tasks we have at hand is helping people find and maintain affordable and appropriate housing. We believe that when someone finds the stability of appropriate housing, they can then go about focusing on other issues they might need to address. So we do all that we can to help people find such housing with the hope that they would get started on the right track toward healing and wholeness.
How long does it take to find appropriate housing for the people you are serving?
It often takes months, and sometimes years, of waiting. The problem is finding housing that works for the individual. Affordability is a major issue. Many of our people are receiving government assistance, but the amount isn't enough to pay the rent in most single-dwelling apartments in Toronto, let alone pay for groceries and other living expenses. So we're often looking for rent-geared-to-income apartments that are subsidized by other funding sources. Or we find places that aren't well kept and are not ideal to live in.
When you can adequately house individuals, are they able to adjust to living on their own?
Usually they aren't able to. In fact, many of the men and women who leave shelters and find housing end up feeling isolated and alone in their new apartments. Ultimately, many lose their housing for one reason or another stemming from that loneliness. They then end up back in the shelter system because it's the closest thing to "home" that they know. This is mostly due to the fact that while they live in shelters, they have community, but when they move into their own apartments, they are all alone and have no idea how to begin finding community in their neighbourhood.
How have you been able to develop community through the Causeway initiative?
We know that many committed Christians are regularly asking, "How do we get involved?" Many Christ-followers really want to do something more than sit in the pew each Sunday. There is a stirring in people's souls that compels them to act on injustice and poverty, but they don't know what form that action will take when they have jobs and familial responsibilities. Or they want to roll up their sleeves and help, but don't know where to start.
Causeway addresses both of these realities. In fact, the word "causeway" comes from this concept of bridging a gap. A causeway is a person-made bridge between two previously separated bodies. The bridge that the Causeway initiative is trying to create is between: the rich and poor; corps and social; those with material resources and those who lack them; and those who have community and those who desire it.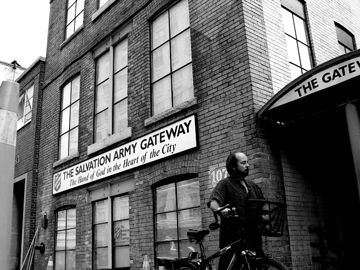 So how does it work?
Each of our five shelters have housing specialists on staff whose job is to find appropriate housing for the residents of the shelter who are looking for their own place to live and then provide follow-up support once an individual has been housed. Approximately 1,000 men and women each year are housed through Salvation Army shelters in Toronto.
However, due to the volume of people being housed each month and the small number of housing specialists on staff, the follow-up support can be difficult. The numbers are simply too great for our staff to manage. As a result, we often see people that we house eventually lose their housing and come back to us.
The Causeway initiative believes that while there are not enough "professionals" to provide follow-up support to these individuals, there are more than enough committed Christians in churches all across Toronto that could. We believe that part of the Christian imperative is to befriend people on the margins of society (see Micah 6:8, James 1:27, Matthew 25:31-46). Causeway is providing an avenue for Christians to respond to the gospel in very practical and vital ways.
What are you doing to ensure this initiative has the support it needs?
We are approaching local pastors and congregations and asking for volunteers. Families, friends and groups can volunteer together. We will then train them on topics such as cultivating a biblical and theological understanding of the poor, boundaries, risks, social determinants of health and well-being, potential outcomes and measuring success. After the training, we will match them with individuals who have expressed an interest in having Causeway volunteers walk alongside them after they have been housed.
What is the purpose of this initiative?
This initiative is developed to encourage people of Christlike compassion to develop "unlikely friendships" by providing presence, guidance and support. The help of compassionate Christian community members is needed to ensure a positive and successful journey for the individuals who are beginning their walk toward wholeness.
What has been the most interesting result of this initiative?
When these two groups come together, they are often surprised to realize they both have something to offer each other. People who are poor receive a friend as well as help with connecting to the community and its resources. For people who appear to have everything they need and want on the outside, they learn that their seemingly "poor" friend has many riches to offer despite—and often because of—their poverty. These riches include valuable insights into life, love, relationships, community and God that are profoundly rich due to their various experiences. Stereotypes are broken down for both parties through the context of friendship.
Did you also share those stereotypes of the poor when you first began your ministry?
Yes, when I began this work 23 years ago as the cook in an old Salvation Army drop-in centre called The Friendship Room, I came with a very one-sided view of my job. I thought I was the one who could "fix" or "save" people. But the relationships I formed then with the men and women who came to our drop-in actually began to "fix" or "save" me. And along my journey with folks on the streets, who many in our society have written off as outcasts, I can still say that I am the one who is receiving the benefits and the blessings of being in these unlikely friendships.
What life lesson do you hope those involved in the Causeway initiative will learn?
Ultimately, our hope is that we all will learn that we need each other. We invite members of the church to join together to "walk the walk" with individuals who have recently experienced homelessness. The road to healing is often frustrating and those beginning the journey need a friend to guide and encourage them through the obstacles they will face.
Causeway is a ministry of The Salvation Army, supported prayerfully and financially by the Ontario Central-East Division. If you'd like to learn more, visit thecauseway.ca or e-mail dion_oxford@can.salvationarmy.org.