Salvationists and friends at Sale Corps in the United Kingdom Territory with the Republic of Ireland shared Easter under the leadership of General Linda Bond. The weekend also included the launch of an innovative community project.
On Good Friday morning the General told the congregation to live with the mindset that every day should be a "foot of the cross" experience. During the evening meeting she emphatically described the denial of Jesus by Peter, who became the rock on which Christianity was founded. In both meetings several people went forward in response to the appeals given.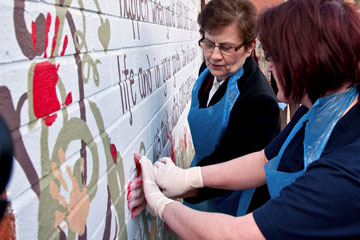 On Saturday afternoon the Growing Together project was officially opened and dedicated by the General. A large area of ground within the corps property has been transformed into a beautifully landscaped rose garden and allotments for use by the community. The General planted a rose bush called "Celebration."
The corps band, the Young in Heart Choir and children from Toddler Song supported the event.
Saturday evening's Easter Praise was heralded by pre-meeting music led by the Central North Divisional Band and Divisional Youth Chorus. Youth chorus member Jessica Ferguson-Smith testified that, despite being the only Christian in her class, she was not afraid to witness. Songster Joanne Crowhurst interviewed the General, who gave profound and sometimes humorous responses. The corps worship group "Souled" led the congregational singing and the youth chorus sang "How Great is Your Love."
In her message the General stressed the need to encourage youth members. Seekers responded to the message by kneeling at the mercy seat.
Easter Sunday began with great singing and the waving of coloured flags. Corps officer Major Aubrey Draycott introduced three new adherent members who were warmly welcomed by the General. She went on to speak about Christ's transformation and how individuals can be transformed. Many people went forward.
The evening meeting commenced with a dramatic reading by Jonathan Hampton. Songster Joanne James testified, giving thanks for the prayerful support she received from her immediate family and the corps family when she went through major health problems.
In her final message of the weekend the General focused on storytelling and the importance of communicating faith face-to-face.
The celebrations concluded with the triumphant singing of "In Christ Alone."