She was found on a cold July evening, wrapped in a blanket and lying under a tree in a white neighbourhood in Vryheid, South Africa. The family who discovered her searched the area for someone who might have placed the child there, but there was no sign of anyone.
Despite having been abandoned, this infant, barely three months old, was clean, wrapped carefully, and placed beside a car where she was sure to be discovered. It was obvious that she had been cared for. The family called two local pastors, who had just started a home for babies in response to the AIDS epidemic, and the child was brought to safety.
"They gave her the name 'Nomcebo,' which is Zulu for 'treasure,' " explains Major Karen Hammond, "because treasures are found."
God's Calling
Through adoption, Marlie Joy Nomcebo Hammond is the fifth and youngest child of Majors Doug and Karen Hammond, corps officers at Toronto's Bloor Central Corps. When Marlie was found in 2001, the Hammonds were serving at a tuberculosis-AIDS hospital in Vryheid in the province of Kwa Zulu Natal. Because of their work in the health-care system, the Hammonds were well aware of the impact of the AIDS epidemic, with more than 200,000 AIDS orphans in their province alone.
"We both really wanted to do something in response, but we didn't know what that meant," explains Major Karen.
It was after attending a Salvation Army AIDS conference in 2002 that Major Doug felt God clearly telling him that it was time to adopt a child.
"Karen and I had spoken of adopting many years earlier," he says. "My wife had been adopted by a wonderful family and thought she should do the same thing. However, we'd not spoken of it in many years. She was already homeschooling four high-energy kids. The thought of adopting seemed ridiculous."
But when the topic of adoption came up at dinner, seemingly by chance, three months later, the Hammonds realized that this was God's will. "When we added things up it seems God was speaking to both of us about the same thing, at the same time," says Major Doug.
"As if She Were Born to You"
The Hammonds contacted their pastor friends, Dannie and Darlene van Tonder, at the Inkuleko Babies Home and began the adoption process, via a Christian adoption agency. At this time, the Hammond children—Matthew, Lucas, James and Monica—were volunteering at Inkuleko, where they met Marlie, who was then known as Mary Nomcebo Zulu.
"At that time in South Africa, some orphans were simply abandoned and left to die"
"Everyone was so excited when we told them we were adopting, and almost instantly they all said, 'We have to get Mary—she is the one we'll take!' " remembers Major Doug. "We had to settle them down and explain that it's not the way it works."
In the end, however, the adoption agency decided that Marlie was the right child for the Hammonds.
"Considering there were 200,000 orphans in our province alone, and we could have been placed with anyone nationally, I was confident this was divine confirmation," says Major Doug.
Marlie came to live with the Hammonds on May 19, 2002, which the family celebrates every year as "Marlie Day" with a big party. Majors Doug and Karen gave her the name Marlie Joy as a nod to their own mothers, Margaret and Joyce, "because we wanted her to feel part of the family," explains Major Karen.
Though the adoption was not yet final in May, the Hammonds were able to take Marlie in sooner because they were legally registered as a "place of safety," and had taken in children before. Yet as the weeks turned into months, the Hammonds began to feel anxious.
"Our children were getting attached to Marlie," says Major Doug. "We were afraid that someone might step forward and claim Marlie as their child."
The Hammonds faced some hostility from the African community, who did not want white families adopting their children. "Many from the traditional Zulu backgrounds felt we were cutting them off from the ancestral roots," he says. "There were times we wondered if she might be snatched from us."
Relief finally came in December 2002 when they received their adoption papers.
"I realized, during that waiting period, that my attachment to Marlie was exactly the same as with my other children," says Major Doug. "It wasn't biological, but emotionally, everything was there. She's very much ours. On the adoption paper it says, 'as if she were born to you,' and that's exactly what it is for me."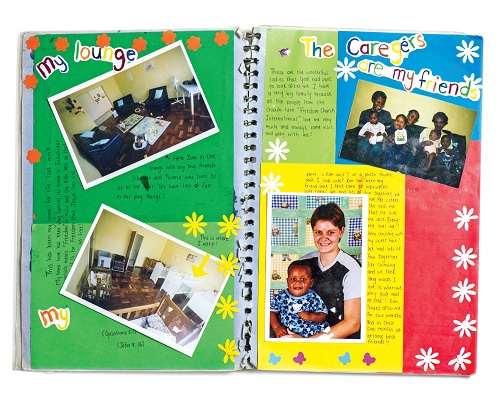 Like Mother, Like Daughter
Marlie may look different from her siblings, but she feels no less part of the family.
"We all have our bickering moments, but we all have so much fun together," Marlie says with a smile.
Marlie adds that it helps having a mother who is also adopted.
"Me and my mom are close," she says. "It's nice knowing that she knows what I'm feeling. We can talk about how she went through stuff when she was a kid, where she had the same experiences as me."
"My own experience made it easier to adopt because it worked out well with me and my family," says Major Karen, who was adopted by a Salvation Army family in Guelph, Ont., in 1964.
Given her own adoption, Major Karen knows how adoption can impact a child psychologically.
"Even though I had a great upbringing, I think any child who has been adopted deals with some sort of insecurity or abandonment issues," she says. "There is that sense of, Why was I given away?"
Because Marlie was abandoned, the Hammonds know almost nothing about her background. However, they do know that she initially tested positive for HIV, though the following tests showed her to be negative.
"That means it was her mom's antibodies in her body—her mom was HIV-positive," explains Major Karen. "So we assume that either the mom was sick or the mom had died and the family didn't feel that they could look after her anymore. But we really stressed to Marlie that her family loved her enough to put her where she'd be found. At that time in South Africa, some orphans were simply abandoned and left to die."
Marlie admits that she has struggled with the question of why her biological family decided to give her away. But, now 13, she says that it doesn't cross her mind as much anymore.
"I'm very secure with everything now," she says. "When I was left in front of that tree, it was for my safety, health and well-being. It was about me having a better life going forward."
Family Reunion
Major Karen says she made peace with questions surrounding her own adoption many years ago. She doesn't remember her parents, Reg and Joyce Broughton, ever specifically telling her that she was adopted, as it was always talked about openly in her family. Her brother, who is two years older, is also adopted.
"From a Christian standpoint, I fully believe in God's master design so I have no trouble accepting and believing that adoption was part of his plan for me," she says.
While many adopted children want to meet their birth parents, this was not a priority for Major Karen—until recently.
"I never had a desire to look for my birth parents until several years ago," she says. "I wanted to know some of the medical history, and I had a desire to let them know, 'Hey, it turned out OK,' and share my faith with them."
About eight years ago, Major Karen decided to put her name into an adoption registry to see if any information was available. Nothing came of it until a year and a half later, when she received a phone call from a woman at the registry.
"She said to me, 'Karen, I was just speaking to your birth mom. She would like to speak with you.' And I said, 'What?!' " she remembers. That first conversation with her birth mother took place in November 2008.
Major Karen found out that her mother had been 16 years old when she became pregnant, and her family felt that the best thing to do was to put the baby up for adoption. After her mother gave birth, the child was taken to a separate nursery, but her mother snuck down to the nursery to see what her child looked like.
"She never got to hold me. That was the only time she saw me, and then I was gone," says Major Karen.
When the two women met, Major Karen's mother told her the name of her birth father, a semi-professional hockey player who was 19 years old when she was born. Major Karen ran an Internet search, found an e-mail address for him and sent him a message, explaining who she was.
"I got an e-mail back from him saying that this was the best day of his life," she recalls.
Major Karen flew down to Texas to meet him and her half-sister, who is 10 years younger than her. She was surprised to discover that she and her half-sister share more than the same father—they have the same birthday.
"I know a lot of reunions don't turn out like that, but I have two birth parents who adore me and are so glad to have a relationship with me, and a half-sister that I get along with very well," says Major Karen.
"They've loved me for 50 years," she continues. "My birth father would talk about playing hockey and, whatever arena he was in, not a game went by that he wouldn't look up into the crowd and think, I wonder if she's there. It's fabulous to know that I was loved and wanted."
God's Family
Understanding adoption from the perspective of both a child and a parent, the Hammonds have a deep appreciation for the amazing impact it can have on the lives of those it touches.
"It is not our story, or Marlie's, but God's story of the miracle of adoption," says Major Doug.
"Thirty-eight years after Reg and Joyce picked up Karen from a hospital in Kitchener, Ont., their decision to adopt changed the life of a little baby left under a tree," he continues. "Because of what they did, Marlie Joy Nomcebo lives in a different country, speaks a different language, carries a different citizenship and has countless opportunity for the future—because of adoption."
Major Karen notes that when the pastors prayed over Marlie at the babies home, they gave her the verse Jeremiah 29:11: " 'For I know the plans I have for you,' declares the Lord, 'plans to prosper you and not to harm you, plans to give you hope and a future.' "
"That is a very special verse for her to this day," she notes. "I see God's hand in our family and there's no doubt in my mind that God has a plan for Marlie."
In terms of their own faith, both Major Doug and Major Karen feel that their experience of adoption has helped them better understand what it means to be a part of God's family.
"It's a tangible expression in my connection with God," says Major Doug. "My relationship with Marlie is just as authentic as it is with any of my other kids and that's the same relationship that God has with us as well. It's been a really powerful experience."