NFL defensive end Israel Idonije knows what it's like to have next to nothing and has no intention of going backward. That's why he has partnered with The Salvation Army to make sure underprivileged kids get the help they need.
"The one thing that's sustained me in all my endeavours, as an athlete and as a businessman, is that God has a plan for me that goes beyond the tackles," he says. "I am here for a purpose. Whether I'm playing football or not, I understand that whatever God has in store for me is perfect.
"Ultimately, my life is a testament to that. Whether it was broken bones, wins or losses, at the end of the day, I can see that had to happen so this door or that door could open. Through all the challenges, there's something bigger on the other side."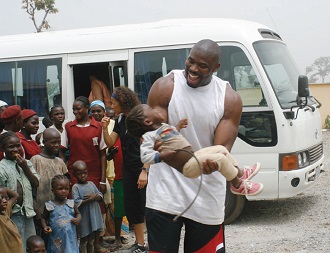 A Mother's Wisdom
Born in Lagos, Nigeria, Israel's family moved to Brandon, Man., when he was four. Through the generosity of an anonymous sponsor, the four Idonije children were able to go to the local YMCA, and Israel took advantage of the programs offered. There, he met Coach Kevin Grindey, and when Kevin restarted the football program at Vincent Massey High School, he asked the 17-year-old to play for him. Up until then, Israel's first love was basketball, but he joined the team to help the coach out.
"I would not be where I am today had people not inspired me as a young kid," he recalls.
"There were many moments when I wanted to quit, but I had an incredible support system praying for me and guiding me."
Kevin quickly saw Israel's potential and told his mother, Choice Idonije, about tryouts being held for the provincial football team in Winnipeg. Israel was hoping to play basketball for Brandon University but Choice said, "This is a door that's open, and we're going to walk through it."
"I am fortunate my mother is always there for me to discuss anything," he says. "I can call her at any time. She is my prayer warrior. There's nothing I have ever struggled with that she hasn't prayed me through."
By the end of college, Israel walked away as team MVP and 2002 Manitoba Male Athlete of the Year. The graduate sent tapes of his college games to various NFL coaches and signed with the Chicago Bears in 2004.
Perfect Fit
On top of studying, training and playing, Israel was determined to give back to the community. He wanted to share with others what he had enjoyed growing up, so he found the time to run an after-school program at a local elementary school.
Even with his busy pro football schedule, Israel wanted to continue to contribute to his community. In 2007, he formed the Israel Idonije Foundation to help underprivileged children in Chicago, Winnipeg and West Africa. Under the foundation's umbrella is IZZYs KIDz, a daily after-school program offering homework help, swimming lessons and field trips.
"I took the opportunity to get personally involved in an area of Chicago where kids were dealing with so many negative circumstances," he says. "I focused on being that positive voice to these kids, as people were to me when I was a child."
IZZYs KIDz draws from 13 schools and is held at The Salvation Army's Ray and Joan Kroc Corps Community Center in Chicago.
"When you see all the things The Salvation Army has done and is doing, providing platforms for people to grow, it's an incredible organization," he says. "When we sought a partner for our program, we looked at everything that went along with The Salvation Army's name, their mission and vision. It was an amazing fit."
Last year, Israel's community service was recognized back in Winnipeg, the city where he had his first football tryouts. He was presented with a certificate naming him to the Order of Manitoba by Prince Charles.
"That was a real honour," he comments. "The whole day was incredible. I just want to impact the other people in my community, in my world, and help them to be their best."