Scott Preece was crazy about football. On the last night of his life, a warm August evening in 2010, he went to an Edmonton Eskimos game with his brother, Courtney. They both had season's tickets, and even though their team lost to the Toronto Argonauts, 28-29, they still had a good time.
Knowing Scott's love for the game, his mother, Debbie, had bought him a book on football the Christmas before in 2009. Unfortunately, she unknowingly bought a book about British football or, as most North Americans know it, soccer.
"Next year, don't buy me anything," Scott told his mom, who often went overboard with Christmas gifts. "Just give the money to those guys ringing the bells."
"I am sure it was a sign," Debbie says. "He was so adamant, it made it easy for us to figure out where to put our energy after he died."
Worst Nightmare
That night after the football game, Scott was stabbed to death after a brief encounter with a stranger in a convenience store parking lot. Just 28 years old, Scott was outgoing, fun-loving and devoted to his friends and family. When the police knocked on the Preeces' door that night to deliver the news, it was the worst moment of their lives.
"It was horrendous," Debbie remembers with tears.
"It was a very unbelievable time," adds Denis, Scott's father. "I heard a saying on the radio a little while after Scott's death: 'I get so confused, I don't know what colour an orange is.' That's how I felt."
The Preeces joined a support group called Victims of Homicide, which helped tremendously, and when Christmas came, they donated the money they would have spent on presents for Scott to The Salvation Army.
But they wanted to do more. Instead of just putting money into the kettle, they decided to volunteer to man the kettle.
Finding Healing
"Being a kettle volunteer was very healing," says Denis. "We were doing something to help people, and we were doing what Scott wanted."
That first year, Denis and Debbie drove 45 minutes from their home in Devon, Alta., to volunteer at a kettle in a mall in downtown Edmonton. When the first mall they were at did not allow them to ring bells, they transferred to another mall—it didn't feel right, not being able to ring the bells, given Scott's request.
Like her husband, Debbie found the experience deeply rewarding.
"So many people came up to me and told me their stories—for example, how The Salvation Army helped them or their grandfather during the war," she says. "It was really good."
The next Christmas, Denis and Debbie brought the kettle to Devon and set up at a local grocery store. Bringing the kettle closer to home not only made volunteering easier, but also allowed Denis to get his two grandsons, Tucker and Quinten, involved.
"Last year, I got my youngest grandson to stand beside the kettle with me for a little while, which was fun," Denis smiles. "He gives out the suckers and the little candy canes.
"They're always happy, always making me laugh, and that's just perfect," he continues. "Being with my grandchildren is the best healing process there is. They've given me the will to try to get myself back on track."
Year-Round Volunteers
But when the Preeces brought the kettle to Devon—the first time the town had had a Salvation Army kettle—Debbie felt it would be too difficult to continue to volunteer on the kettles.
"There's just something about knowing all the people walking by—everyone knows our story," she admits. "I think I'd stand there and cry."
But Debbie wanted to continue to volunteer with the Army, so after she retired in 2014, she began volunteering at an Army breakfast program in Edmonton and at a thrift store in Leduc, Alta.
"It's a busy store—they have to put out more than 1,000 items every day," she says. "And because it's The Salvation Army, I know the money is going to help the people who need it. It's a great fit for me."
Though he's a truck driver and his job often takes him far from home, Denis volunteers with the Army's breakfast program whenever he can.
"The kettle campaign only lasts about a month, so doing the breakfast program year round works out well," he says.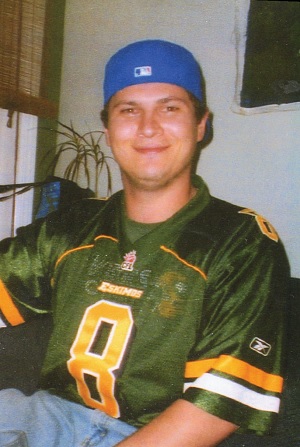 Keeping the Memory Alive
Last Christmas, Denis and Debbie started volunteering with the Army's toy drive as well—handing out socks and gifts to families in need. "The Christmas gift sharing was a beautiful experience, helping parents select just the right gifts for their family," Debbie smiles.
But the kettles will always be Denis' passion. In his five years of volunteering, he has singlehandedly raised more than $6,400 for the Army. For his above-and-beyond efforts, Denis received an award from The Salvation Army in Edmonton at its annual kettle volunteer appreciation supper last January.
"We have award categories for 50 hours, 60 hours and 100 hours," explains Pamelina Chang, who coordinated last year's kettle campaign in Edmonton. "And we couldn't even catalogue Denis' hours because we knew he was there from when the grocery store opened to when it closed.
"Denis and Debbie are very passionate," Pamelina continues. "They get how important it is to be in the community, and they're great representatives for the Army."
Denis was touched to receive the award, but he's not looking for applause.
"I do the kettles to keep the memory of Scott going," he says. "We talk about Scott all the time—the people in Devon know why I'm doing it."
"The pain we have experienced since losing our Scott in such a cruel, senseless way has been unbearable, but we are so grateful that he sent us down the path of helping others through The Salvation Army," concludes Debbie. "It really has been lifesaving as we journey down our grief path. No one we know can pass by a kettle without thinking of Scott and his wish."