On the evening of June 6, 2010, Major Samuel Fame went for a walk in his neighbourhood in Langley, B.C. It had been a tough year, and his late walks were a quiet time to be with God—to pray, worship and meditate on Scripture. A time to grieve.
Around 11:30 p.m., he noticed four young people coming toward him, two men and two women. Like most nights, Sam was talking to his sister on his cellphone, and he didn't think twice as they approached. Without warning, the men attacked him, knocking him to the ground and kicking him viciously as they demanded his wallet.
"It was such a shock," he remembers. "I tried to protect myself. I tried to tell them I'd had a heart attack, but they just kept kicking me. The last thing I remember was yelling, 'Help! Help!' as loud as I could. I must have blacked out."
When he came to, a police officer was helping him into an ambulance.
Saved to Serve
Sam's father immigrated to Canada from Turkey at the turn of the last century, a strict, hardworking man who hated religion. His mother, born in Canada of Russian heritage, was one of 11 children. After marrying, they settled on 160 acres of land outside Trail, B.C., in a farmhouse with no electricity or running water. It was a hard life, and Sam, one of seven children, felt little love.
Although he didn't know anything about God, the kindness of a few people—the teacher at his one-room country schoolhouse, an Anglican minister, a woman who paid for him to attend Camp Galilee—began to show him God's love. At the camp, he discovered the Book of Common Prayer and read it out loud while doing chores. He didn't understand what he was reading, but it filled him with joy.
By this time, his father had passed away, and his relationship with his mother was strained. At 14, Sam left home and struggled on his own. But when he met then-Lieutenants William and Verna Moores, the corps officers in Trail, "they became like a mother and father," he says. "They accepted me and made me feel valued."
They found him a job at The Salvation Army Arrow Trail Camp in Robson, B.C., where, at night, he began to read the Bible. "My life was a mess. I didn't have anything to live for," he says. "Then I found 2 Corinthians 5:17: 'Therefore if any man be in Christ, he is a new creature: old things are passed away; behold, all things are become new' (KJV). That's what I wanted. I wanted to start my life over again." He prayed for God to make him a new person, but still wasn't sure if he was saved.
At the time, then-Lieutenants Peter and Esther Röed were leaders at Arrow Trail Camp. They invited Sam to attend congress in Vancouver with them. "On Sunday morning, September 25, 1960, I knelt at the mercy seat at the Queen Elizabeth Theatre and gave my life to God. I never looked back," he says.
Three months later, Sam was enrolled as a senior soldier. Three years after that, he entered the College for Officer Training in Toronto. "I always felt that my salvation was my calling, that I was saved to be God's servant," he says.
Love Story
While working and saving money for college, Sam met a young woman named Dolores (Dodie) Gass, who was already a cadet. "I fell madly in love with her," he says. They were married on July 25, 1966.
"We've always been partners in our ministry, all through the years," Sam says. "If I led the service, she spoke. If I spoke, she led." They served as corps officers, in public relations and then spent 15 years at Harbour Light in Vancouver. "As young officers, we both felt called to overseas mission work. When we arrived at Harbour Light, it seemed that our calling was being fulfilled. It was like a mission field in our backyard."
His own experience gave him compassion for those who were struggling with addiction. "I always felt it could have been me here, if someone hadn't intervened. I was a prime candidate, with all the need I had," he says. He encouraged the staff to care for people where they were and build relationships. "Behind every face is a story, a life. People need to experience love and friendship, like I did, before they can start looking a little higher, seeking after God."
Dodie also loved Harbour Light. For many of the clients, she was like a mom. But late in 2002, Sam noticed Dodie was becoming forgetful. When she was diagnosed with Alzheimer's disease a few months later, she found it very difficult to accept. They kept working for another three years, until Sam was able to convince her, gently, that it was time to retire.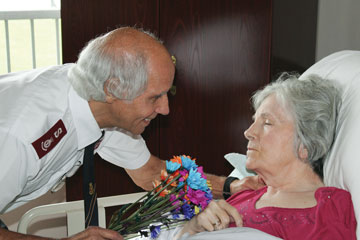 As the disease progressed, Sam learned how to care for Dodie at home. "I went back to Ephesians 5, where it says to love your wife as Christ loved the church and gave himself up for her," he says. "It was a new opportunity to love her unreservedly, even if she didn't understand what was happening—to take care of her without expecting anything in return. That's what I've done, and will continue to do."
Lost and Found
Early in June 2009, Sam was working in the garden when he began to feel chest pains. The doctor did some tests, but thought it might be only anxiety. A few days later, Sam went to the hospital and discovered he had suffered a heart attack. He spent the next two months at home recuperating.
One Friday at the end of July, Sam took his daughter, Karen, to the hospital for routine, out-patient surgery. They were very close; Karen had struggled with illness for many years—it was one of the reasons they moved back to Vancouver—and was a single mom to Jacob. Jacob spent the weekend with cousins, and on Sunday, Sam took him home. But when they got there, they found Karen unconscious.
"We just couldn't save your mom," the doctors told Jacob at the hospital.
"He looked at me, and he's just 12. 'Papa, now what am I going to do?' " says Sam. "I said, 'You're going to be with me, with Grandma and me.' So I became a parent again at the age of 66."
On the way to Karen's funeral a few days later, Sam's son, Sam Jr., and his family were hit by a truck and almost killed. Sam Jr.'s wife, Tonya, was airlifted to the hospital as people waited at the church for the funeral. "It was a tangled mess," says Sam.
At Sam Jr.'s request, they went ahead with the funeral. Although he was in shock, Sam led the service. "I guess God took control," he says. "The only thing I remember is going up on the platform, and I said, 'I'm here today to give the devil two black eyes.' "
Simple Faith
As Sam reflected on everything his family had been through, he was determined to be a victor, not a victim, to trust God and have a thankful heart. He began walking in the evenings, after settling Dodie and Jacob in for the night, to pray—and when he didn't know how to pray, to sing and praise God.
And then he was attacked. He woke up in the hospital with a black eye and two loose teeth and was covered with bruises. But he was still determined to trust God.
"My faith is simple. I believe in the sovereignty of God over my life. I believe we're in his hands," he says. "None of us are going to escape problems. But God uses the hurt, the pain, the circumstances of our lives to accomplish his divine purposes. Like Joseph said, 'You intended to harm me, but God intended it for good' (Genesis 50:20)."
Although the past years have been difficult, Sam has learned that the way we suffer can be redemptive—that God can use it to bless others and for his glory.
"I go back to Psalm 40:2-3: 'He lifted me out of the slimy pit, out of the mud and mire; he set my feet on a rock and gave me a firm place to stand. He put a new song in my mouth … many will see and fear the Lord and put their trust in him.'
"That summarizes my life, because God put a new song in my mouth—the joy he gave me when I was at Camp Galilee, reading the prayer book. I was filled with joy, and I just feel like I've never lost it. And the joy of the Lord is your strength."